Samsung NX30 Mirrorless Camera Review
[Editor's Note: Lab test and comments are by Betternet, Shutterbug's TIPA affiliated testing lab. TIPA (www.tipa.com) is a worldwide association of photo and imaging magazine editors. Shutterbug is the sole US member of the association, and Editor at Large George Schaub serves as a member of the Technical Committee. Please click on the Image Tech tab on the home page for more camera review tests.]
The Samsung NX30 is a mirrorless, Compact System Camera (CSC) with a classic SLR design. It offers an electronic viewfinder with 2.36 million RGB dots instead of an optical SLR viewfinder. The viewfinder offers an exceptionally brilliant, sharp, and detail-rich image, which easily allows the photographer to shoot in manual focusing mode. However, the electronic viewfinder has one issue: when using the continuous shooting mode (9 frames per second) and panning, the Samsung nearly stops the live preview on the screen and the viewfinder and shows only a view of updated images, which can make it very difficult to follow a moving subject.
The NX30 has a robust body with a very flat and plain rubber cover on the grip and a shiny plastic covering on the rest of the body. Overall, the camera is well-balanced, handy to operate, and comfortable to use. It has a large and useful mode dial on the top, and, while there is no status LCD, all information about image parameters is shown on the back screen. Parameters are set up using a dial near the shutter release button and a wheel/ring that encircles the control field on the back of the camera.
The camera offers all of the standard exposure modes (such as P, S, A, and M), additional scene modes, an AUTO mode, which detects the necessary scene modes automatically, and two user-defined modes are accessible on the mode dial.
The camera offers a tiltable viewfinder: the user can pull out the ocular of the NX30 viewfinder and tilt it up toward the top (nearly 90 degrees). Likewise, the LCD screen also articulates as a kind of sidesaddle, with movement through 270 degrees with the screen opening to the left of the camera body. This can be utilized for "selfies" as well as a kind of waist-level finder.
The Samsung has a WLAN module, so free apps for Android and Apple smartphones and tablet computers are accessible. This allows the user to copy images from the camera to the smartphone or use the smartphone as a remote control. Due to an NFC system, it is very easy to establish the link between smartphone/computer and the NX30. The camera is also able to use GPS data copied from the smartphone and write this data into the EXIF information of the images.
Comments On Image Quality
Color: The color results are very good. The automatic white balance system shows a very good performance; only the brightest gray pattern on our test chart shifts into the yellow direction. The saturation of 100.6 percent is perfect, but some users might prefer slightly more saturated images. In contrast to nearly all other digital cameras, skin tones have a slightly less yellow rate and a "porcelain look" (slightly higher rates in deep skin tones that add a "pink" touch to our model's cheeks).
Sharpness: The resolution and sharpness results of the Samsung NX30 are excellent. The camera reproduced the test chart with 3355 lines per picture height, which is nearly the nominal resolution of the 20MP sensor (3648 lines per picture height). It uses an intense sharpness filtering which can cause some overshot effects. The portrait shot and the test box shot show a very crisp but still natural look. Fine structures like the hair in the portrait shot, for example, have only a slight "oversharpened" look.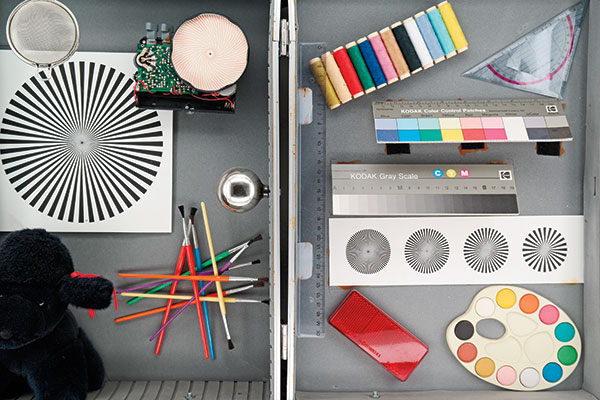 Noise: The camera showed a good performance in our noise tests. The luminance noise level is very low and stays below 1.0 percent even at ISO 6400, which is very good. But color noise is more intense and already gets visible in images taken with ISO 1600 and higher. The NX30 uses an intense anti-noise filtering, which shows noticeable artifacts in images taken with ISO 1600 and higher. Therefore, color noise is already smoothed to color smear and color clouds in images taken with ISO 6400. These noise artifacts even dissolve the gray patterns in our Stouffer 4110 chart to a gray gradient. The dynamic range results are very good. The camera achieves a maximum of 11.4 f/stops in ISO 100 mode.
Comments On Video Functions
The camera is able to record Full HD video with 1920x1080 pixels and with up to 60 progressive frames per second. It uses an MP4 container with H.264/MP4 compression to store its videos. The Samsung uses a data rate of 15 Mp/s, which is comparable to data rates of consumer camcorders.
The camera is able to use an external microphone for better sound recording. The standard 3.5mm jack is located on the left-hand side and the accessory shoe allows for mounting an external microphone on the camera. The NX30 also offers an HDMI interface for high-resolution presentation on TVs.
Manual settings aren't accessible in video mode; the ISO speed settings are completely overridden. Therefore, we can't deliver noise results for different ISO speed settings in video mode.
Comments On Video Quality
The video quality is good, but suffers from some issues. When activated while recording, automatic focusing shows some "pumping" effects, which are a little more intense than in movies made with other CSC systems. The camera showed nearly no moiré effects in our ISO 12.233 chart, but sample clips showed an extreme moiré effect in one of the tiled roofs in the center of the test clip. This is a little surprising because the resolution and sharpness results are very low. The camera reproduced the ISO 12.233 chart with only 517 lines (test shot in 1080p mode) and created very smooth and soft images, which aren't really prone to aliasing or moiré effects.
Just like in its still images, videos taken with the NX30 show neutral, sometimes even somewhat undersaturated colors. The white balance is nearly perfect and color errors are very low. Even the clear cyan, which is difficult for many other digital cameras in video mode, shows only a little shift from its given value.
Hands-On Impressions
At first sight the Samsung NX30 seems like a deceptively simple DSLR format camera, but it quickly becomes evident that it can be as complex as you might like, with hosts of scene modes and connectivity options, plus a full complement of "traditional" operational features, albeit accessed in somewhat untraditional ways.
While somewhat small in hand, the rubberized grip makes for a steady hold. The viewfinder options mentioned in the lab test are quite handy, especially the tiltable eyepiece finder with a view that's crisp and clear, even in contrasty light, which can be a great help when the LCD screen becomes overwhelmed by bright, direct light. The system detects when you bring your eye up to it and turns it off when you move your eye away to use the LCD. Choose OLED view in the menu to see how monitors should look.
I took the camera out for a few days of shooting, having read the full instruction guide, which is available online at Samsung's website (www.samsung.com/us/support/owners/product/EV-NX30ZZBGBUS). While you can operate from and then view the images on a mobile device, I personally don't see the point, so took it at face value as a camera.
The touchscreen and iFunction (iFn) button on the lens are where most functions are performed, plus there's an extensive menu of options activated by touch controls as well. There is certainly no clutter of buttons on the body and there's no LCD status screen on the top. Yes, there is a four-way control wheel on the back (WB, Display, AF, and ISO), an AEL button, and an exposure compensation button, as well as a mode dial on top, but nevertheless you will find that making settings ultimately depends on using touch controls.
There is a knurled control dial on top for adjusting aperture and shutter speed settings, and manual focus is greatly aided by offering a "zoom in" look that jumps into view when you turn the front focusing ring on the lens.
At first this can seem like a bit of a labyrinth, but it soon becomes second nature. Combined with the iFn button on the lens (covered in previous Samsung camera reviews), the many aspect ratios, the variety of JPEG sizes and compression ratios, and JPEG+Raw capability, and especially the bright finders, the NX30 is fascinating in its approach to command and control operations yet fully functional in its delivery of a wide variety of picture-taking options.
Pro
+ Very compact system camera
+ High-resolution images, high sharpness
+ High-resolution viewfinder (2.36 million RGB dots)
+ Fast image burst mode
+ Handy iFunction system
+ Full HD video capabilities
Con
- Slow refresh rate of viewfinder in continuous shooting mode
- While body is robust, finish is not impressive
Image Tech is where we publish web-exclusive lab reports on cameras. To read the reports please go to the Shutterbug homepage at www.shutterbug.com and click on the Image Tech tab on the top navigation bar. New reports are published frequently,
so check Image Tech for updates.
Lab results and test images by BetterNet, our TIPA-affiliated testing lab. Edited by George Schaub.
The Samsung NX30 with an 18-55mm f/3.5-5.6 ED lens has a list price of $999.99. For more information and full specs, visit www.samsung.com/us.

LATEST VIDEO