Rosanne Pennella; Have Camera, Will Travel
During the past 10 years, Rosanne Pennella has made a metamorphosis from being a highly successful New York attorney to a sought-after travel photographer. Her images have appeared in numerous magazines, travel guides, brochures, and on book covers. She's photographed the rain forests of Borneo, the Ganges River in India, tribal villages in northern Thailand, voodoo and dance ceremonies in West Africa, as well as five-star resorts worldwide. Pennella describes her photographic style as "color-saturated, graphic and intimate."

A Transforming Experience
Although she originally set out to practice law, Pennella says she did it for the wrong reasons: money, prestige, and the desire to please others. She recalls, "I was unhappy; I just made a career choice that wasn't right for me." Then, in 1992, her father's battle with cancer caused her to re-examine her life. She had always loved traveling and experiencing new cultures. After considerable reading and soul-searching, she decided to incorporate travel into a vocation, and considered travel writing or even becoming a travel agent.
Shortly thereafter, she took a sabbatical from her legal career and traveled to New Zealand, Australia, and Indonesia for three and a half months. "It was very intimidating to leave for the airport knowing I would be on my own for the next few months. But I learned as I went." she states. She documented her journey with a point-and-shoot camera and made a photo album after returning to New York. Her friends admired these images and commented on her "great eye for photography."
Originally trained as a lawyer, Pennella launched a new career by combining photography with her love of travel.
All photos by Rosanne Pennella
In late '94 she received a Nikon N90S as a gift. "I didn't know anything about f/stops or shutter speeds," she laughs. The following year, she began taking photography classes to learn more about her budding passion. She soon realized she could combine her new love of photography with travel. "Being given a camera was the best thing that could have happened," she says. Within a year of receiving that camera, Pennella was considering a career in travel photography.

She decided that in order to become a professional photographer she'd need more time in the field. She began by making a compromise with her employer to become a part-time legal consultant. She took more classes and read a lot of magazines and books. "I became conversant in the lingo and learned what works and what doesn't."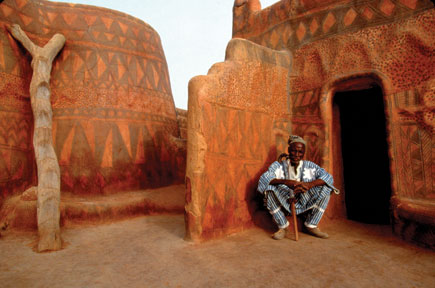 Before attempting to sell her images, Pennella honed her skills to "be as good as I could be."
Before attempting to sell her images, Pennella says she decided, "I first needed to be as good as I could possibly be." She learned about the business of photography and eventually began to approach companies at travel shows about using
her photos.

Making The Leap
A little over two years after getting her Nikon SLR, she made the leap from attorney to professional travel photographer. In addition to her commercial and editorial clientele, she now teaches courses in travel photography at the New School in New York City, and leads international photography workshops. "I love what I do now and I'm really happy I've made this career change," Pennella comments.
Pennella recommends that aspiring travel photographers arrange to spend considerable time in the field before making the decision to quit their day jobs and turn professional.