Ricoh Intros Weather-Resistant 20MP Pentax K-S2 DSLR with Wi-Fi
Just last August, Ricoh introduced the K-S1 digital SLR and now that model is already being replaced with the just announced K-S2. Where the previous camera received a mixed reaction for its unconventional design that featured a handgrip that lit up with green lights, the new K-S2 DSLR is more traditional looking. To an extent.
The Pentax K-S2 does come in seven different color options in two "outdoor-themed collections." According to Ricoh these include "three in the Nature Collection; Forest Green, Desert Beige, and Stone Gray as well as four in the Sports Collection: White and Lime, Black and Pink, White with a Racing Stripe, and Black with a Racing Stripe."
Got all that? Ok good. Now here are the rest of the key features of this new APS-C sensor based K-S2 DSLR carrying the venerable Pentax brand name.
• 20MP, APS-C-sized CMOS sensor with no anti-aliasing filter for higher resolution photos with more dynamic range. (The trade-off is, potenially, more moiré in some images.)
• Weather-resistant camera body
• Built in WiFi and NFC works with free Android and iOS Image sync app for wireless sharing of images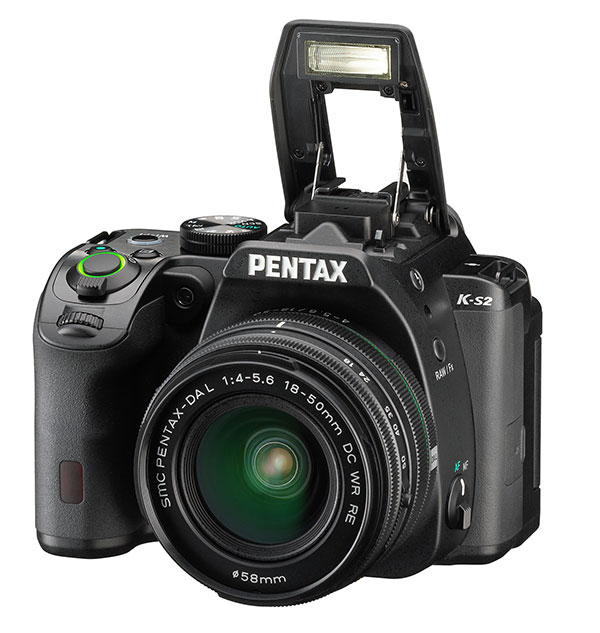 • Standard kit includes the new DA 18-55mm "Retractable Standard Zoom" lens that measures less than 1.5 inches in height when retracted
• In-body shake reduction and as SAFOX X AF (autofocus) system
• Vari-angle 3-inch rear LCD, 921K dots (RGB+White), and Air Gapless Construction.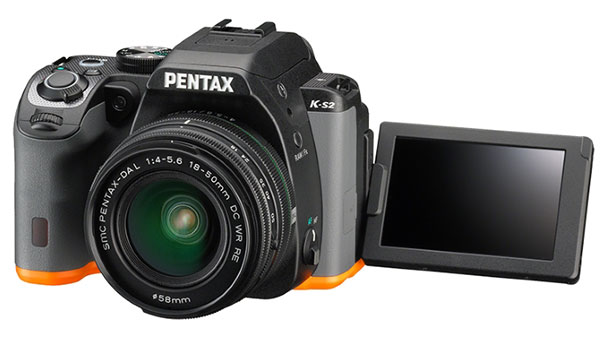 • New Self Shot Assist mode and second shutter release button helps users capture better "selfie" self-portrait photos.
• New Clarity Enhancement feature "adds more realistic texture impression to your imagery," according to Ricoh.
The Pentax K-S2 kit with the new retractable standard zoom lens will be available in a standard black color in March 2015 for $799.95. The other color collection options for the K-2S will be available in April.
More details on the Pentax K-S2 here.

LATEST VIDEO