Results At The 18th Westlicht Camera Auction
After a bidding battle between two collectors the auction highlight, a rare Leica MP2 from 1958 with a starting price of 80,000 EUR, was sold for incredible 402,000 EUR (incl. premium). A private collector from Asia now owns the most expensive Leica camera ever sold at an auction! The WWII Leica Reporter was also able to multiply its starting price – opening for 70,000 EUR it was sold for a staggering 180,000 EUR incl. premium!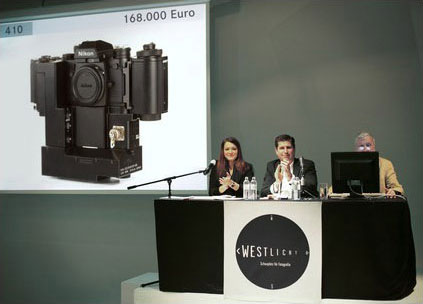 The results of the Nikon lots are equally impressive. Two lots of this section now share the world record for the most expensive Nikon camera! The Nikon S2-E, a viewfinder camera built in 1957, went for 168,000 EUR (starting price 90,000 EUR) – for the same amount a Nikon F3 NASA from 1968 found a new owner. The selling price of this camera exceeded the starting price of 16,000 EUR more than ten times!
Also many of the other 653 lots were able to achieve extraordinary results – among them a De Luxe Graphoscope Stereo Viewer which was sold for 38,400 EUR incl. premium (starting price 1,800 EUR). 88 % of the lots were sold for over 2,2 million EUR – the 18th WestLicht Camera Auction did therefore not only exceed all prior WestLicht auctions, but also was the most successful camera auction ever worldwide.
The photo auction conducted on the same day was equally a great success. The highlight of the auction was a portrait of Egon Schiele by Josef Trcka from 1914 which was bought by a European dealer for 43.200 EUR incl. premium. This is a record sale of a historic photograph at auction in Austria.
A portrait by Gustav Klimt started at 6,000 EUR and went for 15,600 EUR. Classic photographs by international photographers like Josef Sudek, Henri Cartier-Bresson, PhiIippe Halsman and Franz Hubmann were able to achieve results high above the estimated prices.
The next WestLicht Auction will be held on May 28th 2011. www.westlicht-auction.com.

LATEST VIDEO

SPONSORED VIDEO
Testing Tamron's SP 150-60mm G2 lens while capturing birds and alligators in Apalachicola, Florida.