Ready, Steady, Go!: Our 10 Favorite Tripods and Camera Supports
"Some cameras are heavier and need to be on tripods. Others are small enough to hide in your pocket. There are places where you don't want to feel like you are disturbing anything, so I may use a camera like that." —Jonas Mekas
Tripods come in many sizes, from tabletop models to heavy-duty camera stands designed for studio use. Because of the variety of types, styles, and even colors, there's rarely a one-size-fits-all tripod for most photographers. And, like eating potato chips, you can't have just one.
That's why most of us end up with collections of camera supports—each one allocated to different kinds of assignments. Everyone has his or her favorites; here are some of mine.
Why Use a Tripod, Anyway?
The most obvious benefit is that a properly designed tripod produces sharper images than is otherwise possible at supposedly handheld speeds. As we get older the threshold between hand-holding a camera and using a tripod expands to higher shutter speeds.
Image stabilization lenses as well as in-body stabilization can help but even the most high-tech solution can't be a three-legged assistant during a portrait shoot. You can leave your camera perched on the tripod, walk up to your subject to touch up a pose, talk, or pick up a twig, and it will be dutifully waiting for you when you get back where you left it.
There are just a few basics required for a good tripod. For example, it must be sturdy but lightweight enough so you actually use it! After that it becomes a matter of matching the tripod to your preferred way of working.
Gitzo's GIGT1545T Traveler Series 1 is their least expensive ($599) carbon-fiber tripod in this series. Add the elegant Series 1 Traveler Center Ball Head ($319) for a complete unit. The legs use Carbon eXact tubing for strength and stiffness and are adjusted with the Traveler G-lock, a simplified version of Gitzo's G-lock legs that are designed to reduce the tripod's overall size.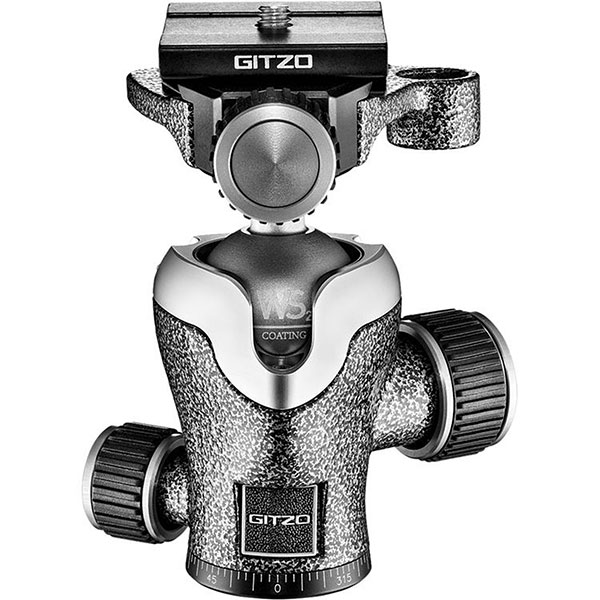 These reverse-folding legs fold around the center column and contribute to the tripod's folded length of just 16.7 inches. They extend to 60.2-inches high and can support up to 22 pounds of gear.
With the included short center column installed, the tripod can get as low as 8.6 inches for macro or low-angle shooting. The legs have space-saving feet that fit the compact design aesthetic of the Traveler Series. A shoulder strap is included, too.
Who's It For: Travel photographers looking for a high quality but lightweight (2.34 pounds) set of tripod legs.
Why I Like It: Gitzo has always represented class and quality in tripod design with extremely well-made gear for the discriminating photographer.
Two Heads Are Better Than One
While there may be some disagreement among photographers as to the best material (aluminum vs. carbon fiber) for tripod legs, there's also a debate as to what kind of head is best. On one side are the ball head aficionados who will tell you their favorite is quick, easy to use, and you don't have to turn different levers to place the camera where you want it. On the opposing side are the pan-and-tilt head devotees; for them, using the three-handle design makes it easier and faster to level the camera or follow movement.
Smith-Victor's Pro-4A Professional Grade 3-Way Metal Panhead ($49) works with most tripods, has a load capacity of 8.8 pounds, and has a traditional 1/4-inch-20 head mounting screw. The head has large, ergonomic pan-and-tilt handles, a bubble level, and a quick-release plate for mounting and dismounting your camera.
Simplicity itself. Back in the day, the "hot lick" tripod setup was using Smith-Victor legs with a Gitzo head; I used this combination well into the digital age.
Who's It For: Photographers looking for an affordable and dependable pan-and-tilt head.
Why I Like It: I've always had a soft spot for rugged and affordable Smith-Victor gear.
Really Right Stuff's BH-40 Ball Head with a full-size lever-release clamp ($415) is the Goldilocks head for nature photographers. It's a 17.1-ounce midsized ball head that supports camera/lens combinations up to 18 pounds.
Made from aluminum and stainless steel, the BH-40 has an ergonomic-locking T-knob that tilts 45 degrees in all directions with a 90-degree drop-notch that lets you quickly switch from landscape to portrait orientation.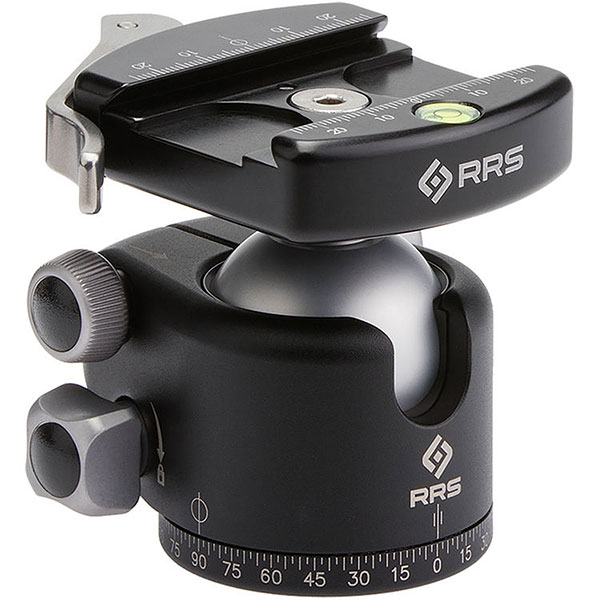 A separate tension knob is provided for applying pressure corresponding to the weight of the camera. A third knob loosens and locks the panning base and is engraved with markers every 2.5 degrees, from 0 to 360 degrees.
Who's It For: Nature and wildlife photographers who want the best in tripod ball heads.
Why I Like It: I've always been a fan of products that are built to a standard not a price point, like those by Really Right Stuff.
If price is an object, consider the Acratech Nomad ($299). It's a lightweight, durable ball head with an open design engineered to let dust, dirt, moisture, and debris pass through or around the mechanism, preventing damage or jamming. Both ball and chassis are made from aluminum alloy, which makes the head weigh 0.9 pounds while supporting up to 25 pounds. It features a three-knob control: one knob controls the ball lock, the second knob controls friction adjustment, and the third knob locks and unlocks the 360-degree independent pan.
The head's top clamp features a twist-knob design for locking an Arca-compatible quick release and has a brass restraining pin for extra safety. To assist in leveling the camera into a horizontal position, a bubble level is built into the top clamp. The side of the chassis has a 90-degree vertical notch, allowing you to move the camera into a vertical orientation.
Who's It For: Nature and wildlife photographers who want to travel light and still have top-flight gear.
Why I Like It: Acratech gear is just so beautifully designed and built that I can't resist it.
All Together Now
Using a tripod enforces a deliberate approach to making photographs and having to think about composition before banging off a few frames will improve the quality of your photographs more than you might imagine.
Vanguard's Alta Pro 2 264AP Aluminum Tripod with the Alta PH-32 3-Way Fluid Pan Head ($209) supports up to 11 pounds, measures 23.6 inches when folded, and has a center column that rises to 64.25 inches. Its four section legs feature an independent 20-, 40-, 60-, or 80-degree spread with twist locks for adjustments.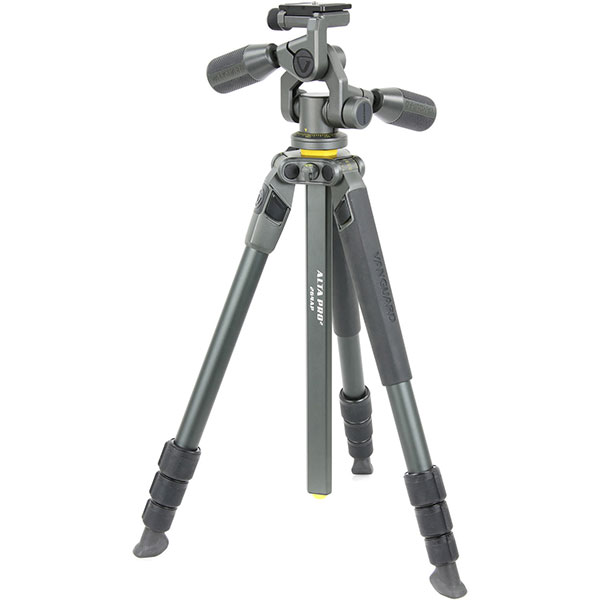 The tripod spider has a bubble level with a 3/8-inch-16 tap for attaching lights, articulating arms, and other accessories. The PH-32 3-Way Fluid Pan Head can be rotated 360 degrees and tilted backward 30 degrees or forward 90 degrees and has an Arca-compatible quick release. Non-slip, all-weather thermoplastic polyurethane grips on two of the legs provide a secure grip and there are rubber feet for stability on different kinds of surfaces.
Who's It For: Hybrid photographers who shoot as much video as they do still photographs.
Why I Like It: Classy gray styling and well-thought-out details make this an ideal first tripod, if it fits your budget.
You don't have to go to the poorhouse to buy a good tripod. Manfrotto's Compact Advanced Aluminum Tripod ($97) includes a three-way pan-and-tilt head with two ergonomic handles that fold on top of each other to save space when the tripod isn't being used. One handle controls the panning and vertical tilt, while the other controls the horizontal tilt.
The tripod weighs just 3.1 pounds, supports up to 6.6 pounds, and extends from 17.5 to 65 inches. The tripod's five leg sections are secured via flip locks. A quick-release plate attaches to your camera via a 1/4-inch-20 threaded screw. A padded carrying bag is also included.
Who's It For: Travel photographers on a budget or newbie photographers looking for an affordable tripod that won't fall apart with reasonable use.
Why I Like It: When I think of tripods, I also think of Manfrotto.
I would be remiss if I didn't mention the classic Tiltall TE Original Series Tripod with 3-Way Head ($174). The tripod has a load capacity of 44 pounds and can extend to a height of 74 inches and go as low as 28.5 inches.
The three section legs have twist locks for leg extension and adjustable stainless steel spiked feet for a secure grip on uneven terrain. One of the legs is detachable and can be converted into a monopod. Both head and legs are constructed from anodized aluminum. A carrying case is included.
Who's It For: Photographers looking for a well-made, mid-priced tripod.
Why I Like It: The Tiltall is as classic as a Leica M3. The red and gold model shown in my photo was custom made for me by the manufacturer many years ago—sorry.
Smartphone Supports
It has come to my attention that some people, like my friend Ralph Nelson (ralphnelson.com), actually take photographs—not just selfies—with their cell phones. So, for all these brave souls I have some tripod-related suggestions, starting with…
Joby's GorillaPod Mobile Mini Flexible Stand ($14) is a mini tripod designed for large and small smartphones, including most iPhones, Androids, and even Windows phones.
If you're looking for a more comprehensive solution, their GripTight Action Kit ($49) turns your phone into an action cam and includes a flexible tripod with a locking lever mount and an integrated pin-joint mount along with a long thumbscrew for GoPro compatibility.
Weighing under three ounces, it fits most smartphones (56-91mm) with or without a case, has a locking lever to securely clamp the phone, and has a cold shoe adapter that allows you to attach accessories such as a microphone or LED light. It's flexible and has wrappable joints to let you secure the device to objects and position the built-in camera at any angle to get the best perspective.
Who's It For: Smartphone owners who are serious about their photography.
Why I Like It: Joby's gear is well made, affordable, and useful. Tip: Make sure it's a real Joby; there are lots of knockoffs made with inferior quality.
Manfrotto's Shoulderpod R2 Pocket Rig ($79) is a professional grip for mounting any phone and is fully adjustable using wide rubber pads and a thumbscrew to hold a smartphone. It has a 1/4-inch-20 tripod screw connection and cold shoe. It's portable with a closed length of 1.89 inches and a closed width of 0.98 inches. It's available in aluminum and natural sapeli wood. Alas, unlike most Manfrotto tripods, there's no quick release.
Who's It For: Smartphone owners who are really serious about their photography.
Why I Like It: Manfrotto knows a thing or two about building well-made, affordable yet sturdy tripods.
Joe Farace has owned a variety of tripods and monopods, too, although space was not present in this column to talk about those one-legged wonders. Over the years he has used many kinds of tripods, from cheapo flimsy models that fell apart when used to beautifully crafted Gitzo models. You can see images and learn about the specific gear, including tripods, that he uses to photograph everything from portraits to race cars via his blogs, joefaraceblogs.com and joefaraceshootscars.com.

FEATURED VIDEO