7 High-Quality Point & Shoot Cameras We Love
You're hiking in the forest and stumble upon a friendly grizzly bear who's seated comfortably on a fallen log. You left your big camera at home to lighten your load, and the anemic lens on your smartphone just won't do the situation justice. Without having a real camera with you to document the scene, how can you answer, once and for all, that age-old question, "Do bears sit in the woods?"
If you think smart phones and mirrorless cameras have kicked point-and-shoots and DSLRs to the curb, you're only partially right. While P & S sales have flagged, some excellent models are available and you should consider carrying one with you—at all times—as spring blossoms into summer. You never know when you'll encounter a sittin' grizzle.
The majority of entry level models have vanished, slain by talented cell phones, but those who seek a highly capable everyday camera that is portable enough to carry constantly have many good options. And you will not be disappointed by the results. The performance of these seven high-end compact cameras rivals any camera on the market.
Even if you're an active user of a mirrorless or DSLR do-it-all camera, always having a premium point-and-shoot in your pocket or backpack makes good sense—and might mean fewer missed photo ops. Owning a high-quality compact gives you the option to travel light on daytrips, vacations and when attending other outdoor events.
By the way, don't overlook the used market in your search. Used camera specialists like UsedPhotoPro, B&H Photo and MPB all offer secondhand deluxe compact digital cameras at secondhand prices and provide warranties for your peace of mind.
Here are a seven choice high-end models in alphabetical order.
Canon PowerShot G5 X Mk II
Built on an amazing legacy of Canon PowerShot G-model cameras, the G5 X Mk II from Canon features a 24-120mm f/1.8-2.8 zoom lens (35mm equivalent) and a 2.36 million-dot pop-up electronic viewfinder. It also has a 3-inch 1.04 million dot tilting touchscreen LCD. Capable of capturing UHD 4K video at 30p and Full HD 120p, the Canon G5 X Mk II can also perform 20-fps continuous shooting and features a 30-fps Raw burst mode. The 1-inch, 20.2-megapixel Stacked CMOS sensor is supported by Canon's DIGIC 8 image processor. Price is $899.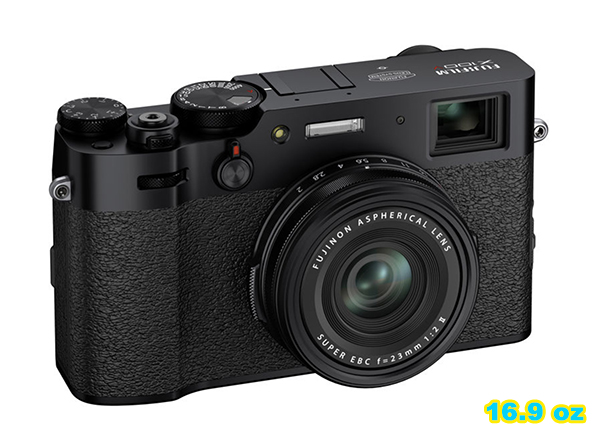 Fujifilm X100V
Hailed as one on the finest compact cameras available, the Fujifilm X100V is the fifth iteration of the legendary X100 that debuted in 2010 and became an instant success. Now equipped with a 26.1-megapixel APS-C X-Trans BSI CMOS 4 sensor, the X100V features a Fujinon 23mm f/2 lens (equates to 35mm on full-frame) and hybrid 3.69m-dot OLED electronic viewfinder. Famous for its popular Film Simulation modes, the Fujifilm X100V also has a 3.0-inch 1.62 million-Dot tilting touchscreen, 425-Point autofocus system and can capture DCI/UHD 4K video recording at 30 fps. Price is $1399.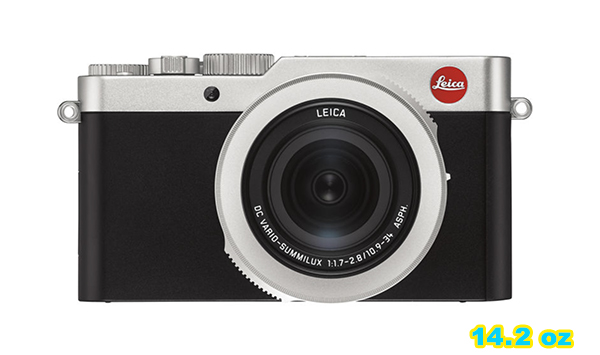 Leica D-Lux 7
Leica's entry in the deluxe compact market is the 17-megapixel D-Lux 7. It features a 24-75mm (35mm equivalent) f/1.7-2.8 DC Vario-Summilux zoom, 2.76 million-dot electronic viewfinder, 3-inch touchscreen LCD monitor and an extended ISO range of 100-25600. The fast-aperture zoom makes it a great choice for low light. The D-Lux 7 handles UHD 4K video at 30p and has built-In Bluetooth and Wi-Fi. Best of all, it's a Leica, a brand that is universally coveted worldwide. Price is $1395.
Olympus Tough TG-6
Built for rugged use, the Olympus Tough TG-6 is waterproof and crush resistant, plus shock, freeze and dustproof. It also has built-in Wi-Fi, GPS, and a Field Sensor System that tracks barometric pressure, temperature, acceleration and direction data that can be transferred to a smartphone and displayed with the captured image (Olympus Image Track smartphone app required). The 25-100mm f/2 zoom sits over the 12-megapixel BSI CMOS sensor. It also can shoot 4K video and Full HD at 120p. Highly recommended if you're into outdoor fun. Price is $499.
Panasonic Lumix DC-LX100 II
Handsome styling and a 24-75mm (35mm equivalent) Leica DC Vario-Summilux f/1.7-2.8 lens with power Optical Image Stabilizer (O. I. S.) differentiate the Lumix DC-LX100 II. It features a 2.78 million-dot electronic viewfinder, 3-inch 1.24 million-dot TFT LCD touchscreen monitor and a 17-megapixel Four Thirds MOS sensor. Macro photography at 3cm (1.2 inches) at wide-angle and 30cm at telephoto allows users to get in close. Price is $998.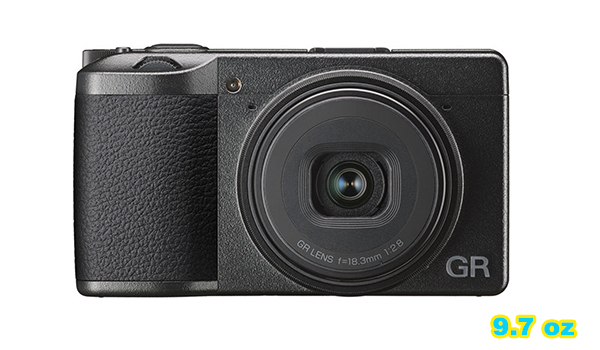 Ricoh GR III Digital
Popular street-shooting machine, the Ricoh GR III Digital has nearly achieved cult status among informed enthusiasts (read our review here) partly because it's delightfully small and light. It sports a 28mm f/2.8 lens (35mm equivalent), 3-axis image stabilization system and a 24.2- megapixel APS-C CMOS sensor. NOTE: the sister model Ricoh GR IIIx features a 40mm f/2.8 lens but is otherwise mostly the same (read our review of the GR IIIx here). Price of the Ricoh GR III Digital with 28mm lens is $969. Price of the GR IIIx with 40mm f2/8 lens is $1049.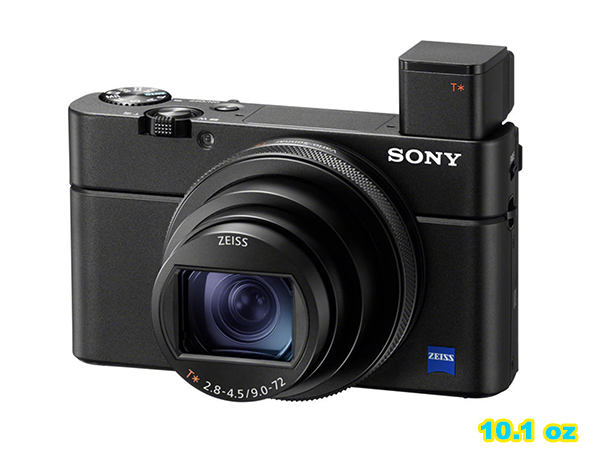 Sony Cyber-shot DSC-RX100 III
Brimming with features and attractive, compact styling, the Sony DSC-RX100 III has a 24-70mm (35mm equivalent) Zeiss Vario-Sonnar T* f/1.8-2.8 lens, making it ideal for low-light situations in addition to normal shooting. It features a 1.44 million-dot OLED pop-up electronic viewfinder, 3-inch 1.23 million-dot multi-angle LCD monitor and a 1-inch Sony 20.1-megapixel Exmor R BSI CMOS sensor. Price is $749.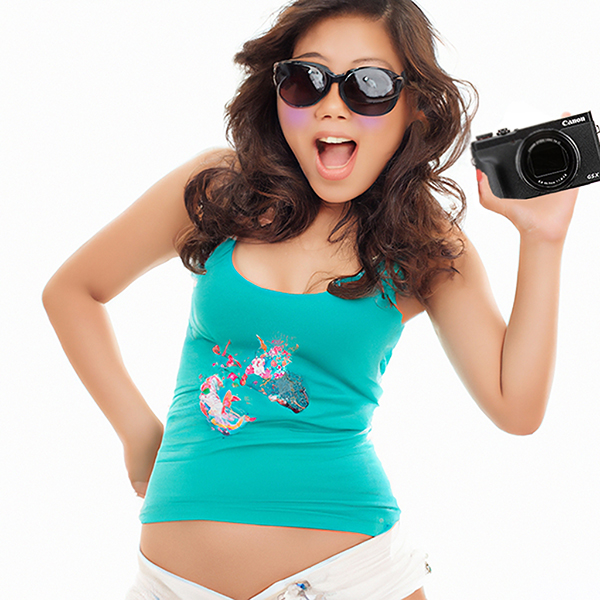 Become a Member of the Shutterbug Community
Register for a free account. Sign up for our newsletter. Spend five minutes (or less) uploading your best shots once every week or so. Potentially become a Shutterbug Photo of the Day winner. Enjoy viewing the fantastic work being done bythousands of photographers all over the world—and add your images to the enduring collection.
—Jon Sienkiewicz
(Disclaimer: All human subjects featured in this article were created by the author using DALL·E 2 from OpenAI, the folks who gave us ChatGPT. DALL·E 2 uses AI to convert plain language text strings into realistic images and art. The AI-based images were heavily edited. The human subjects in this story never existed.)