Raw Processing Options; A Sampler For Every Camera & Budget Page 3
DxO Optics Pro Version 5 (www.dxo.com) includes a raw conversion function that relies on an entirely new demosaicing engine to suppress unwanted artifacts and enhance image detail. (Demosaicing is the process by which digital images are assembled from data collected from an imaging sensor that is covered by a mosaic-like color filter array.) Key to the performance of this new technology, a newly-developed noise reduction procedure commences before instead of after the demosaicing so that the noise does not become amplified by the conversion process. The standard DxO Optics functions are still there, including optical corrections, color compensation, exposure optimization, and so on. But now everything runs faster and more efficiently because the entire software package has been rewritten to take advantage of the latest advancements in computer development, including multi-core CPUs and enhanced graphic processors.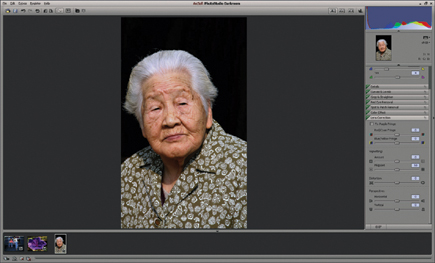 (Above): ArcSoft's PhotoStudio Darkroom directly supports raw files from more than a dozen popular brands. (Below): Adobe's Lightroom was beta tested by more than one-half million photographers.
Photos © 2007, Jon Sienkiewicz, All Rights Reserved
PhotoStudio Darkroom from ArcSoft (www.arcsoft.com) provides a full range of post-processing tools that allow you to adjust the normal parameters (white balance, exposure, curves, noise level, and so on) plus a complete set of lens and chromatic correction tools for fixing barrel, pincushion, and perspective distortions. You can also neutralize color fringing, remove redeye, and perform monochrome conversions. PhotoStudio Darkroom has a recipe feature that records editing actions as a macro that can be applied to other images. In addition to JPEG, TIFF, and DNG file support, PhotoStudio Darkroom directly supports raw files from more than a dozen popular brands. For Windows and Mac computers.
PhotoStudio Darkroom from ArcSoft is a powerful yet affordable raw processor that's suitable for pros and amateurs alike.

LATEST VIDEO

SPONSORED VIDEO
Testing Tamron's SP 150-60mm G2 lens while capturing birds and alligators in Apalachicola, Florida.