Raw Processing Options; A Sampler For Every Camera & Budget Page 2
Purchasers of Canon D-SLRs
(
www.canonusa.com
) receive a very robust software package that includes two applications that can be used to process raw images. In addition to being a very functional general-purpose image browser for any digital camera, ZoomBrowser EX provides limited raw processing tools. For more serious work, Canon's Digital Photo Professional is hard to beat. Use it to sort and rank images, adjust tonal curves, reduce luminance and chrominance noise, tweak white balance, and the like. Raw processing speed is surprisingly quick and batch processing is possible.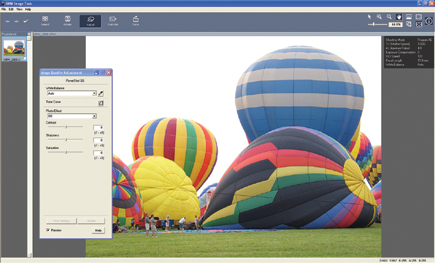 Canon's ZoomBrowser EX application performs raw conversions in addition to powerful browser functions.
Canon delivers a complete suite of software, including the very popular Canon Digital Photo Professional.
Free from Nikon (www.nikonusa.com), ViewNX image-viewing software is based on the same interface as Capture NX, their full-blown raw processor. Besides browsing, users can make adjustments to NEF (Nikon raw) files, including exposure and white balance compensation. The conversion function allows raw images to be exported as JPEG, 8-bit TIFF, or 16-bit TIFF image files. Nikon ViewNX also includes a Picture Control utility that allows the creation of Picture Control files which can be uploaded to the Nikon D3 and D300 cameras.

Olympus provides Master software with all of their digital cameras, including the D-SLRs. It's also available as a free download from their website (www.olympusamerica.com). In addition to processing raw images, Master combines the functionality of a sophisticated browser with specialty applications to extend options. You can create panoramic images, update an Olympus digital camera's firmware, review EXIF metadata, e-mail images and movies from within the application, and select color management profiles for your printer and monitor.

Pentax D-SLRs can create DNG files directly. The Pentax Photo Browser (www.pentaximaging.com) is designed to easily handle file management and organizational chores and offers one-click launch of Photo Laboratory, Pentax's full-featured raw utility. With Photo Laboratory you can perform color adjustment, data conversion, and image compensation for PEF (Pentax's raw file format) and DNG files that were either created directly with a Pentax D-SLR or captured as PEF and converted to DNG using Pentax's Photo Browser. Additional manipulations include noise reduction and lens aberration correction. There's also a useful printing utility that provides easy creation of various layouts. Both applications enjoy a graphical user interface that's clean and intuitive. The documentation is quite good, especially for beginners, partly because it includes an easy-to-understand glossary. And beginners can choose the Full Auto processing option to convert their raw shots to JPEG.

Sony (www.sonystyle.com) bundles two applications for viewing and editing raw files. Image Data Lightbox SR is a browser that facilitates image library management and handles batch conversion of raw files to JPEG or TIFF. Image Data Converter SR offers a more robust set of tools that allow for the adjustment of white balance, saturation, contrast, hue, tonal curves, and exposure. You can also control sharpness and save raw files as JPEG or TIFF.

Bibble Labs (www.bibblelabs.com) began producing software in the year 2000 to provide owners of Nikon D1 cameras an inexpensive alternative to the camera manufacturer's own software. As time passed, more and more cameras' raw formats were added along with scads of additional features. It's hard to tell where raw processing ends and normal image-editing begins because Bibble Pro integrates many functions that formerly required other software. Among the latest additions are a set of advanced healing and patching tools that make short work of even the most stubborn blemishes. There are also new controls to combat lens distortion and a very useful vignette removal function. Purple fringe can be eliminated by using Bibble Pro's chromatic aberration correction tools, and noise literally dissolves thanks to their legendary Noise Ninja technology.

Perfectly Clear, a potent image improvement application developed by Athentech Technologies, is incorporated into Bibble Pro. They claim it "automatically and instantly optimizes the lighting for each and every pixel while maintaining true color and zero clipping." No matter how you describe it, it does a remarkable job of revitalizing boring images.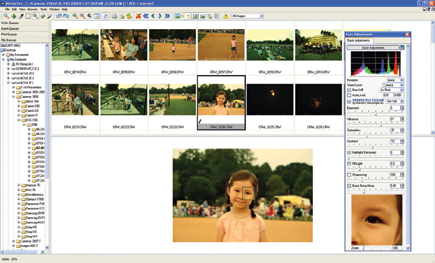 Bibble Pro includes Perfectly Clear, a potent image improvement application developed by Athentech Technologies.
Photos © 2007, Jon Sienkiewicz, All Rights Reserved

LATEST VIDEO

SPONSORED VIDEO