Late Exposures: The Webbs Chronicle Hope and Despair in the City Where Kodak Was King
Documentary photography, street photography, photojournalism, news photography, the photo essay—at their best, each records moments in time where man, nature, or machine impacts the surrounding universe. Centered in Rochester, New York, George Eastman, the man, and Eastman Kodak, the company, changed the universe around them as they rose to prominence. And when Eastman Kodak fell, a tidal wave broke on the shoulders of a city and its people.
The husband-and-wife photography team of Alex Webb and Rebecca Norris Webb were there in Rochester to record the ebbing flow of that tide in a manner that is both equally poetic and documentarian. They captured Rochester in a ripple of images that show the longing for the good times, the despair over the present, and a glimmer of hope for the future in their book, Memory City (2014, Radius Books).
In contrast to my previous columns, which involved only one photographer, this time we present the thoughts and experiences of two documentary photographers, and we do so in a question-and-answer format.
Shutterbug (SB): What inspired "Memory City"?
Alex Webb (AW): Our initial trip to Rochester, New York, was part of a Magnum project in which 10 photographers, myself included, photographed for two weeks in that city, the longtime home of Kodak, which had declared bankruptcy only a few months before. Since Rebecca and I had been interested in working collaboratively in the United States, she came along with me on that first trip. We became intrigued with this struggling but soulful city, its relationship to film, and its complicated past, so we decided to return four more times over the next year to do the book.
Since both Rebecca and I found our ways of seeing in part through using a Kodak film, we each decided to give a nod to our particular relationships with that film. I decided to use my last rolls of Kodachrome, whose deep reds and impenetrable blacks informed my work for some 30 years. However, these days, Kodachrome, which hasn't been made since 2009, can no longer be processed as color, but only as black and white. So punctuating my digital color work, and Rebecca's color negative work in Memory City, are these black-and-white images on my remaining rolls of Kodachrome, which I still had in my refrigerator. Processed this way, Kodachrome comes out with a distressed, almost weathered feeling, like a fading memory.
Rebecca Norris Webb (RNW): Photographing in Rochester a few months after Kodak declared bankruptcy, I was solely using film, so the news really hit home. I wasn't sure how to express this vulnerable time in Kodak's hometown, which might very well be the last days of film as we know it. Loading a roll of Portra film into my old Nikon FM2, that slip of celluloid brought to mind the metaphor of women's special occasion dresses, worn only once to a memorable event. I found myself wondering: How much longer will film accompany me, like one of those delicate yet indelible dresses? This lingering question inspired Memory City's elegiac refrain—a series of still lifes of dresses and portraits of Rochester women past and present.
SB: What got you started in this line of work?
AW: I come from a family of artists, so it was only natural that I ended up in the arts. I learned photography when I was about 10 from my father who, when he was struggling with writer's block, did some photography. But though I learned photographic technique then, I wasn't convinced by it. It was only later—after dabbling in painting, sculpture, and filmmaking—that I returned to photography. I love the notion that with this little mechanical object one can go out and express one's perceptions of the world.
RNW: As I've mentioned in our Aperture workshop book, originally I was a poet, but for some reason my work deserted me after college. Looking back, I realize that my work didn't contain enough of the world—nor my curiosity about it. So I bought a small camera and traveled for a year, hoping my snapshots would spark my poetry when I returned. Instead, at the end of that year, I fell in love with photography. I realized that the same eye focusing on those images in my poetry was the same eye behind the lens. I think the photographer and writer Wright Morris said it best: "I don't give up the camera eye when I write, merely the camera."
So early on I was attracted to poetic photographers such as Helen Levitt, André Kertész, Josef Sudek, Ralph Eugene Meatyard, Robert Frank, and later Saul Leiter. Since I often combine text and images in my books, I was also drawn to books by Wright Morris as well as Walker Evans and James Agee.
SB: Is it important to capture people unaware of the camera, or do you prefer to establish some sense of rapport?
AW: I work whatever way I have to in a given situation. Sometimes I wander through situations and simply photograph without talking to anyone; other times I may hang out with people. I work with what the world gives me.
RNW: It varies widely depending on the project. For The Glass Between Us, I was intrigued by how people responded while looking at animals in zoos, aquariums, and natural history museums, and so they often didn't notice me as I quietly photographed their reflections on the glass walls of an enclosure. For Memory City, I wanted to take more traditional portraits of the young Rochester women, so I often had two to three sessions with each woman, giving us some time to get to know each other a bit.
Street Photography Tips
Alex Webb and Rebecca Norris Webb on Street Photography and the Poetic Image (2014, Aperture) is a collection of tips and observations from the Webbs that are designed to guide the eye, heart, and mind once you venture beyond your doorstep to explore the world around you with a camera. The book is aimed at getting you to look beyond the how and into the who, what, where, when, and why when you shoot street images. The following are excerpts from various chapters (used with permission).
Alex Webb (from "The Grace of Others"): "Every culture has its own mores, its own traditions; every group of human beings has a different sense of privacy and personal space. And so photographing in the streets in different cultures inevitably calls for different strategies. In some places, people seem to almost embrace the presence of a photographer; others resist it… Ultimately, how long a street photographer can linger in any given situation is largely thanks to the grace of others."
AW (from "Asking Questions"): "I hope to bring back pictures from the world that open people's eyes—pictures that suggest the enigmatic nature of the world we live in, as well as its variety, complexity, beauty, and pain."
Rebecca Norris Webb (from "The Luminous Image"): "My creative journeys typically start with an image I see in the world—sometimes repeatedly—an image that for some reason gets under my skin. Moreover, if it later attracts other images to it, both visual and written, these images taken together may create a single entity—something larger, more complicated, more alive than the individual image alone. When this happens, I may very well have the beginnings of a new book."
RNW (from "Light Like a Bird"): "How you collaborate with the world may help you eventually uncover the central metaphor of a book or project… Over the years, I've learned that the more questions a particular image evokes, the richer the metaphor will ultimately be."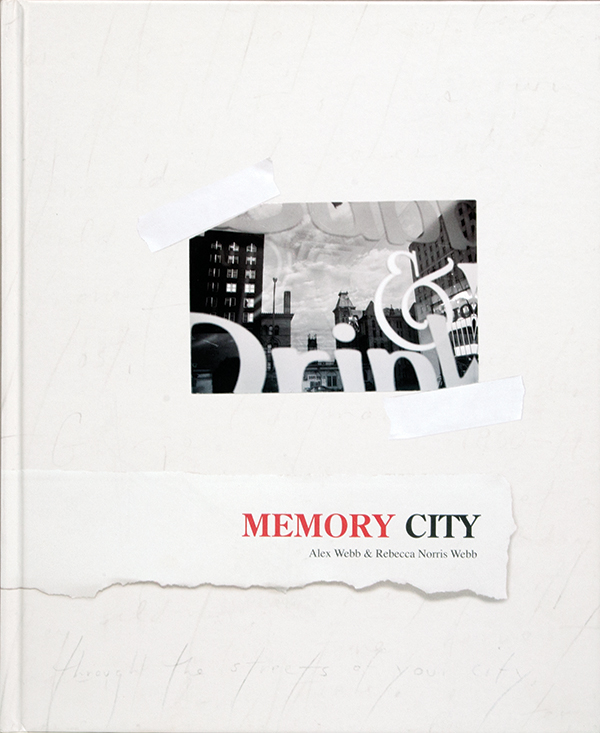 Favorite Gear
Alex Webb: "Leica M plus 35mm lens. I've used Leica rangefinders for years. I like the fact that it is small and unobtrusive. People in the streets don't pay attention. And I like working with a rangefinder because I like to look at the world directly, not on a ground glass or through an LCD screen."
Rebecca Norris Webb: "Sony A7 plus 28mm lens. It's taken me a few years to find my footing in the digital world, but this summer working on a new project on location, I began to fall in love with the Sony A7. Its lightness and ease is a perfect match for a street photographer like me who likes to walk and photograph quietly, spontaneously, and intuitively, sometimes for hours."
What's in My Gear Bag
Alex Webb
* Leica M (two bodies)
* 35mm lens
* 28mm lens
* 50mm lens
* Sekonic incident meter
Rebecca Norris Webb
* Nikon FM2
* Nikon 28mm f/2.8 lens
* Kodak Portra Professional 800, 400, and 160 Color Negative Film
* Sony A7
* Zeiss Loxia 35mm f/2 Biogon T* lens for Sony E-Mount
* Sony FE 28mm f/2.0 lens
* Benro C0180T Travel Flat Tripod with Carbon Fiber Twist Lock Legs
The Webbs, through their photographs, poignantly documented the passing of Eastman Kodak through the people and neighborhoods affected. Their book, Memory City, chronicles their journey and not only mourns that loss but also celebrates the infinite possibilities to come. The Webbs operate out of Brooklyn, New York. To see more of their work, visit webbnorriswebb.co, where you'll find information on their workshops and other books.

FEATURED VIDEO