On The Edge: Photographer Scott Serfas' Tips for Capturing Nail-Biting Action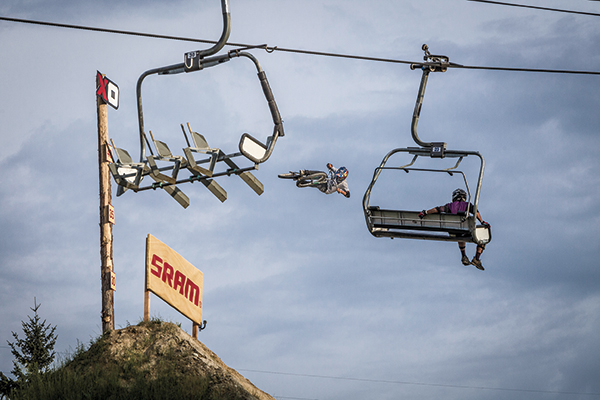 Scott Serfas is one photographer who likes to get in on the action. In fact, he thrives on it. There is a certain amount of serendipity involved, but there is also a certain amount of passive control, in the sense that Serfas knows what to expect and expects the unexpected.
"I primarily photograph sports that I enjoy doing myself," Serfas observed. "I'm personally involved in snowboarding, skateboarding, surfing, and mountain biking. More recently, working with Red Bull I've been able to shoot sports that I don't do or no longer participate in, such as BMX (bicycle motocross), which I did as a kid."
But does Serfas consider this "extreme"? "I don't really call it 'extreme sports.' The word 'extreme' is used way too often. The guys that I'm shooting are on the top of the sport, and most of what they're doing is extreme. However, I prefer to call it 'action sports.'"
Doing What He Loves
Capturing the action was a natural extension of being in the action for Serfas. "I got started shooting friends on weekends," he recalled. "We'd go skiing or snowboarding, and we always had a camera with us so we could take pictures of each other. This was in the mid to late '80s. Snowboarding was still new and some areas forbade it at the time. As it grew, the guys I knew started getting sponsors and becoming professional snowboarders. They needed pictures, so I was the one who would take them. So as they were improving in their sport, I was improving with the camera."
Serfas started with his mom's Kodak Instamatic and moved up to his dad's fully manual Minolta SLR. "I was shooting negative color film. One of the sponsors wanted to buy a shot and said, 'If you had shot this on slide film, we could have used it and paid you $100.' I said, 'You're actually going to give me money for this, because I'm having a great time shooting it?' I was 18 or 19 at the time and getting paid for this was something I didn't know was possible. So I switched to slide film from that point forward, and was also forced to learn how to control the camera. After that, the work mushroomed with the increasing popularity of snowboarding as a sport."
Taking A Leap
If, for whatever reason, he didn't succeed as a professional photographer, Serfas had an exit strategy. Lucky for him, his leap of faith paid off.
"Right after high school I'd decided to become a plumber's apprentice, so I'd have a trade in case photography didn't work out. Fortunately, it did, because I wasn't thrilled with plumbing. Whenever there was a lot of snow, I'd call in sick and head for Whistler Mountain to ride and shoot pictures.
"At one point, we'd hiked Mount Seymour and built snowboard jumps with Vancouver in the background. That sparked a growing interest in shooting there. It was then that I realized that I didn't need another job—this was paying the bills." That was in the early 1990s.
Working with the Minolta taught Serfas about timing: "You had to choose the right moment to shoot." After a few years and seeing what a friend's motor-driven camera could do, he switched to a Canon motor-driven SLR. He finally made the jump to digital—a Canon EOS-1D, in 2005, having been hesitant to take the plunge. He now primarily uses a 1D X, notably for its ability to capture rapid-action sequences. He processes the images in Lightroom.
"I'm about getting quality action. I want to make sure that the person in the shot is happy with it and I want to make sure that my photographs legitimize what that person is doing. And if I can add an artistic aspect or a creative angle, then that's great."
When it comes to exposure, "I determine how fast they're going to be moving." But it's not all available light. Far from it. Where needed, Serfas uses flash to make the athlete pop out of the scene. When time and location permit, he'll opt for a Profoto Pro-7b. In tight situations, the flash of choice is a Sunpak 555 handle mount, which has proved popular in skateboarding circles (he picks these up on eBay when they become available).
Toughing It Out
Serfas often works under Arctic-like conditions when shooting on a mountain or in freezing cold water in the ocean (despite wearing a wetsuit—even in summertime). In the water he'll employ an AquaTech housing (aquatech.net).
"Half the fun is avoiding injuries. Knowing the sport certainly helps. So does knowing what the athletes plan to do, and, if they make a mistake, knowing where they could end up, so you can prepare yourself to be clear of the action.
"In snowboarding, generally you're a little further away, but often you're working in avalanche conditions. If they land and the whole face of the mountain slides, is your bag zipped up and on your back, do you have your snowboard on and ready to move and find a safe spot? Lots of different things to consider in very little time."
Skateboarding has its own inherent risks. "A lot of times if I'm shooting skateboarding with a fisheye, I'll set up the camera angle, hold the camera in one hand, move my face away, and use my other hand to block anything that comes at me."
As the popularity of a particular sport increases, so do the various locations that Serfas shoots in. "Now, it's more about getting to places where no one's been, getting to unique spots to shoot the action for myself and my clients."
Scott Serfas is based in Whistler, British Columbia, Canada. His action shots keep you on the edge of your seat. Go along for the ride by visiting scottserfas.com.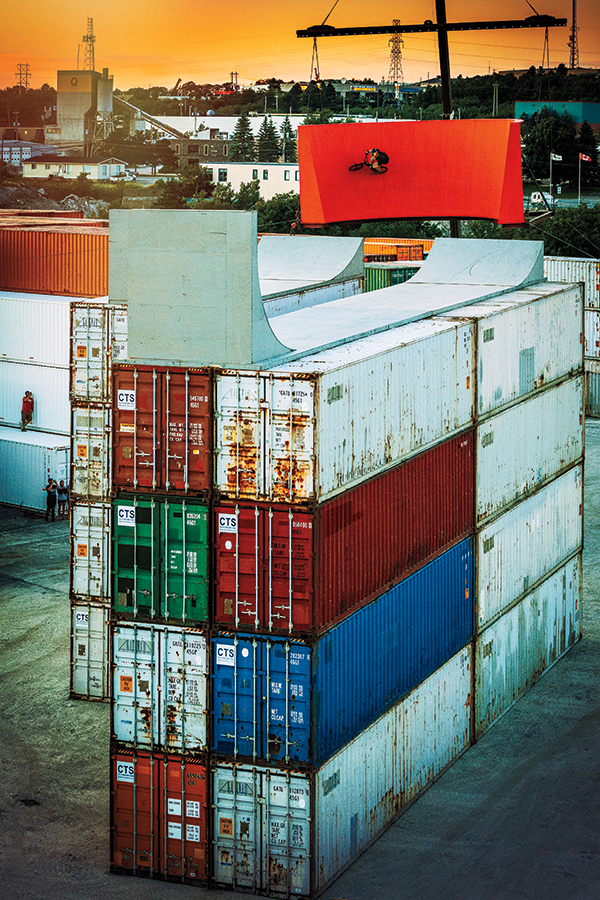 His Favorite Lens
"I'd have to say the Canon 15mm fisheye is my favorite lens," Serfas said. "I hold the camera crooked when using that lens to help reduce the look of distortion. In a way, with this lens you become part of the shot, not a distant observer documenting a scene. It adds a lot more excitement to the shot."
What's In Serfas's Gear Bag
* Canon EOS-1D X
* Canon EOS 5D Mark II
* Canon EF 15mm f/2.8 Fisheye
* Canon EF 24-70mm f/2.8
* Canon EF 70-200mm f/2.8
* Canon EF 300mm f/4
* Leica M9 with 35mm f/1.2
* F-stop photo backpack (owns several sizes)
* Baofeng UV-5RA Dual Band Portable Radio (+2 backups)

LATEST VIDEO