Pro's Choice; David Allan Brandt's Global Portraits; Getting It Right Takes Talent, Technique, And The Right Tools Page 2
Brandt invested in a Canon system when the 1Ds Mark III made its debut, adding a 5D Mark II as backup. Lenses include the 24mm, 50mm, 85mm, 24-70mm, and 70-200mm IS, renting others as needed. When it comes to medium format digital, he rents a Hasselblad H2 and a Phase One back, preferring the P 30 series for the optimum image size and operating speed. "We always prefer to work tethered to a computer," he observes, "even on location, although it's not always feasible. For most projects we'll hire a digital tech who provides the computer equipment. For overseas assignments we'll generally bring our own digital tech. It depends on the project: sometimes it works out better to get someone locally." As for the final digital composites themselves, "more and more clients want to take care of that in-house, whereas others still want me to oversee everything."
Client: Sony Audio Division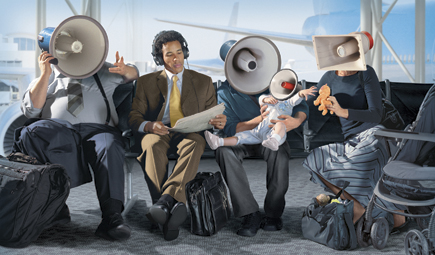 David Allan Brandt captured this scene as part of a promotional campaign for a line of noise-canceling headphones. He used a Hasselblad with a 120mm lens and a Phase One P 30 back. He employed a mix of Normans and Profotos to recreate the feeling of natural light streaming into the airport terminal for this location shot. For the people, he positioned Fresnel spots to simulate the sunlight coming through the window while adding softboxes in the foreground to balance that light, plus a fill card. To complete this composite, he shot the megaphones separately, but also in the airport, using similar lighting. (Agency: Bagby & Company.)
Lighting For Digital
While his lighting style hasn't changed dramatically through the years, the gear Brandt uses has seen a shift with evolving technologies. He still uses his trusty Norman power pack system in the studio and occasionally on location—albeit close to his home port. Otherwise, he rents. "If we can, I like to rent at the location, but if we're going to some remote place, then we'll bring what we need with us." Voltage requirements overseas routinely steer him toward Profoto, although he may turn to Elinchrom, depending on the situation.

Profoto, he points out, is the mainstay around the globe these days, which means it's usually the easiest to rent. Usually. On a recent assignment, when Brandt was shooting in Bali, there were no photo rental houses. So he had to rent lighting gear out of Jakarta and have the gear trucked over. Unbeknownst to him, the van was filled not only with the Profotos he'd rented but also a handful of lighting assistants—only one of whom had a working knowledge of the equipment.

Brandt accessorizes his lights in various ways, with his Chimera softboxes as one option. However, on occasion he'll use Profoto and Elinchrom octa-banks because they provide a soft yet directional light, with "more sparkle." For hard lighting he opts for Fresnel spots. He also favors beauty dishes with grids on them to provide a very distinctive soft light with a greater degree of control.
Client: Tough Jeans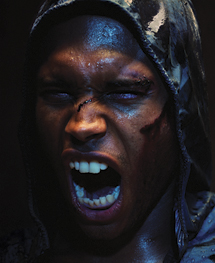 Shooting on Fuji ISO 800 color neg film with a Hasselblad, David Allan Brandt made this studio shot using his Norman strobes. He had one light just above camera with a grid, gelled blue to give it more of a gritty look, with a Chimera softbox 4 feet above the model's head to get a certain moody quality of light coming down on the model. (Agency: Live/China.)
Traveling With Gear
When flying with equipment, lighting gear generally goes in baggage, but cameras travel as carryon. When transporting all that expensive lighting and camera gear, Brandt notes that he may need a carnet (a special Customs declaration) or other transport documents—it varies from country to country. (For more information on the carnet, visit www.uscib.org.)
"The client leaves all the paperwork to me. More to the point, we try to have the client do as little as possible." It gives Brandt greater control and ensures smooth sailing, even if the waters may later prove to be choppy. And that brings us full circle to that photo shoot in Bangkok, where we could see a determined David Allan Brandt behind the camera, undeterred by rough seas.