Pro's Choice; David Allan Brandt's Global Portraits; Getting It Right Takes Talent, Technique, And The Right Tools
One moment you can find him photographing people diving off a boat in Bali, the next focusing on a businesswoman returning to a hotel restaurant in Bangkok to savor the haute cuisine, and then back in his studio capturing a telling portrait. That's the life of an advertising photographer specializing in portraiture, lifestyle, and fashion, as David Allan Brandt knows it.
Client: Emaar
Emaar, a major property developer in Dubai, sent David Allan Brandt to different locations to shoot pristine scenes for an ad campaign over a three-week period. For this shot he went to exotic Bali, Indonesia, hoping to find calm waters and beautiful skies. Instead, a weather front out of Australia created difficult conditions that everyone had to work around. Brandt operated his Hasselblad with a 50mm lens from a neighboring boat (both boats rented), shooting on Portra film. The divers were models hired locally, taking the plunge on cue. Shooting by available light, Brandt estimates his exposure was between 1⁄125 and 1⁄250 sec, wide-open. (Agency: Team/Young & Rubicam.)
All Photos © 2010, David Allan Brandt, All Rights Reserved
Brandt (www.davidallanbrandt.com) has operated his Los Angeles studio for over 20 years. Reflecting his appeal to advertising agencies worldwide, he is represented both in the US and Asia. Assignments that can last upward of several weeks have taken him to such exotic locations as Paris, London, Rome, China, Japan, Bali, Singapore, and Dubai. The world is his playground.

I've known and worked with Brandt for many years. One of his photographs graced the cover of my book Location Lighting Solutions (Amphoto) and he was a featured contributor to that volume and the Studio Lighting Solutions book that came before. What I've always appreciated about his photographic style is that he does not limit himself to one genre of portraiture. He imbues his images with imagination, a flare for the dramatic, and even humor when the assignment calls for it. Brandt achieves lighting and creates characters that blend in naturally with their surroundings in a way that we find believable—all through a mastery of the tools at hand and his ability to work with people.
Client: Shangri-La Resorts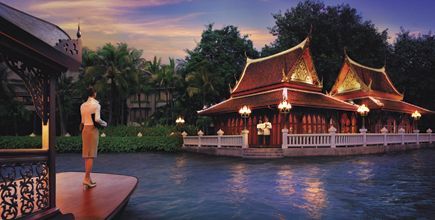 To capture each of the elements for this complex composite, David Allan Brandt employed his Canon EOS-1Ds Mark III. This shot took place in Bangkok, Thailand. The model, portraying a businesswoman returning to the hotel to dine at their famous restaurant, was lit primarily by natural light, with one strobe head with a warm gel from behind (to simulate a lantern hanging from the boat). The hotel staffers also needed to be shot separately, also with strobe to simulate the available light sources. He then lit the restaurant interior for yet another exposure, adding other elements (dock, sky, water, and water line) to complete the picture. Brandt shot this scene from a nearby boat—in rough waters, no less. (Agency: TBWA.)
Back In The Day
Brandt first caught the photographic bug back in high school. Immediately after graduating, he landed a job as a photojournalist for four years with a local newspaper. He then attended Art Center College of Design (Pasadena), and while at Art Center he was hired by EMI Capitol Records as a staff photographer. After a year he embarked on his own, opening his studio.

The first pro-level cameras Brandt bought were a used Nikon F3, Hasselblad 500C, Cambo 4x5, and Toyo 8x10, with Gitzo tripods lending support. His keen interest in black and white drove him to do his own printing. However, the demands of running a full-time studio soon mandated that he hand over this work to commercial printer Robert Cavalli (www.cavallistudios.com). With Brandt overseeing each project, they experimented with different processes and papers, including lith printing, toning, and bleaching.
Client: Mercedes-Benz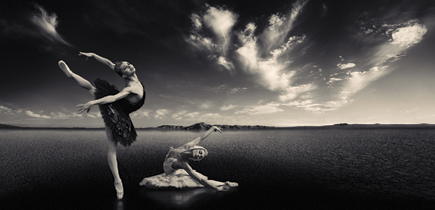 The theme revolved around classical performing artists symbolizing the classic performance of the Mercedes-Benz. In this composite we see the Russian prima ballerina Diana Vishneva in her dual role as white swan and black swan as portrayed in Swan Lake. David Allan Brandt photographed her with a Hasselblad and an 80mm lens on Plus-X—on stage in Taiwan. Lighting was identical for both poses and came from Profoto heads with 12x12-foot silk diffusers, one on camera left, the other—the key light simulating daylight—on camera right, in keeping with the scenic background. Chimera softboxes provided back and side lighting. Brandt shot the backdrop in the Mojave Desert using a red filter for more dramatic skies. (Agency: Grey Worldwide.)
Brandt's black-and-white films of choice remain Kodak Plus-X, Tri-X, and ISO 3200 T-Max. His color films of choice have largely centered on Kodachrome (back in the day), Kodak Ektachrome, and Fuji Velvia and Provia in 35mm slide films, and Kodak Portra 160VC and NC for medium format. He finds that the print films scan as well as transparency these days, which prompted the switch to negative in medium format.
The Move To Digital
"I held off on the switch until I was firmly convinced that digital quality rivaled film," Brandt recalls. "For me the pivotal moment with 35mm-style D-SLRs came with the Canon EOS-1Ds Mark III, and in medium format the Phase One 30-megapixel back." His commercial work is almost entirely digital these days, shooting film by special request (and for personal projects). In fact, he points out that clients don't even know how to look at a Polaroid anymore.
Client: Wild Card Boxing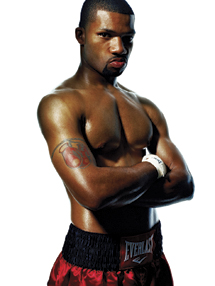 This was one of several shots for a Wild Card Boxing campaign that David Allan Brandt produced in his studio with a rented Nikon D3X and a 60mm lens. Using his Norman power pack system, he set up one Fresnel spot as the key light, with umbrellas on a white seamless backdrop, adding a white card for fill.

LATEST VIDEO