Pro Style Subhankar Banerjee; Revealing The Beauty Of The Arctic
Born in India in 1967, Subhankar Banerjee received a bachelor's degree in electrical engineering before moving to the US where he earned a master's degree in physics and computer science. He later accepted a job with Boeing in Seattle, Washington, and became a successful scientist. So why would he switch gears and devote himself to shooting pictures in Arctic blizzards? In his book entitled Arctic National Wildlife Refuge: Seasons Of Life And Land, Banerjee says, "The best answer I can give is that in my life there are no straight lines."
Taking Risks
Banerjee's granduncle had been a successful painter, "whose work inspired the artist in me." As a Sierra Club member in college, he enjoyed hiking in the mountains of New Mexico and photographing the surrounding wilderness with a Minolta 35mm SLR. "Art has always been a part of my life," he explains.

During the '90s Banerjee began entertaining the idea of leaving the sciences and becoming a photographer, with the goal of documenting endangered landscapes and habitats. Some of his friends suggested that he visit the Arctic Wildlife Refuge in Alaska, and he gave the idea serious consideration. "In the year 2000, I planned the project, and in 2001 I went to the Arctic," he says. He quit his job at Boeing, cashed in his life savings and went to Alaska to document the land, wildlife and native people. Led by Inupiat guide Robert Thompson, Banerjee traveled thousands of miles on foot, raft and snowmobile, and lived with native families along the way.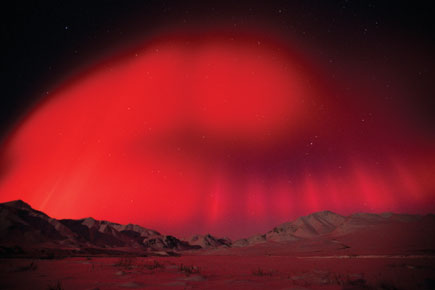 During his 14 month photographing the Arctic Refuge, Banerjee experienced subzero temperatures and raging blizzards. This harsh environment is also full of beauty, as seen in this shot of the Aurora Borealis.
All photos by Subhankar Banerjee
"I had seen documentation from photographers who went to the Arctic Refuge during the summer," he says. "I photographed this area during the winter to begin with. During the first year, I worked in a rather journalistic bent. The second year, I knew more about what I wanted to do."
Banerjee's documentation of the Arctic wildlife included capturing the migration of the many caribou and birds that flock to the refuge yearly.
He photographed migration of caribou, birds that flock to the refuge from various continents, plants, and native people in an impressive array of images that he describes as "A holistic documentation of wildlife, landscape and culture." In total, Banerjee spent 14 months over a two-year period photographing the Arctic Refuge. During this time he experienced subzero temperatures and several blizzards.

"Weather-wise, it's a very harsh environment," he asserts. "It's nine months of winter, often with 60--70 mph winds."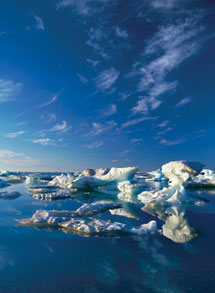 The Arctic Refuge experiences nine months of winter; often with very heavy winds. Shooting under these conditions requires careful preparation to protect yourself and your gear from the harsh elements.
Not Just A Frozen Wasteland
Banerjee returned to the US briefly in 2001 to raise money for his project and he received sponsorship from Blue Earth Alliance. He also received the first Lannan Foundation Cultural Freedom Fellowship in 2003, which was established to "recognize leadership on behalf of world cultural freedom by promoting cultural diversity and strengthening cultural traditions and ties." In 2003, Mountaineers Books in Seattle published his photographic journey in Arctic National Wildlife Refuge: Seasons Of Life And Land. His images are paired with essays by prominent writers, conservationists, and biologists. Former President Jimmy Carter wrote the book's foreword.

In March of that year, when the Senate debated an oil drilling issue in the Arctic Refuge, California Senator Barbara Boxer used Banerjee's book as evidence that this region was more than a "flat, white nothingness." (The Senate later voted 52 to 48 against drilling.) Nonetheless, Banerjee reports that, "The fight is still continuing. My main goal is that, as an artist, I can present my work and voters can make an informed choice."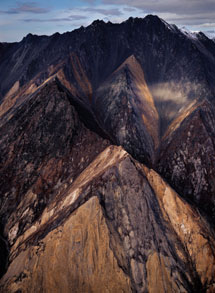 Far from being a "flat, white nothingness," the Arctic Refuge includes spectacular sites like the Romanzoff mountains.

FEATURED VIDEO