Portable Storage; Hard Drives, CD/DVD Burners, And Flash Drives Page 2
USB Flash Drives
Some companies want their flash drives to be tough as nails, among them ATP Electronics, so it's no surprise to see the ToughDrive banging down the door in the battle for flash card iron man. This device offers a 200x (30MB/sec) data transfer rate, but on the outside, a hardened rubber housing contributes to shock and water resistance. And it supports password protection.
Dane-Elec Memory announced their presence at the show with a host of memory-related products. In pen drives, they offer the zMate USB 2.0 and 1.1 compatible portable devices, with capacities from 256MB to 2GB.
Kingston Technology promoted their new ultra-secure DataTraveler Elite Privacy Edition, available in storage sizes from 256MB to 4GB, along with the U3 DataTraveler with Smart Drive USB, which runs selected software applications without a computer, in 512MB to 1GB capacities.
Lexar Media announced plans to incorporate PowerToGo into its line of JumpDrive products, empowering these USB flash drives with the ability to run most standard Windows applications. In new flash drives, Lexar introduced JumpDrive Mercury, with a storage gauge that lets you know remaining capacity, in 1GB and 2GB versions. Also new is the ultra-compact JumpDrive Firefly, in 256MB, 512MB, and 1GB capacities. Finally, Lexar enhanced their premium flash drive, JumpDrive Lightning, with 150x write speed. It will be available in a new 4GB capacity version.
Patriot Memory offered a flash drive that was a bit unusual. The Secure Digital Kit consists of a card reader that on the surface looks like a flash drive and a Secure Digital card that plugs into the reader/drive, which makes the device's storage capacity dependent on the resident memory card. Sold in capacities of 256MB, 512MB, and 1GB, and without the card as well. This company also introduced 4GB and 8GB Patriot X-Porter Xtreme flash drives.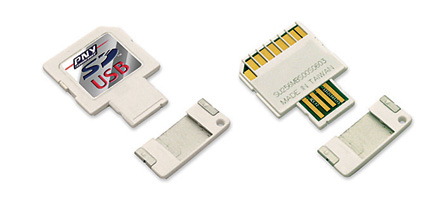 PNY Technologies brought to our attention several new products, beginning with the Secure Digital USB card, a Secure Digital card that's also a flash drive with the removal of a cap and direct insertion into a USB port, with capacity from 256-512MB, starting at $39. We can't say their "standard" USB flash drives are typical either. The Maxfile Attaché USB 2.0 ($179) stores 8GB and comes with a built-in extension cord. Even more interesting is the Evolution Attaché, which is a combo flash drive and multi-card reader (starting at $29/128MB). While others claim their flash drives can withstand water, the All-Terrain Attaché is designed out of the box to be shock-, water-, dust-, and UV-resistant, with a rubberized housing ($44/512MB; $99/2GB). Finally, boasting a capless swing-design housing, with capacity to 2GB, is the Mini Attaché ($25/256MB).
In the battle to bring out the heavy armor, SanDisk would not be outdone, introducing the Cruzer Titanium, in 1GB and 2GB capacities. This flash drive was designed to withstand adverse conditions, owing to a crush-resistant casing. The retractable USB port eliminates the need for caps. The Cruzer Titanium boasts read/write speeds up to 15MB/sec. The Cruzer Micro, as the name implies, is an ultra-compact alternative--not that flash drives are big to begin with, with capacities ranging from 512MB to 4GB, featuring a retractable USB port. Moreover, U3 makes both drives the equivalent of a handheld computer, letting you run certain programs and data on each device. As an alternative, the new 2GB Ultra II Secure Digital Plus card doubles as a flash drive, with a hidden connector that allows it to be plugged directly into a high-speed USB port.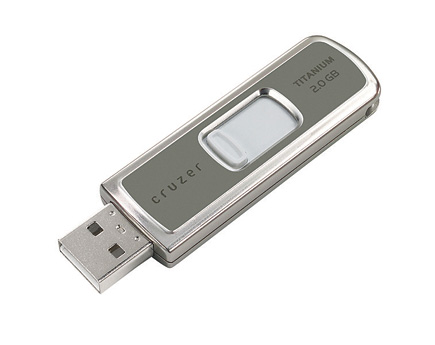 Scratch-Resistant Archival Media
Typical CD- and DVD-recordable media have a short life, of 2-15 years, according to one industry source. While we may argue with the numbers, it is a fact of life, and backing up to CD or DVD does not guarantee your data will be there forever. As Steve Mizelle, president of KMP Media, explained it: "The silver reflective layer eventually tarnishes through exposure to light, oxygen, heat, humidity, and rough handling." New gold discs offer a 24-karat gold reflective layer that does not oxidize or tarnish. Moreover, a phthalocyanine dye ensures stability. Other protective layers, in particular, a scratch-resistant layer, prevent degradation and loss of data for a very long time. Two companies promoted their scratch-resistant, gold discs at PMA this year. Obviously, KMP Media is one, having introduced the Kodak Preservation CD-R and Preservation DVD-R. Delkin Devices was the other, adding Scratch Armor to their Archival Gold CD-R and DVD-R media. To date, the technology cannot be applied to rewritable disc media, which was never intended for archival storage to begin with.
Photo Frames
These days it's not enough that your family photos and prize shots are prominently displayed on the coffee table in your living room. So, naturally, we have photo frames designed for just this purpose. Now our pictures have become slide shows, which maybe even talk to you. And these devices also function as a video player. Because they don't require an internal hard drive, these playback devices sport larger color LCD screens and cost less than portable storage devices with color displays, though cards and file formats may be more limited to the popular varieties (for example, reading only JPEG in stills). Usually, it just takes plugging the memory card into the device, and voilà, let the entertainment begin!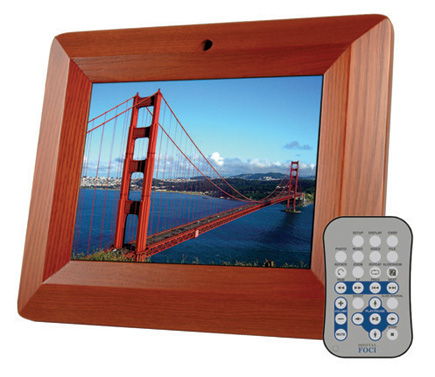 Digital Foci Image Moments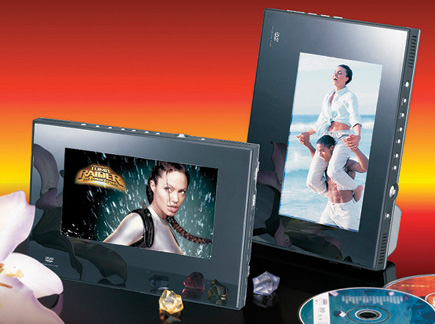 Three companies put us in the proper frame of mind to view our pictures. Digital Foci displayed the Image Moments 8" VGA photo frame ($249), with larger sizes to come. It comes with a remote control and plays JPEG, MP3, and MPEG movies. Media Street displayed their wares privately, off the showroom floor, focusing attention on their eMotion-branded products. The eMotion 7" MultiMedia DVD Player is a digital frame that reads multiple memory cards and plays DVDs and MP3 files ($349); the eMotion Digital Photo Frame sports a more modest 3.5" screen for slide shows from Secure Digital, MultiMediaCard, and CompactFlash ($119). Less digital and more analog is the eMotion Talking Picture Frame, a traditional picture frame with audio playback for recorded greetings ($10.99). Pacific Digital showcased several photo frames, each supporting multiple card formats: NuVue (5.6" screen), MemoryFrame (8x10" screen), and the MemoryVue MV800 (also a video and MP3 player, with 8" display).

Manufacturers/Distributors' addresses can be found on page 174.

LATEST VIDEO

SPONSORED VIDEO