PMA International
Professional Digital Cameras, Film Scanners, And Storage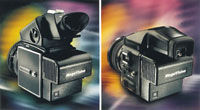 My first impression entering PMA '99, a little before the trade show opened, was provided by MegaVision with their new S3 2048x3072 pixel medium format digital camera back for single shot use with all types of illumination. This new chip, also featured by several other competitors, provides performance which speaks of maturity in digital photography and image processing. The MegaVision group were photographing an unusually beautiful model with rich red hair, a flawless, creamy complexion, and striking features. The resulting Fuji Pictography prints exceeded what I would expect from 120 film using a 645 or 6x6 SLR in sharpness and refinement and in the realism of the rendering of subtle delicate tones.

The MegaVision S3 digital medium format SLR camera back for Hasselblad, Mamiya, and Bronica camera models, is not just higher in resolution than previous models but also provides an enhanced dynamic range, better exposure latitude, and reduced shadow noise. The S3 is designed for studio work tethered to a computer, and as such will be ready for delivery by the time you read this. The S3 MegaVision is like its predecessor S2 designed as well for location photography with a soon to be released BatPac for the system. The S3 price including software is $23,900.
Kodak DCS 620 Professional digital camera in a Nikon F5 body.
The maturation of digital photography was further revealed by Kodak's introduction of the DCS 620 digital camera built into the Nikon F5 body. This new 620 model features a 2Mp chip combined with the latest Nikon professional SLR camera body features. It offers the Nikon system user the latest in digital image capture utilizing all of the lenses and special applications features developed by Nikon in conjunction with the latest Kodak digital technology. In addition to adding a new dimension of choice to what is offered to the news gathering profession, this 620 is also ideally suited to forensic, scientific, government, and military applications. Nikon's cast metal body and the 3.5 sec burst rate, plus ISO 200-1600 "film" speed selectivity provides a wide range of applicability. Accurate results are assured with an on-board histogram display and captured in 36-bit color depth. Field use is enhanced with dual PCMCIA slots built-in as well as a removable rechargeable battery. The suggested price of the DCS 620 is $16,995.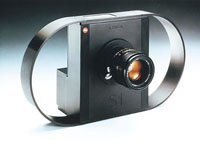 Leica S1 Pro studio digital camera.
A year after introducing their striking and unusual entry into professional digital photography with the S1, Leica has improved and elaborated the offering with a new sensor providing improved signal to noise ratio and increased light sensitivity. They now call it the Leica S1 Pro. In addition, this new model has an anti-flicker function which permits its use with light sources without a high frequency ballast. Leica has also added a binning function which combines several pixels together into one image point, which increases the effective film speed. This has resulted in a much shorter scanning time without any loss of image resolution or quality. The S1 Pro now creates a maximum 152MB file size in 3x16-bit depth. The new model is priced at $21,500.

Another new digital Leica model for the professional is the Leica S1 Alpha. It is designed as a modest cost entry to digital capture providing a resolution of 2570x2570, and with a higher light sensitivity and scanning speed. The maximum film speed of ISO 3000 is offered. The Alpha also provides the opportunity to upgrade to the Pro version, while providing entry into quality digital studio photography for $12,500. A third version of the Leica S1 is the HighSpeed, which is designed to produce full scans in just 18 sec. It is available for $24,500. As with the original S1, these new Leica digital scanning cameras may be used with a wide selection of lenses, including Leica optics.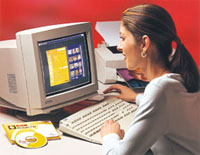 Kodak Picture CD screen shot.
For those aspiring to do professional quality digital photography, hoping that some kind of "back" will be available to convert an existing 35mm SLR, Minolta has created an alternative solution that avoids the problem of the high cost of a CCD sensor large enough to fill a 24x36mm frame. By marrying two 1.5Mp CCD sensors and then building a body which utilizes the Minolta Vectis APS interchangeable lens system, Minolta will offer the Dimâge RD 3000. This all-new digital camera solution features high quality 2.7Mp capture. This is accomplished by a built-in mirror splitting the image and capturing it on the camera's two separate CCD sensors, and then combining the halves seamlessly as a single output file. The images may be stored in uncompressed TIFF for compressed JPEG format on a compact flash card, or IBM's new 340MB MicroDrive card.

Because of the combination of the use of two CCD chip sensors and the Vectis optics designed for the smaller APS format, Minolta lowered the necessary reduction factor making it possible to provide accurate viewing and high quality optical image capture efficiently. The camera is therefore compact and lightweight at approximately 2 lbs. The RD 3000 also has all of the features expected in a professional digital camera including continuous burst exposures, a large LCD display, three types of white balance control, as well as the advantage of a common battery size. At the time of showing at PMA a price for the camera and a firm delivery date were not set.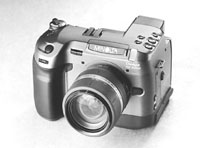 Frequently some products one sees at large trade shows for one reason or another don't make it to the retail market. One, which I saw at the '98 PMA in New Orleans that impressed me, is now available in the U.S.A. It is a uniquely small, versatile, and at $9999 it is a cost-effective digital scanning camera, called the Kaiser Scando dyn A+, distributed by HP Marketing. It is just a bit longer in one dimension than a pro 35mm SLR and utilizes 35mm SLR-type lenses, but unlike other "small" digital cameras, this one is a line-scanning type like the big digital backs for 4x5 cameras. Even though the scan area is relatively small it is quite high in resolution producing 3648x4625 pixel images and a 48MB image file. It also features LaserSoft SilverFast software which is among the best color correction tools available. What makes the Scando dyn A+ really intriguing is the fact it can be used as a high resolution 35mm slide and film scanner, a print scanner, as well as a studio still life camera, and you can use many of the lenses you might already have in a 35mm SLR system.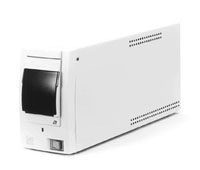 Canon film scanner CanoScan FS2710.
Even though there are digital cameras now for all occasions, there are many more film cameras still in use as well as billions of pictures already stored on film. So, the hybrid marriage of analog and digital utilizing a scanner remains attractive and film scanners enjoy continued technological improvement with many new and improved products shown at PMA. Although Hewlett-Packard is well known and respected in computer circles, I don't think photographers or for that matter yours truly took their PhotoSmart line of products as seriously as they deserved. In particular I've found the PhotoSmart scanner has been well received by many serious photo enthusiasts. Now there is even more reason to take this versatile and inexpensive $499 scanner seriously. HP has thoroughly improved every feature which had any weakness in the original model, including increasing the scan color depth to 36-bit, comparable to models costing many times as much. Now, besides scanning both 5x7 prints and strips of film, the HP PhotoSmart S20 photo-scanner will handle slides and mounted negatives with even greater ease and simplicity. To make it compatible with the latest PCs, HP has also added a USB connection for easier and more efficient transfer of image data to a computer. But most significant, in addition to easy to use software with automated scan adjustments, HP has added a full array of color correction tools which are simple to access and conform to the prevailing standards established for years in image-editing software. This makes the HP PhotoSmart S20 the most affordable means to make high 2400dpi professional quality scans of 35mm film images.


Imacon Flextight precision scanner.
At the high end and still affordable realm of 35mm slide scanning, Polaroid revealed a new SprintScan 4000. The 4000 designation in the name refers to a new level of 4000dpi in maximum scanning resolution for a desktop 35mm film scanner. And, even with this added resolution and the larger file size it produces, the name SprintScan is still appropriate as these scans are made in under one minute. Other physical attributes include new film strip and mounted slide handling which also supports easy batch scanning of four or six images with one "load" of the scanner. Possibly as significant as the new physical capabilities, Polaroid has vastly improved the software provided with the SprintScan 4000. In addition to their IQA automatic color correction and image optimization, an entirely new, more powerful, and easier to use manual color correction tool set is a part of the package called Polaroid Insight Pro Software. These improvements should not overshadow the fact the SprintScan 4000 also scans at an exceptionally high 3.4 density range at a color depth of 12 bits per RGB channel. This new Polaroid SprintScan 4000 is priced at $2495 and will be available immediately.

In the very competitive realm of under $1000 slide scanners, Canon's CanoScan 2700f has acquired a significant reception and a large following. Now Canon has upped the stakes by introducing a thoroughly upgraded model, the CanoScan FS2710. In addition to retaining the already high 2720dpi resolution for this class of film scanners, the new SF2710 now scans at the professional color depth of 12 bits per RGB channel, and it scans at a dynamic density range of 3.2. All of this high spec scanning capabilities added to the CanoScan has not slowed it down either, accomplishing a full resolution scan of a 35mm film frame in 13 sec. Just as significant or more so, Canon has completely redesigned the software for the CanoScan SF2710, and provided support for all platforms including Windows 95, 98, NT, and the Mac OS 7.5 and higher. This new software retains easy to use automated adjustments while also offering a fully accessible manual color correction tool set. The new SF2710 scanner is also now bundled with Adobe Photoshop LE. Al-though Canon has increased the list price of this new CanoScan FS2710 to $1100, the estimated street price is expected to be under $1000.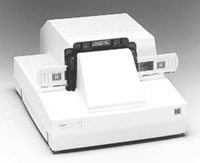 Kodak Professional 3570 Scanner.
Photographers were presented with the unique film scanning abilities of the Imacon Flextight Precision scanner for the first time at PMA '98 in New Orleans. This unique scanner combines the basic design functions, including a high resolution of 5760dpi, of a CCD drum scanner capturing at a color depth of 14 bits per RGB channel. The Imacon Flextight uses its exclusive vertical form factor with a direct to lens light path, which altogether with its other special features provides superior scan quality combined with unusual ease of use. Now this top performing professional film scanner has been made available to the Windows 98 PC user with a new SCSI connectivity kit and newly programmed software including full support of Microsoft ICM 2.0 color management. This new Windows software completely mirrors the Mac version in features and functionality, assuring accurate color and efficient transfer of that data to the host PC.

Kodak introduced a new Professional 3570 Plus Rapid Film Scanner offering a high level of flexibility scanning all formats from 35mm to 6x7 120 size film. This new model Kodak Professional scanner has 12 bit per RGB channel color depth and scans at 2000dpi, and will scan an 18MB image data file size in 15 sec. The scanner has built-in automatic color correction to optimize scans for color balance, density, and contrast, and the software is designed for easy access requiring minimal operator training. The software supports Windows and Mac platforms as well as standard imaging applications software with a plug-in for the Macintosh and a TWAIN driver for Windows. This new Kodak 3570 also has the ability to transfer full 12 bit per RGB channel data directly to the host computer for the highest quality image file archiving. The Professional 3570 has a price of less than $9500 through authorized Kodak Professional products dealers.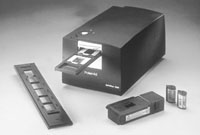 Polaroid SprintScan 4000.
Kodak, in partnership with Intel, Adobe, and Epson, announced the soon to be launched national program to bring Kodak Picture CD to the general population implemented by a widespread upgrade to existing photofinishing suppliers across the nation. Picture CD is a means of storing and accessing snapshot photographs made with today's ubiquitous point-and-shoot cameras currently serviced by thousands of minilabs and similar photofinishing services. It involves digitizing the images and putting them in moderately high-resolution compressed files on a Picture CD which is delivered to the customer as part of their photofinishing order. The Picture CD also involves a well designed and developed software program which supports easy access for computer users to use the pictures stored on the Picture CD to make their own prints, send pictures via e-mail, share them over the net, and employ them in all kinds of documents with their computers. The Picture CD will also be a means to take photos stored on them to a photofinisher to make digital prints if the user does not have a computer printer, and will also facilitate print services which will be made available in Kiosks which will begin to appear in key locations in retailing areas throughout the nation. Picture CD is the logical culmination of what was begun many years ago by Kodak with PhotoCD, to make digital photo processing economically and conveniently available to all consumer snap-shooters.

Simple Technology announced the introduction of the largest capacity CompactFlash memory card at 128MB. This highest yet storage capacity in the popular CompactFlash format provides the level of storage which makes the newest megapixel digital cameras practical in terms of using them for extended location picture taking. CompactFlash remains the choice for removable storage for use with digital cameras due to its high 3MB per second write and erase speed. The street price for this new Simple Technology 128MB Com-pactFlash card is expected to be $399.

There has to be at least one "gee whiz" new product to make a trade show a complete success. For me it was IBM's new 170/ 340MB MicroDrive. This is by far the smallest hard drive of this sizable capacity of 340MB yet, and is really the icing on the cake made by the newest 2 plus mega-pixel digital cameras announced at this PMA. The IBM 340MB MicroDrive provides the storage capacity that makes the newest digital cameras practical in the field by being capable of recording a large number of high-resolution image files. That this new IBM technology product is significant was well established by the fact two of the newest digital cameras shown, the Canon PowerShot P70 and the Minolta Dimâge RD 3000, are designed to utilize the IBM Micro-Drive. In addition, because the Micro-Drive is PCMCIA Type 2 compliant (like CompactFlash cards), it is also backward compatible, as well as useable with adapters with a large number of existing devices including laptop computers. Accessory drives for PCs and Macs are readily available, making the downloading of files stored to the IBM MicroDrive just about as simple as using a floppy disk. A firm price was not set at the showing at PMA, but IBM officials estimated the drive may have a street price of under $300.

Sony's Memory Stick is a micro-sized digital storage media introduced earlier, but at PMA '99 photographers got to see how Sony has created an integration of an unusually diverse family of products that can utilize this exceptionally small and efficient storage medium. These include the Cyber-Shot digital camera, the Digital Photo Printer, the Digital Handycam camcorder, the VAIO Slimtop LCV computer, as well as a standout bit of enjoyment, the Digital Photo Frame. The latter is quite unique, a picture frame that displays photos and any other kind of digital image in a slide-show format along with recorded sound. The Digital Photo Frame is free standing with a 51/2" display, nice for a desktop, to display images in MPEG Movie Mode or still digital images stored on a Memory Stick. The "show" that is stored digitally on an inserted Memory Stick is activated simply by waving your hand in front of the screen, and a "sleep" time turns it off. Memory Sticks are currently available in 16 or 32MB sizes, plenty of room for a substantial MPEG video or a comprehensive slide show, including sound. The Memory Stick is also supported by products made by AIWA, Casio, Olympus, Sanyo, and Sharp. The Digital Photo Frame will be available in May for $999.

FEATURED VIDEO