PMA International
Camera Filters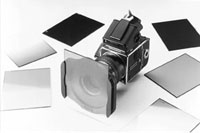 Got a large diameter lens? If so, you need Cokin's new X-Pro series of filters from Minolta which measure 6.7x5.1" and feature a new industrial strength filter holder as part of the expansion of the Cokin filter line.
Although not all of the filter manufacturers had something new to announce, I was able to get a sense of each product line and the directions they're headed in.

Lee Filters introduced their new Gel Snap Polyester filter holder. The holder needs no adapter and can be attached to any lens by using an ETD (Elastomeric Tension Device)--otherwise known as a rubber band. The filter can hold any 4x4" gelatin or polyester filter and accepts Lee's framed polyester filers. With Lee Filters, the filter's name is displayed in a window located in the top right center of the holder. Lee also added four new sets to its introductory resin filter line: Sunset, Sunrise, Landscape, and Twilight. Each kit includes a complete new set of colored filters that have been designed for specific shooting situations.

HP Marketing told me that Heliopan has redesigned all of their filters to provide thinner mounts--but not too thin--to eliminate any possibility of vignetting with wide angle lenses. Lens caps may be used with all of the new thin-mount filters, except with the Polarizer. Since you are less likely to be placing a lens cap on a Polarizer filter, I don't see this as a problem. Even with their new thinner mount, Heliopan's polarizers retain their calibration numbers inscribed around the edges. These numbers make it possible for owners of cameras, like the Contax G1 or G2, to use a polarizer by first holding the filter to their eye, finding a setting they like, then applying that same setting after screwing the filter onto the camera. HP also showed me their new line of Pro Release cable releases that are available in a wide range of coverings, including cloth, PVC, metal mesh, steel with PVC covering, and black spring steel with PVC covering. The Pro Releases are made in Germany and combine high quality construction with surprisingly low prices.

Lindahl Specialties, best known for their lens shade/filter holders that are popular with wedding and portrait photographers, introduced several new filters which use the same drop-in style that's compatible with the rest of their system. These new "rotating" filters maintain the drop-in filter's ease of use, but have small wheels at the top of the frame allowing the filters to be rotated in the same way conventional circular filters work. Some of the new filters in this series include four and six point star filters, a circular polarizer, along with a rotating graduated density filter. Lindahl also told me that they will shortly be introducing a set of close-up filters that have been specially ground for them by a lens manufacturer so they are shallower than standard close-up filters, enabling them to fit inside any Lindahl lens hood or filter holder.

Camera World's Sailwind Photo Systems has introduced an improved bellows lens shade, the Pro + Bellows. Refinements include a solid, die-cast filter holder compartment, which prevents flare-causing light leaks from the side when there's no filter holder in place. Additionally, two new plastic, snap-together 3x3" filter holders are supplied with the new bellows for enhanced handling, storage, and protection characteristics. The Pro + Bellows replaces Sailwind's original Pro Vignetta Matte Bellows, but accepts the same wide variety of accessories, such as an auxiliary bellows, filters, vignetters, adapters (including Hasselblad and Rollei bayonets), and magnetic attachments.

At PMA, Minolta introduced the new X-Pro series of Cokin filters which are designed to eliminate vignetting problems when used with extra wide angle lenses or with medium and large format camera systems. The new X-Pro series includes more than 60 filter choices, including all of the popular Cokin categories such as color, black and white, center spots, graduated, correction/conversion, neutral density, soft focus, and others. Minolta plans to continue to add new filters to match the variety currently found in the A and P series of filters. The Cokin Pro-X filters use a new improved, lightweight CR-39 organic glass that's nearly indestructible while providing excellent optical transmission. The rectangular shaped filters measure 6.7x5.1" and use a new universal filter holder similar in appearance to those used by the A and P series, but it has significantly more rugged construction. Adapter rings are available in sizes from 62-112mm thread sizes and a universal adapter ring, that expands to 122mm, can be used to fit almost any lens.

Part of the joy of PMA is talking with people in the industry, and Pro4 Imaging is no exception. In case you're not familiar with their products, Pro 4 have a completely different take on filter holders by having a folding lens hood system that lets you flip filters in and out in front of your lens. Filters can be placed in front of the lens individually--or in pairs--so your fingers never have to touch the filters. While originally designed for wedding photographers working under time-crunch situations, some school and portrait photographers have taken advantage of the firm's soft focus filters which put a spin on similar filters by having holes in the filters. New for PMA was a series of white vignetting filters designed to be used in Pro4's unique holder/lens hood.

Satter, a division of Omega, announced the new Omega ProView line of filters. The new ProView series includes a comprehensive line-up of metal ringed, optical glass filters. Filters are available in sizes from 39-82mm and include UV, Skylight, as well as circular and linear polarizers. The ProView series also includes most popular filters for black and white photographs along with color correcting filters, close-up sets, and special effects filters. The filters are sold in what the company calls "Dura-Pak" packaging that allows dealers to display them so that photographers can see what they're interested in. The hinged packaging shows "before" and "after" photographs that will help photographers find the filter that will produce the exact effect they're trying to achieve.

THK introduced their new Super Pro line of Hoya filters that will be available in Skylight and UV versions in a wide range of filter thread sizes. These new Super Pros fit between Hoya's standard and slim mount Ultra series filters. Hoya's standard filters use a 5mm mount and the Ultra has a 3mm thick mount, while the Super Pro has a 4mm thickness, allowing a clip-on lens cap to fit in front of the filter. The glass used is different, too: The Super Pro line uses a 1mm thick glass that has the same hardness and durability as glass used in their other Hoya filter lines. THK also discussed their new Green Enhancer filter that will be available soon. As much as their Intensifier filter bumps up the color on red or warm colored objects, the Green Enhancer makes subject matter, such as lawns or golf courses, more vivid.

The big news at Tiffen wasn't just the filters but some new packaging for all of them. After using traditional screw-on filter cases for many years, Tiffen has gone from their traditional cases to a high tech filter "box" that's stackable and features a pull-out drawer, giving easy access to each filter. The system looks like it will be equally at home in a studio or in your camera bag, providing great protection to the filters as well as easy access to the filter you are looking for. While traditionalists may bemoan the loss of the Art Deco-style filter shells, others will like the fact that there's no cardboard box to throw away or store. The new Tiffen case is designed to be hung on retail displays and lets you immediately put your filters to work after you purchase them. For something to put inside those new cases, Tiffen introduced a new series of filters designed specifically for wide angle and ultra-wide angle lenses. The circular polarizing filter for wide angle lenses is mounted in a ring 5mm thick, which is 25 percent thinner than Tiffen's standard rotating polarizer ring, which solves any potential vignetting problems. The circular polarizing filter for wide angle lenses is available in five sizes to fit lens diameters from 58-77mm. The same thin mount for wide angle lenses is also available in Tiffen's Enhancing filter as well as for their UVP, Skylight 1-A, and Haze filters.

FEATURED VIDEO