PMA International
35mm Cameras, Lenses, APS, Portable Flash, And Batteries
This year's PMA trade show was extraordinarily large, having many more diversified exhibitors than ever before coupled with a noticeable increase in attendees making it even more difficult to try to rapidly go from one place to another.

While we attempted to limit this coverage to brand new items, we will also make brief mention of the major new products first reaching this country after being introduced last fall at photokina.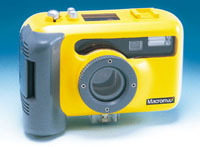 Goko MacromaX underwater camera.
Probably the major surprise to me was when I stopped at the Ricoh booth and asked to see their latest 35mm cameras and was told they no longer offered 35mm cameras in the U.S.A. They will only market digital cameras here in the future. While practically all of the traditional camera firms also showed some new digital products, and many non-photographic firms showed many additional digital items, this was the first well-known photographic firm to entirely curtail marketing 35mm film cameras. Is this a portent of the future? Only time will tell.
Duracell Ultra lithium batteries.
Some of the abbreviations/ acronyms used in the text below include the following. MRC (Mid Roll Change): found on many new models of APS cameras. IF (Internal Focusing): a zoom lens feature that retains the balance of the lens, and the front of the lens barrel does not rotate so using polarizing and graduated filters are simplified. Most 35mm compact cameras are also offered in a QD (Quartz Date) model. The latest rechargeable batteries are of the Nickel Metal Hydride (NiMH) type.
Fuji Endeavor 1010ix MRC APS camera.
New products in alphabetical order follows:
Argus introduced their moderately priced APS 100 camera with a 24mm f/4.5 lens; shutter speeds of 1/4-1/450 sec; autofocusing and auto flash; DXIX 100-800; five title choices; and MRC.

BKA now distributes the Stratos by Siegelite line of modular flash brackets for 35mm and medium format cameras. Made of machined aircraft aluminum, they accept shoe or non-shoe flash units; have a contoured rubber grip; have horizontal camera and flash adjustments; variable height adjustment; and the flash arm flips 180°. Two sizes are offered and there are also red, gold, and blue colored models. They also distribute Novoflex products in the U.S.A. now.
Pentax SMCP-FA 100mm f/3.5 macro lens.
Bogen Photo now has the tiny and pocketable Metz 34AF flash. It has a wide angle diffuser and telephoto screen; AF measuring beam; very simplified controls; and is offered with shoe mount for Canon, Minolta, and Nikon AF cameras. Pocket Wizard Plus is a digital radio remote control for use with any type of remote flash. This new model has four different channels, extended battery life, and an 800' range. A new Max model has 32 different channels; a long 1600' range; and can turn a flash unit on or off remotely.


Canon EOS Rebel 2000 SLR.
Getting ready for the next millennium Canon introduced the smaller and lighter EOS Rebel 2000 with 7-point AF; 35-zone AE sensor metering; exclusive E-TTL autoflash system with built-in flash; depth of field preview; faster film advance; two autofocusing modes; 30-1/2000 sec speeds; measurements of 5.6x3.6x2.4"; weight of 11.7 oz; and a body list price of $450. The BP-200 accessory provides an alternative power source and includes a built-in vertical grip with shutter release control. Four new EOS lenses replace existing models with some cosmetic changes. They are: EF 28-80mm f/3.5-5.6 II at $220; EF 75-300mm f/4-5.6 III at $310; EF 28-80mm f/3.5-5.6 V USM at $250; and EF 75-300mm f/4-5.6 II USM at $400. Of course, the new professional EOS 3 35mm SLR we saw at photokina was also visibly on display. It features 45-point AF; 21-zone evaluative metering and eye-controlled focus; 7 fps with optional Power Drive Booster; and sophisticated E-TTL flash with wireless control with optional Speedlites.


Yashica Zoomate 80 compact 35.
Duracell announced the Ultra line of photo lithium batteries offered in 123, 223, 245, and CR2 sizes. In addition they changed the packaging on improved versions of AA, AAA, C, D, and 9v alkaline sizes introduced about a year ago.

Fuji is simplifying the naming of their 35mm cameras. Now instead of Discovery they are calling them Fujifilm One. A new model is the Fujifilm Zoom Date 70 with a 35-70mm f/5.6-9 lens; DX 100-400; date/time imprinting; measuring 4.6x2.6x2.1"; weighing 8.8 oz; and lists for under $180. In the Endeavor APS format are the new 1010ix with a reinforced plastic body about the size of a credit card in length and height; 24mm f/3.5 lens; 1/2-1/500 sec speeds; auto macro to 14"; MRC; DXIX 25-3200; measuring 3.3x2.1x1.1"; weighing only 4.8 oz; and lists for under $370. Also new is the Endeavor 265ix zoom with a 23-50mm f/5-8.8 2.2x zoom lens; DXIX 25-3200; measurements of 4.3x2.4x1.5"; weighing 5.6 oz; and listing for under $270.


Leica 35-70mm f/2.8 Elmarit-R ASPH.
The Goko Instant ProMacro Camera IPC-108B delivers a 5x life-size picture or (10x with a different optional interchangeable lens/flash unit) on Polaroid 100/600 Series films. The lens/flash units have built-in twin flashes and a selector switch for firing one or both flashes. Front attachments permit shooting subjects of varied shapes and positions. The Goko MacromaX FR350 close-up camera (sold through Aragraph here), which is available in 35mm and APS models, now has a shoe in the finder frame for inserting filters in front of the lens. The MacromaX Underwater Macro camera is rated at a depth of 164' and can take pictures of underwater subjects from 5" to infinity without having to add any external lenses. The heart of the unit is the MacromaX FR-350 35mm camera, which can also be used on land. This model is handled by Omega/Satter.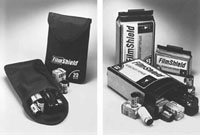 Sima Products XPF film shields.
Goldline has a reusable basic, point-and-shoot 35mm underwater camera for depths up to 30' with flash, that will sell for about $10. Under the Exakta brand is a brand new line of hot shoe flash units ranging from manual operating units to sophisticated dedicated, zoom head, tilt and swivel units.

GP Batteries is a new firm offering the PowerBank brand system consisting of four AA NiMH batteries and an overnight charging unit. They say one charge of these batteries provides more energy than other types of batteries and they can be recharged over 500 times.


Minolta Maxxum HTsi Plus 35mm SLR.
Kodak introduced an entire line of new design Advantix APS cameras. The F600 zoom is their lowest-priced 2x zoom camera with a 30-60mm f/4.5 autofocusing lens; LCD panel; PQIX; and rubberized hand grips. Other models include the tiny pocketable T550 AF with a 25mm f/3.5 lens; 1/4-1/500 sec speeds; DXIX 50-1600; autofocusing to 1.3'; flip-up cobra flash that extends out to 18'; dimensions 3.7x2.5x1.4"; and weighs 4.2 oz. It lists for under $150. There are four models of the C-series Advantix cameras all with flip-up cobra flash from a basic fixed focus C300 to the C700 zoom with a 2x 30-60mm f/5.9 zoom lens; autofocusing to 2.5'; 1/2-1/360 sec speeds; DXIX 50-1600; and programmed text display. For the Kodak Photolife battery line there is a new line of rechargeable NiMH AA-size batteries with a fast three-hour charger with an auto-off feature.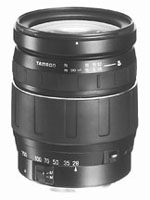 Tamron AF 28-300mm zoom lens.
Brand new at Konica is the Z-up 120 VP Zoom compact 35 featuring a fully automatic 38-120mm f/3.6-10.6 zoom lens; programmed shutter speeds of 1-1/300 sec; DX 25-3200; autofocusing down to 3' plus infinity mode; and +1.5 EV exposure compensation for back- lighting; measures 4.7x2.7x2.2"; and weighs 9.1 oz. The Z-up 60 Zoom features a 35-60mm f/5.8-9.5 focus-free zoom lens; 60mm macro mode for subjects only 20" away; DX 100-400; auto flash; LCD information panel; measures 4.7x2.7x1.8"; and weighs 7 oz. The ultra-compact APS Revio is now offered in a hunter green model in addition to the original aluminum alloy finish. It features a 24-48mm f/4-7.6 zoom lens; programmed shutter speeds of 2-1/500 sec; DX 25-3200; autofocusing to under 20"; measures just 3.8x2.3x1.1"; and weighs a mere 5.2 oz.


AF Nikkor Zoom 28-105mm f/3.5-4.5D 4x zoom lens.
Leica showed their latest offering for the Leica R SLR camera series, the 35-70mm f/2.8 Elmarit-R ASPH having a close-focus distance of about 28" complemented by a built-in macro setting for about 12"; rubber-armored and knurled control rings. This lens lists for $3295.

Maxell showed their new rechargeable NiMH system consisting of four AA-size batteries and a slim overnight charger that lists for under $20. Coming soon from this firm is a lithium ion battery for 8mm and VHS-C camcorders that will provide three hours operating time; has a fuel gauge showing remaining charge; is said to retain 98 percent of the charge while stored; and comes complete with AC and car charging terminals for about $75.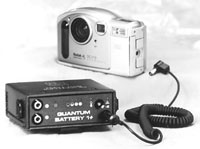 Quantum Instruments rechargeable battery for digital cameras.
At photokina we saw the Minolta Maxxum 9 35mm SLR with a host of features. They include 21 custom functions; 5.5 fps frame rate without requiring an external battery pack; 1/12,000 top shutter speed and 1/300 sec flash synch speed; 14-segment honeycomb-pattern metering; 4-segment flash metering; 100 percent visible viewfinder field. A data memory function can record all exposure information for up to seven rolls of 36-exposure film. A built-in flash with a GN of 39 also provides coded signals for wireless extension flash units that retains full TTL metering automation. Other new features are mid roll reload capability and delayed shutter mirror lock-up for less internal vibration when making time exposures. Minolta's Maxxum HTsi Plus combines features of the original HTsi and XTsi including a very small SLR body; silver metallic finish; and new remote control features. There are five upgraded lenses for the Maxxum cameras. AF 35mm f/1.4G; AF 35mm f/2; AF 50mm f/1.4; STF 135mm; and the Minolta AF Macro 200mm f/4 APO Tele G lens that focuses down to 19.7" for a 1:1 magnification. In the compact 35 arena is the Freedom Action Zoom 90 with a 38-90mm f/4.8-10.8 zoom lens that focuses from infinity to 39"; shutter range of 1-1/200 sec; DX 100-400; measures 4.7x2.8x1.9"; and weighs 7.9 oz. For the MinoltaVectis APS format SLR there is a new ultra-wide 17mm wide angle lens but little data was available. Minolta will distribute the Quest Gold NiMH 1500mAh AA and AAA-size rechargeable batteries for digital cameras and flash units which are said to provide 20 percent performance improvement. Both eight and 16-hour chargers are available.


Kodak Photolife rechargable NiMH batteries and charger.
Nikon showed their new F-100 professional 35mm SLR with Dynamic Autofocus operation that simultaneously detects the subject and drives the lens. Focus Tracking and Lock-on technology works with subjects in motion to keep them in focus. It has a 10-segment 3D Matrix meter, center-weighted metering, and a selection of five spot meters each reading only 1 percent of the total picture area. For flash there is a 5-segment TTL flash sensor. It has magnesium alloy on the front top and bottom; multiple power sources; depth of field preview; and shoots at up to 4.5 fps. In the APS format there is the tiny Nuvis S that's about the size of a deck of playing cards. When the stainless steel shell is closed it measures 3.7x2.5x1.3" and weighs 8.1 oz. It has a 22.5-66mm f/5.2-7.5 3x zoom lens; autofocusing down to 1.5'; shutter speeds of 1-1/400 sec; DXIX 50-1600; 30 titles; and will list for under $300. A new 4x AF Nikkor Zoom 28-105mm f/3.5-4.5D lens that lists for $435 was also introduced.


Olympus introduced a number of new cameras several of which include an interesting Auto Color Balancing Flash (ACBL) feature which senses the wavelength of fluorescent or other artificial lights and then produces more natural pictures said to be free of unnatural color casts. New is the L-shape design IS 30 DLX zoom lens reflex with 28-110mm f/4.5-5.6 4x aspheric zoom lens; ACBL flash with twin flash tubes; integrated lens cap that opens automatically; measures 4.8x3.5x4.5"; weighs 22.9 oz; and has a suggested list price of $600. Two optional tele-converters extend the 110mm lens to 160mm or 210mm. Their popular clamshell design Stylus series of compact 35s now includes new Stylus Zoom 140 QD, 115 QD, and 80 QD models. The Stylus Epic Zoom 80 CF model has the world's first Confirmation Finder, a continuous viewfinder that momentarily darkens as the picture is made to inform the user a picture was actually taken. It has a 38-80mm f/4.5-8.9 zoom lens; autofocusing to 2'; ACBL flash; panorama mode; measures 4.5x2.3x1.6"; weighs only 6.5 oz; and has a list price of $290. In APS format there is the i zoom 75 an entirely new series camera featuring the clamshell design found in the 35mm Stylus cameras. This model has a 28-75mm zoom lens; measures 4.2x2.1x1.3"; and weighs 5.8 oz. The Newpic M10 Macro compact is an APS camera with a 25mm f/6.7 lens and fixed focus mode for regular subjects 3.3 to infinity plus two macro modes. The ultra macro mode is for subjects 0.3-1' away when the exceptional depth of field from a minimum aperture of f/44 keeps subjects sharp. It lists for $164.


Nikon Nuvis S APS 3x zoom camera.
Panasonic introduced the Rapid-Flash technology lithium batteries said to have a 10 sec flash recovery time and a 10 year shelf life. These new batteries are available for popular camera sizes of CR2, CR123, CR-P2, and 2CR5.

Pentax efina AF50 APS camera is one of the first APS cameras to feature a big viewfinder. The 24mm f/4.5 lens is fixed focus but can be used as close as 2.6'; the shutter speeds are 1/60-1/250 sec; DX 100-400; it measures 4.3x2.5x1.5"; and weighs 5.5 oz. For the Pentax mount system there is the new SMCP-FA zoom 20-35mm f/4 AL zoom lens with two aspherical elements and macro capability of 0.16x at 1'. It has a unique flower-petal shaped lens hood with a pop-out section, which permits easy access to a polarizing or other screw-in filter that can be adjusted without removing the lens hood. It measures 2.7x2.7" and weighs 8.6 oz. The SMCP-FA 100mm f/3.5 macro focuses to 0.43x (about half life-size at 1.4') without needing an extension ring and has IF. It measures 2.7x2.8" and weighs 7.8 oz.


Polaroid I-Zone miniature instant camera.
Phoenix showed a 28-210mm f/4.2-6.5 AF aspheric element zoom lens with IF and two-touch zoom action in mounts for Canon, Minolta, Nikon, and Pentax. The 28-80mm f/3.5-5.6 is a two-touch lens for all AF cameras and is offered in manual versions also. They introduced two SLR cameras--a basic manual P1 model with a built-in meter and a P2 model with aperture priority automatic and self-timer. Both are available with either a 50mm f/1.9 or 35-70mm f/3.5-4.8 lens. They are lightweight and attractively styled.

Polaroid introduced a number of new cameras in their flashy I-Zone product family designed primarily for kids and teens. Pop Shots is the world's first instant one-time use camera that is recyclable and re-manufacturable. It produces 10 4.5x2.5" instant color photos; has a unique manual film ejection system; and comes complete with a postage-paid mail-in return envelope for recycling. Pop Shots lists for under $20 and there is a $4 rebate when it is returned for recycling. Polaroid I-Zone Pocket Camera, available in a variety of colors (red, green, and blue), takes miniature-size instant color photos measuring 24x36cm (one by 1.25"). Two types of film are available, one of which has a "sticker" backing so the prints can be used for decorating. This mini-portrait/sticker camera will also be available in Barbie, Legoland, Bugs Bunny, and Tasmanian Devil (Taz) versions. Joycam is another manual film ejection system camera, which produces full-color 4.5x2.5" instant photos. It has a 93mm f/14.5 focus-free lens for subjects 3' to infinity; built-in flash; variable shutter speeds; and takes economical new Polaroid "500" film.


Quantum Instruments was showing their new rechargeable battery said to offer power security for digital cameras. A LED fuel gauge visibly shows the remaining battery capacity. Sealed lead cells don't exhibit memory effects and the power is said to be about five times that of conventional alkaline AA batteries. It connects to many major cameras via a coiled cord, has a belt clip or can be worn over the shoulder.

The Rollei Nano 80 APS camera which features a VarioApogon 28-60mm f/4-8 lens is a lower priced model than original Nano 80 since it has a shorter zoom range and no MRC feature. It does have electronic shutter speed range of 1/3-1/400 sec; autofocusing down to 27"; DXIX 50-3200; auto flash to 19'; measures 3.9x2.4x1.4"; and weighs 7 oz.


Family group new series of Kodak Advantix cameras.
R.T.S., now the exclusive US distributor of Epoque 35mm motor driv-en underwater cameras, showed the ET100 Epoque Plus underwater camera with a 45mm f/4.5 lens that can be used at depths of up to 150' which will list for under $200. Nissin flash now has a small AF dedicated handle mount flash with a GN of 105 that attaches via a bracket under the camera and is very simple--you only switch it on, no other adjustments are needed. They also have a unique macro lens ringlight flash combination consisting of a 90mm f/2.5 T-2 adapter mount lens that focuses to 1:1 and a circular flash containing modeling lights. In their Ewa marine housings a new U-MM model has a square glass lens which makes it suitable for use with many different digital cameras underwater. It lists for $90.

Samsung Evoca 140S has a Schneider-Kreuznach 38-140mm f/4.6-12.2 zoom lens; 1/3-1/400 sec speeds plus bulb; DX 50-3200; continuous and infinity modes; measures 4.5x2.6x1.7"; weighs 8.1 oz; and lists for $300. The Maxima Zoom 105GL compact 35 has a 38-105mm f/5-12.7 power zoom lens; shutter speed range of 1/3-1/300 sec plus bulb; DX 50-3200; infinity mode; auto flash; measures 4.4x2.5x1.7"; weighs 7.4 oz; and lists for $160. Their newest APS model is the Impax 210i with a 28-56mm f/5.6-10.7 power zoom lens; auto flash; measures 3.9x2.3x1.4"; weighs just 6.7 oz; and lists for $120.


Vivitar ZP 3140 compact 35mm.
Sigma has new models in their EX series of arsenic and lead-free glass element lenses. Two new fisheye lenses are offered in AF mounts for the first time and have a gel filter slot in the rear. The 8mm f/4 is a circular fisheye that focuses from 7.9" and the 15mm f/2.8 is a full frame fisheye focusing from 5.9". In the fourth generation is the 28-200mm f/3.5-5.6 zoom with IF and a 19.7" minimum focus at any focal length which gives a nearly 1/4 life-size image at 200mm. It is only 3.4" long and weighs 18 oz. New Sigma long telephoto lenses all have an optical design incorporating new ELD glass elements and have tripod collars. They are offered in Hyper-sonic motor drive for several AF cameras and have a rotatable rear filter slot for easier use of polarizing filters. These tele lenses are a 300mm f/2.8; 500mm f/4.5; and 800mm f/5.6.

Sima Products introduced a new generation of protective travel gear designed to protect unprocessed slide, print, and motion picture film from high dosage airport security devices. FilmShield XPF 8 is an extra-strength laminated lead foil for less sensitive films, while FilmShield XPF 20 a maximum-strength soft lead composite sealed in black textured PVC that is tear proof and easy to clean; it is intended for higher speed films such as ISO 400 and 800. XPF 20 comes in two sizes to hold between three and 15 rolls of film with prices from under $20 and $40. Another interesting and useful item at their booth was the Power Pen, a pencil-shaped unit with abrasive brushes for cleaning camera and flash battery terminals for better contact.

New Sunpak PZ5000AF flash has four modules to dedicate it to various AF cameras; stroboscopic firing; ratio control down to 1/64 power; second curtain synch; slave capability; and a sleep mode to conserve power when not in use. Quite interesting to see was a unique clear-case version of the PZ4000 flash with the entire interior "electronic guts" prominently visible. This flash will be offered for a limited time in Nikon version only. A new dedicated module permits using various Sunpak models with the Mamiya Pro 645 camera. Also new is the PicturesPlus extended power battery pack for most models of popular digital cameras that accept an AC adapter. This high capacity NiMH pack is smaller than a deck of playing cards; is said to provide more than three times the capacity of standard alkaline batteries; comes with a soft leather case, belt clip, removable wrist strap, and a 5' coiled connector cord.

Tamron introduced their AF 28-300mm f/3.5-6.3 LD Aspherical [IF] zoom lens. A compact package housing a wide zoom power of 10.7x, having three Hybrid Aspheric elements and two LD (Low Dispersion) glass elements. Internal focusing and an innovative cam mechanism result in a minimum focus distance of 3.9' at 28mm and 2.6' at 200mm. This 3.7x3.2" lens weighing 20.9 oz will list for $779. The SP AF14mm f/2.8 Aspherical [IF] is an ultra-wide angle with a fast aperture that focuses down to just 7.8"; measures 3.5x2.4"; weighs 23.3 oz; and lists for $2180. Their popular AF28-200mm f/3.8-5.6 LD [IF] Super zoom lens is now available in a silver finish that matches many of the newer AF SLR cameras.

THK Tokina AT-X Pro AF lenses now have an exclusive "Focus Clutch Mechanism," an in-out clutch to rapidly switch between AF and manual focusing by moving the manual focus ring to the front or rear. AF 205 a 28-105 f/3.5-4.5 zoom lens has IF so the 77mm filter thread does not rotate. It lists for $390. AT-X 17 AF PRO is a 17 f/3.5 that lists for $890. The fast AT-X 300mm f/2.8 AF Pro has internal focusing; a rear filter drawer that locks in place; and lists for $4400.

Varta Batteries showed their new Trio Charger for four AA-size NiMH batteries that fully charge batteries in 6-8 hours.

New from Vivitar is their first 4x power zoom compact 35, the PZ 3140 with a 38-140mm f/3.9-10 lens; DX 50-3200; panorama; databack; 9-function LCD. Dimensions, weight, and price were not yet available. The 356PZ has a 35-60mm f/5.8-9.5 zoom lens that is focus-free yet has macro capability of as close as 1.6'; DX 100-800; 5-function databack; measures 4.5x2.6x1.7"; and weighs 7.1 oz. Vivitar also announced the Z385 APS camera with a 30-85mm f/4.3-9.2 autofocusing zoom lens; DXIX 50-1600; measurements of 4.7x1.8x2.6"; weighing 7.7 oz. The Series 1 28-210mm f/4.2-6.5 zoom lens is in mounts for popular AF cameras; autofocuses to 1.6' at 28mm and 2.9' at 210mm; is only 3.5" long; weighs 14 oz; and lists for $349.
Yashica introduced the Zoomate 80 compact 35 with a 35-80mm zoom lens; six flash modes; LCD information center; silver-color titanium casing; and a list price of $139.

That's my overview of the new products I saw in the areas I covered at the very large 1999 PMA trade show. We hope you find some products that will assist your photographic endeavors in the future.

FEATURED VIDEO