PMA 08; Studio Accessories And Novelty Sales Items Page 2
Portrait Weavers' slogan is "think outside the frame" and they take your portraits and skillfully weave them into tapestries, handbags, blankets, and pillows for keepsakes. New items include purses starting at $49, 27x27" pillows for $75, and a 54x35" fringe edge blanket. The image is actually woven into the material, not printed, so it's permanent and extremely detailed.
Rotonics egg shell-shaped posing cups
Rotonics offers lightweight molded replicas of ancient Greek architectural columns. Most of the different heights and styles of columns are cylindrical but new versions are square and are available in several colors. They also showed two sizes of baby posing egg shell-shaped cups that will be offered in yellow and pastel blue at $51 and $64.
Simba USA woven cloth beach towels
Simba USA produces woven cloth golf and beach towels with photo images. Now you can add your own text (or one of several stock names) on the border edge for personalization. All the woven images previously were in black and white on their terry towels, but now they can make them in red, yellow, or blue. A 30x40" beach towel with a photo runs $40.

Smile photo jewelry (from Lucky Feather) offers a case of 24 that includes a mixture of photo necklaces, bracelets, and keychains that retail for $6 each. This includes a variety of shaped charms that hold miniature images for all to see.
Storyville's scrapbooking bracelet (from Lucky Feather) contains five double-sided charms that will hold square miniatures. Charm themes include family, memories, baby, wedding, pets, and travel. The selling price is $15. It's very easy for customers to make the prints and assemble the charms themselves.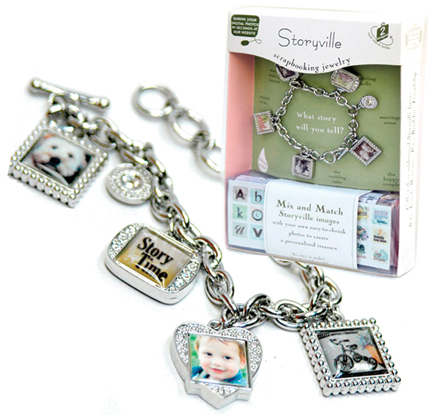 Storyville charm bracelet
Superior Specialties was demonstrating a new inkjet sheet transfer paper that can be ironed onto most any type of cloth such as T-shirts and it won't crack or split after many washings. You can also use marking pens to personalize the photos by adding text. Sheets of 8x10" will run about 30 cents each.

YourPhotoTo.com can imprint photos on sweatshirts, pet beds (24-96" in diameter for various size pets), and a selection of handbags. They offer retouching of the image if desired. New are a small wooden wine cabinet with a photo wrapped around it for $349 and a smaller keepsake cabinet with a photo for $219.
Superior Specialties iron on transfer
DIY Mounting & Binding
Photofrog offers a quick and easy method of self-stick mounting small photos onto a stiffer, more permanent backing that has multiple foldout supports to instantly turn them into a tabletop easel display. They come in 10 packs of 4x6", 5x7", or 4x8" size that sell for $2. A similar item is a self-stick photo magnet that is offered in two packs of 4x6" or one 4x6" plus two 2.25x3.5" that lists for $10.

Pres-On was demonstrating their new Score-N-Snap styrene-based plastic mounting board that comes with a peel-off, self-stick liner. Once the liner is removed and a photo is positioned in place, simply score with a sharp knife blade and bend to break the backing apart cleanly and smoothly. A package of 48 8x10s will cost about 75 cents each.
YourPhotoTo.com wine cabinet
Unibind now offers a "green" photo book made of 100 percent natural and recycled environmentally-friendly materials. It has the same capability of the Unibind professional line but is eco-friendly and will not harm the environment. The new ProBook photo album machine is for labs and studios that want to create photo albums as large as 9x12" that are professionally bound in either portrait or landscape format. It produces two-sided pages using real photo paper that lies flat.

United Industries, makers of Ultra Foam Core Panels, now offers a thinner Hi Impact Styrene mounting board in white or black having extra-smooth, pressure-sensitive peel-off material for mounting. It's offered in 0.040 or 0.080 thicknesses for thin frame mounting when rigidity is necessary. You can get it in seven sizes from 5x7" up to 30x40".

LATEST VIDEO

SPONSORED VIDEO