PMA 08; Portable Flash, LED Lighting, And Flash Brackets Page 2
At HP Marketing we saw the Kaiser digiNova II, an articulated LED with 19 bulbs producing 15-lux daylight-balanced output. The tubular body is articulated in two places so it can be bent in many directions. It can also serve as a focus assist, redeye reduction, or setup light. There is a shoe for mounting but a bracket is included for use with cameras without a shoe. Operating on two AA-size batteries, it costs $275.
The small Litepanels Micro has 48 cool-operating LED bulbs for luminous, soft, directional 5600K daylight lighting. It has an adjustable power level, is powered by four AA-size batteries, and includes three filters. A shoe on the base permits mounting onto a camera top. This light could be used as a broad, soft light source for digital imaging. The intensity can be dialed down from 100 percent to zero with minimal color shift and is flicker free. It operates for 1.5 hours of continuous output on one set of batteries or can be used with an optional AC adapter. It measures 3.3x3.3x1.5" and weighs less than 4 oz. The MSRP is $349.
Sima (BKA) showed the SL-20IR LED light that emits a universal infrared light usable at distances up to 75 ft. Consisting of 36 tiny, long-lived LEDs it operates for 45-60 minutes on the rechargeable lithium ion battery that is included. It measures 2.3x2.3x1" and weighs only 2.5 oz with batteries. A shoe on the base makes it easy to attach to a camera and each side of the unit has another shoe so four lights can be clustered together for broader, brighter output. The MSRP is $99. The Sima SL-20LX is a similar size light having a 4500K output with its clear LEDs. An under camera bracket for positioning the shoe-based light beside the camera is included in the MSRP of $79. The effective use distance is 15-25 ft with one light, but will go further with multiple units.
New Brackets
The RPS Studio ETTL2 from Dot Line is an improved digital flash bracket that now includes a convenient digital shutter release button on the bracket and a TTL sync cord that couples to the hot shoe of Canon or Nikon digital cameras. The vertical upright bracket can be used on the right or left side of the camera and has a height extension. It lists for $170 complete with both cords.

The Stratos ProFlip 90 Bracket (from BKA) is made of machined black anodized aluminum that holds a shoe-mount flash over the camera lens, but the camera itself can rotate 90° for vertical or horizontal composition. It has a convenient foam-covered side grip and feet that extend so it's easy to set the combined camera/bracket/flash down. A 2" horizontal universal camera plate will easily accommodate most cameras. The list price is $140.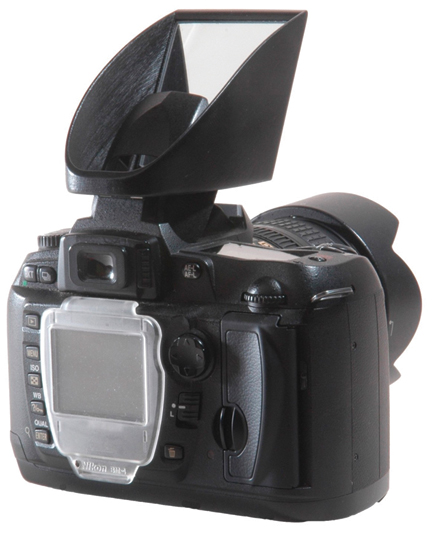 Tiffen showed the new Stroboframe Pro-DCRS flash bracket with an adjustable base plate, making it easier to adapt to different camera tripod socket locations. The base uses a new two-point "SureLock" mechanism that easily rotates for vertical or horizontal composition, then locks securely in position. It can be used with their U-PRO bracket arm on either the right or left side of the camera with shoe-mount flash or handle-mount units. The MSRP is $250.
Portable Flash Diffusion Devices
There were several new devices that attach to the top of a flash unit to soften the harsh light emitted from a flash head. Since many better pro-oriented cameras today have a built-in pop-up flash, several brand-new units are intended for diffusing this type of in camera flash.

Lightscoop is a small device that slides over your camera's pop-up flash, then anchors in place on the hot shoe. It directs the harsh light upward for softer bounce lighting, but must be used in a room with a normal height white ceiling for proper results. You must select the unit designed specifically for your camera. The MSRP is $30.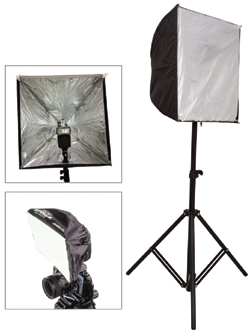 OmegaSatter showed two novel flash diffusion devices. The Puffer is a white translucent bubble arc that slides onto the hot shoe and covers the front of the pop-up flash to diffuse the light output. It lists for $24.95. The Origami diffuser attaches to the top of a shoe-mount flash unit pointed upward to direct the light forward. It has an optional warming filter and lists for $34.95.

Westcott now offers the compact Magic Slipper system that adapts to most any brand of shoe-mount Speedlight. It consists of a machined aluminum base plate, called the Lollipop, that's custom designed for the flash unit to operate via either radio or light-based slave wireless flash. It is compatible with their 16x22" silver softbox and the Bruce Dorn Asymmetrical Strip Bank. It's light enough to be used handheld or mounted onto a compact light stand. The MSRP is $229. Also new is the Mini Apollo Speedlight Kit consisting of a diffuser for hot shoe flash units plus a stand that sells for $149.

FEATURED VIDEO