PMA 08; Portable Flash, LED Lighting, And Flash Brackets
The new models of shoe-mount portable flash units seen at this year's trade show not only offer more powerful light output for more distant subjects, but also frequently include new features that make them easier to use. This report also includes new small camera-mounted LED lights for continuous lighting, intended for camcorders but also useful for still photographers. I've also included new brackets for holding your auxiliary flash above or beside the camera for more natural and creative lighting than can be obtained with built-in flash.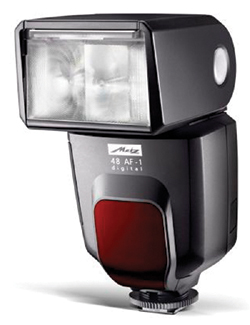 The Metz (Bogen Imaging) 48 AF-1 digital is a shorter hot shoe flash (without a secondary forward fill flash as found on the similar Metz 58 AF-1 unit). It's available in versions compatible with most current digital cameras, has a maximum GN of 157 at 105mm, a zoom head for 24-105mm that can be moved both vertically and horizontally, a built-in modeling light, and an illuminated LCD display. Features include TTL auto flash plus manual flash with 12 output levels and high-speed sync capability. Brand new is a USB contact that can be connected to a computer to update internal flash unit software when improvements come along. The MSRP is $220.
Dot Line now distributes the Nissin Di466 shoe-mount flash, which is offered in two versions: one for most Canon digital cameras and the other for use with Nikon digital cameras. It has a power zoom head covering a broad 16-70mm range of focal lengths typically found on D-SLR kit lenses. The ISO 100 GN is 108. It has a tilting head, which has a built-in wide angle diffuser. There is full TTL control plus six steps of manual power and two wireless slave settings. Four AA-size batteries are housed in a unique quick-change battery cartridge and an extra cartridge comes with the flash. They also offer the Dot Line Emoblitz DRF14C macro flash unit for use with Canon or Nikon digital cameras that has a GN of 46 and a list price of $170.
Olympus has included new capabilities in two upgraded flash units, the FL-50R and FL-36R. The "R" stands for wireless remote control, which uses a new optical transmission signal. The output from the camera's pop-up flash that triggers the slave flash can be included, or not, in the final image. The power output level on the remote flash units can be controlled from the menu on the camera's LCD and they can also be used with Olympus point-and-shoot cameras. Each comes with a stand and tripod mount for easier positioning away from the camera. Both have 18-42mm zoom heads that can be tilted up for bounce use. The slightly smaller FL-36R has an ISO 100 GN of 65 and an MSRP of $300 while the FL-50R has a GN of 90 and costs $500.
At the OmegaSatter booth we saw the new Phoenix SmartFlash 99 that's fully compatible for TTL auto or manual use with the latest technology found in Canon and Nikon digital cameras. It has an 18-55mm zoom head that bounces and swivels, rear or second curtain sync, AF assist beam, a GN of 99, and a list price of $130. The Phoenix SmartFlash RF46 is a TTL automatic ring flash for close-up, shadow-free lighting applications; it has a GN of 45 and a list price of $199.
Sunpak (ToCAD America) announced the PZ42X flash in versions compatible with Canon, Nikon, and Sony digital cameras. This TTL operating unit has a 24-125mm zoom head that has a built-in wide angle panel, bounce and swivel head, a GN of 138, and an MSRP of $199.
New Continuous LED Lighting Units
There were several very interesting small LED daylight-balanced, continuous output lighting units on display. While they can be attached to the camera's hot shoe, they do not couple to the camera's internal sync system. Many could also be used on a bracket attached to the camera's tripod socket. They are intended primarily for camcorder use but should prove useful with digital cameras because of their bright, constant light output.

FEATURED VIDEO