PMA 08; Inkjet Printers
PMA 2008 is not going to go down in history as the year of the new printer. Unlike past years where every major company had multiple new product announcements, this year was relatively quiet on the inkjet front. That does point to a maturing category, one where the existing quality bar is already very high. Indeed, you could take any of the top three (Canon, Epson, HP) and have lab quality or better prints today at a very reasonable cost.

That doesn't mean new product development is dead, and that's a good thing for us as users. It does mean the breakneck pace of introductions of even two years ago is probably over. And, if you're a gear junkie like I am, it also means that we can focus on getting great prints rather than always chasing what's new and better and just around the corner.
Canon
With the PIXMA Pro9000 dye ink printer doing very well and the PIXMA Pro9500 pigment ink model finally shipping in quantity, Canon has two very strong offerings available today in the 13x19 format, which seems to be the new sweet spot for digital photographers.

Canon did show a new entry-level printer targeted at the casual user. The PIXMA iP2600 Photo Printer brings high-quality printing into a small package. It uses the same FINE print head technology as Canon's other photo printers for 4800x1200dpi resolution, and Canon's ChromaLife 100 dye inks like those found in the PIXMA Pro9000. As expected for an entry-level printer, the inks are contained in a tricolor cartridge plus a dedicated pigment black for text printing. What sets the iP2600 apart from other printers in this class is the new Auto Image Fix feature, which analyzes scenes into categories like portrait and scenery and then optimizes the print for this content. Cost for the PIXMA iP2600 is $49.99.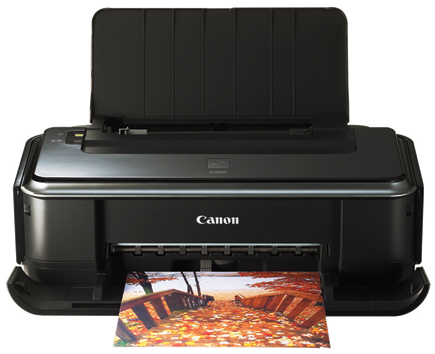 Epson
The latest in Epson's photo printing line-up is the Stylus Photo R1900. This is a solid update to the very popular R1800. A 13x19 printer that can also do panoramic prints up to 44", the $549.99 R1900 uses a new UltraChrome Hi-Gloss 2 ink set that has been substantially changed from the previous model. Both magenta and yellow have been reformulated for better color gamut in the blue and green ranges, and orange ink has been added, replacing the blue ink, and red has been updated to improve reds and skin tones. Finally, the gloss optimizer, a separate ink cartridge, has been modified to give a higher density coating.

One of the problems that inkjets have faced is an unwanted color shift when going from one light source to another. Epson thinks they've found the solution with their new Radiance technology. While I haven't had the chance to work with it under my own studio settings, the sample prints I reviewed show a marked improvement in both color consistency, smoother tonal gradations, and reduced appearance of grain. Particularly in skin tones, this is a very welcome enhancement. Epson has also reworked the print heads to improve reliability and print quality. With resolutions up to 5760x1440dpi, the printer uses an internal sensor for automatic alignment and nozzle cleaning, along with a system to keep ink overspray from building up in the printer.
HP
The newest printer shown at PMA belonged to HP. We did get a sneak peek a while back and we published a full product review in the May 2008 issue of Shutterbug. The Photosmart Pro B8850 takes the very successful Photosmart Pro B9180 printer, removes or modifies a few features, and drops the price by an impressive $150. With a $549 retail price, the B8850 gives you the same Vivera pigment ink set and print heads as the B9180. Print quality is identical between the two models. You give up an Ethernet port and LCD display on the printer, options that HP claims are more suited to using the printer in a networked environment, and the media support is reduced to a maximum thickness of .7mm rather than 1.5mm. That's thick enough to print on all the normal materials, including fine art photo rag papers.

FEATURED VIDEO