PMA 08; Great New Lenses For SLR Cameras Page 3
Nikon's macro lenses have always been known for excellent optical performance and the new multi-platform AF-S Micro-Nikkor 60mm f/2.8G ED model ($549 MSRP) should be equally impressive. The optics include two aspherical and one ED glass element as well as Nano Crystal and Super Integrated Coating to provide superior image quality at any focused distance. Engineered specifically for extreme close-up photography (to 0.6 ft), this 1:1 macro lens features a rounded nine-blade diaphragm, internal focusing, Nikon's ultrasonic Silent Wave AF Motor and manual focus override in AF mode.
Pentax has also introduced a new macro lens, the digital-only 35mm f/2.8 Macro Limited that's surprisingly small (49mm) and lightweight (7.6 oz). This 1:1 macro lens is not inexpensive ($699 MSRP) because it features high-grade aluminum construction and premium-grade optical elements with multilayered Super Protect coatings. Very useful for many purposes, this 52.5mm equivalent "normal" lens features a Quick-shift Focus System that allows for instant switching from AF to manual focus.
Nikon 60mm f/2.8G ED Macro
Tokina is also making a similar digital-only 35mm f/2.8 Macro lens, designated as the AT-X M35 PRO DX in Canon and Nikon AF mounts. (Autofocus does not operate when used with the D40/D40X or D60.) This one is equipped with a similar One-Touch Focus Clutch Mechanism, for quickly changing between AF to manual focus simply by shifting the AF ring forward or backward. Note, too, that the front element is covered with a waterproof multilayered coating that makes it easy to remove spots left by water spray or fingerprints.
At one time, Nikon made several perspective control lenses that were very popular among landscape and architectural photographers. Those were discontinued, but the new multi-platform PC-E Nikkor 24mm f/3.5D ED model ($1929 MSRP) may be even better thanks to closer focusing (0.7 ft), a rounded nine-blade diaphragm opening, and a new optical formula. That includes three ED glass elements, Super Integrated Coating for superior color reproduction plus Nano Crystal Coat to virtually eliminate any flare. The PC mechanism provides up to +/- 11.5mm shift and +/- 8.5° tilt for control in small increments. Two additional Nikon perspective control lenses will be available by this summer, the PC-E Nikkor 45mm f/2.8D ED and PC-E Micro-Nikkor 85mm f/2.8D ED models; all three are compatible with Nikon 35mm or D-SLRs but only with manual focusing since AF is not available.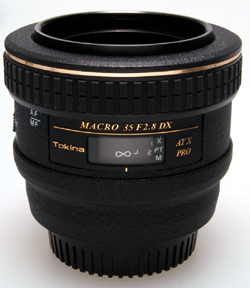 Other Noteworthy Lenses
Because the Sony Alpha and current Pentax and Samsung D-SLRs are equipped with built-in stabilizers, the lenses for these cameras do not require an Anti-Shake device. Several new lenses are available for those bodies, including the multi-platform Sony 70-300mm f/4.5-5.6 G model. This is a sturdy but compact (28 oz, 62mm filter size) premium-grade zoom ($799 MSRP) with one ED element, an ultrasonic SSM autofocus system, a focus range limiter option, a nine-blade diaphragm for a circular opening, internal focusing, and a short minimum focus distance of 47".
The latest digital-only entries from Pentax include an upgraded version of their kit lens, the DA 18-55mm f/3.5-5.6 AL II with aspherical and super low dispersion elements and the affordable ($399 MSRP) DA 55-300mm f/4-5.8 ED with low dispersion glass. Both benefit from SP multilayered coating and employ a conventional (not ultrasonic) focus motor. Samsung offers a similar 18-55mm f/3.5-5.6 II lens for their GX system and has also introduced a very portable (16 oz, 62mm filter size) D-XENON 18-250mm f/3.5-6.3 multi-purpose zoom ($500 estimated MSRP) with internal focusing, two ED and two aspherical elements.
Although specifics were not yet available, Samsung is adding several other digital-only lenses to their GX system: the D-XENON 100mm f/2.8 Macro 1:1, D-XENON 12-24mm f/4 ED, and D-XENOGON FISH-EYE 10-17mm f/3.5-4.5 ED; these appear similar to the Pentax versions. Later in 2008, Pentax will expand its own digital-only system with a DA* 55mm f/1.4 lens and a DA* 60-250mm f/4 zoom, both with ultrasonic SDM focusing. A DA 17-70mm f/4 zoom with a conventional AF drive motor will also be released before year's end.
Tamron is developing an entirely new digital-only ultra-wide zoom, the SP AF10-24mm F/3.5-4.5 Di II LD Aspherical (IF); this one that will eventually replace the current 11-18mm F/4.5-5.6 model. The more versatile, internally-focusing zoom will feature wider apertures, closer focusing, and a more exotic optical formula with a high index/high dispersion glass element, two LD elements, a glass-molded aspherical element plus three hybrid aspherical elements. That combination should effectively correct distortion and all types of aberrations. The engineers also specified a new type of optical system to optimize the angle of incidence of light rays for superior edge sharpness/brightness plus new multilayered coatings for maximum flare control. (Availability and price have not yet been announced.)