PMA 08; Great New Lenses For SLR Cameras Page 2
The largest lens displayed at the PMA Show, Sigma's multi-platform APO 200-500mm f/2.8 EX DG boasts an unusually wide--and constant--maximum aperture that accounts for the size and weight (roughly 35 lbs). Already a long lens, the matched 2x APO converter (included) makes this zoom into an "ultra telephoto" lens with an effective aperture of f/5.6. Four SLD glass elements should provide great correction for all types of aberrations. Other features include an LCD panel with shooting distance and focal length data, a filter slot at the rear with a rotation mechanism for a polarizer, and a lithium ion battery that powers focusing and zooming. (The estimated MSRP is $24,500 in Nikon, Canon, or Sigma mounts.)
The third Olympus Zuiko Digital lens with the remarkably fast (ultrasonic) Supersonic Wave Drive autofocus system, the 14-35mm f/2 SWD model (28-70mm equivalent) features a remarkably wide, constant maximum aperture. The "fastest" standard zoom on the market, it's compatible with all Olympus and Panasonic Lumix D-SLRs. A very rugged, hefty (32 oz) water-resistant lens with a 77mm filter size, this one includes two ED elements, a piece of aspherical ED glass plus a more typical aspherical element. And yes, this lens is expensive ($2399 street price) but should offer good value if it provides the same level of image quality as the other Zuiko Digital pro-grade lenses. (Look for my review of the three SWD lenses in a future issue.)
Sony's Alpha system includes several Carl Zeiss T* multi-platform lenses, now including the Vario-Sonnar T* 24-70mm f/2.8 ZA (Zeiss Alpha). This is the first Zeiss model with Sony's Super Sonic wave Motor (SSM) for the fastest possible autofocus with the Sony D-SLRs and with discontinued Konica Minolta Maxxum cameras. (Several of the Sony branded lenses also employ the SSM system.) This premium-grade lens ($1750 MSRP) is absolutely gorgeous and built like a tank. It includes a circular nine-blade diaphragm, two aspherical and two ED elements as well as the renowned Carl Zeiss T* multilayered coating technology for superb image quality.

Based on the highly-rated Tokina 12-24mm f/4 zoom, the new digital-only AT-X 11-16mm f/2.8 model features a shorter zoom range for better image quality at the wider maximum aperture. Like the earlier model, this internally-focusing zoom includes aspherical and ultra-low dispersion glass elements, multilayered coatings, and the One-Touch Focus Clutch that allows for quick switching between AF and MF. This Tokina zoom is available in Canon and Nikon mounts but does not include the focus motor for the D40/D40X and D60. A price for the US had not yet been set at our press time but should be roughly $800.
Special-Purpose Lenses
This category includes lenses that are unusual or optimized for a specific purpose. Sigma's new digital-only 4.5mm f/2.8 EX DC Circular Fisheye HSM with SLD glass certainly qualifies; this model produces a circular 180° image for artistic and scientific photography. The wide f/2.8 aperture is useful in low light and this close focusing (to 5.3") lens is equipped with the ultrasonic HSM AF system; full-time manual focus override is also available. Other features include internal focusing, SLD glass, and super multilayered coating to minimize flare and ghosting. The 4.5mm lens is available in Canon, Nikon, and Sigma mounts ($1000 street price).
Although Sunex is best known in the security camera market, this company (from China) distributes several photographic lenses, including the new digital-only 5.6mm SuperFisheye with a fixed f/5.6 aperture. This lens was designed to produce a circular image with a 185° field of view. Take two shots and use optional stitching software and it's possible to create a "360° immersive" image as illustrated at www.superfisheye.com. According to Sunex, this fisheye is made with high-index glass; BBAR coatings are applied to all surfaces to keep flare/ghosting at a minimum. The 5.6mm lens is available in Nikon and Canon mounts for $799 (MSRP), including the new Sunex Dewarper Photoshop plug-in for correcting or optimizing distortion.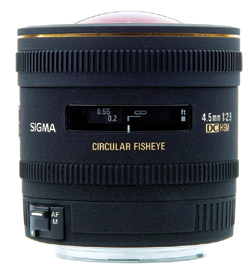 Sigma 4.5mm Circular Fisheye HSM
Coastal Optics is another unfamiliar name, but this company (affiliated with Jenoptik) is distributing a fascinating lens, the multi-platform 60mm UV-VIS-IR 1:4 APO Macro in Nikon F mount. Intended for scientific, medical, and fine art photography, it's is said to provide full Apochromatic correction over an extraordinarily broad waveband ranging from the onset of atmospheric ultraviolet transparency at 315nm to the limit of CCD/CMOS sensitivity at 1100nm in the infrared. This 60mm f/4 manual focus macro lens ($4495 MSRP) features a CPU for data transmission and an auto diaphragm plus ultra-broadband AR coatings. In order to achieve correction from UV through IR, the optical formula includes five calcium fluoride crystal as well as quartz elements and others made from "carefully selected high-transmission glass." To view several sample images and a brochure, visit the distributor's website at: www.coastalopt.com.

LATEST VIDEO