PMA 08; Gadgets And Items Of Interest Page 2
The Gorillapod from Joby is now available in the Go-Go! package, which includes the flexible Gorillapod; it has 29 ball-and-socket flexible joints along with a suction cup and two quick-release clips. Not only can this small support be used for a digital camera, but it can also hold other types of electronic devices such as cell phones, PDAs, MP3s, portable gaming devices, and even PC web cams. The suction cup will hold tightly on any flat surface and you can even permanently mount it with two super bond adhesive quick-release clips.
The Hughes Soft Light Reflector, marketed as a bounce panel for hot shoe flash units, has a new practical use outdoors in sunlight. Simply attach the reflector using the touch-fastener straps, with the black side down, around the camera lens to shield the lens from light flare. It weighs a mere ounce and is much longer than a conventional lens hood.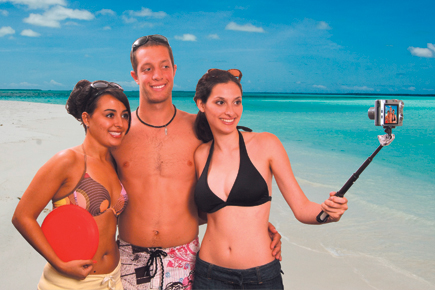 Fromm Works Quik Pod DSLR
Manfrotto's Modo (from Bogen Imaging Inc.) is a family of support solutions for compact digital cameras and camcorders. Brand new is the ModoPocket, an ultra-compact support that folds completely flat for easy carrying and can even be left attached to the camera when not in use. The folding support panels can be tilted to move the camera up or down. It will be particularly helpful for longer exposures and when using the camera's self-timer. The street price is $30.
Stedi-Stock shoulder brace
The Quik Pod DSLR (from Fromm Works Inc.) is a larger, heftier version of their handheld monopod that's heavy enough to support a D-SLR. It adjusts from 18" retracted and extends out to a maximum of 53". Made of aluminum and polycarbonate, it has a tilt-top to set the desired camera angle and a quick-release plate for the camera. Just below the camera is a small convex mirror you can look at to get an idea of what will be included in the picture you make of yourself (and others) using the self-timer. It can also be used as a monopod. It lists for $50.
The Stedi-Stock from Agonic Enterprises is a lightweight shoulder brace suitable for cameras, camcorders, and spotting scopes. It provides extra steadying support for your equipment. It's much more maneuverable than a tripod or window mount support. The MSRP is $49.95.
From ToCAD America, the Sunpak Click `n Stick is a flexible camera support device that has a suction cup base so it can be placed firmly onto any flat surface. It will support cameras weighing up to 1.8 lbs and sells for $21. The FlexPod Pro Plus is a step-up version of Sunpak's model of extremely flexible and bendable short tripod-like legs that can be used on practically any surface or literally wrapped around a pole or tree branch. It comes with either a ball top or pan head and now includes aluminum rod core for extra strength; it's available in gray or black versions.
Think Tank Hydrophobia rain cover
Think Tank Photo announced the Hydrophobia 300-600, a rain cover for long telephoto lenses (300-600mm) typically used by sports and nature photographers. It can be pre-mounted on the camera lens before going into the field for quick deployment. There are two extended sleeves for the photographer's arms so they can easily operate all the controls. Even memory cards and batteries can be accessed without removing the cover. There is a clear back and top to see the camera controls. The MSRP is $150; the non-included eyepiece is $35.

FEATURED VIDEO