PMA 08; Gadgets And Items Of Interest
Big, brash, and more digitized than ever before, this year's show exhibited scads of interesting photographic items intended to whet the photographic appetite of any type of photographer. This report covers memorable items that don't fit into any specific category but were worthy of mention.
Camera Armor Extreme (Made Products) is a heftier version of this product that completely covers your camera to protect it from wind, dust, and accidental impact. All the camera controls are still accessible and operational. The Camera Armor lists for $99 but you will also need another part of the tough covering for your lens. This will cost $30-$60 more, depending upon your lens. There is even a cover for the pop-up flash and extra protection for the LCD on the back.
CamGrip claims to be a low-tech solution to a high-tech problem--how to securely and steadily hold your tiny digital camera to take sharp, clear pictures. It's a 3" long, textured nonslip grip that screws into the tripod socket of any camera and extends straight down. Available in black and several colors, it costs $10. A new bag has space to hold the grip in an outside pocket, or the bag can be put on the camera with the grip still attached.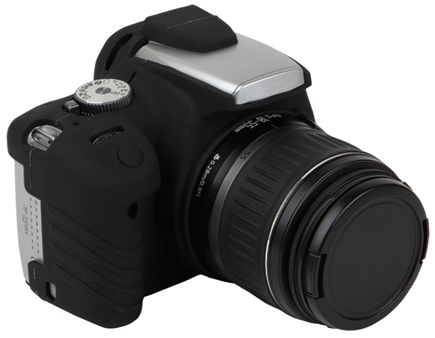 Delkin has expanded their line of soft camera skins that provide a glove-like fit to most small digital cameras. They now offer the Snug-it Pro skin version for D-SLR cameras that's intended for heavy-duty use. Even when covered with the skin, all buttons, dials, sensors, and compartments of the camera are still functional. A hard, plastic cover protects the LCD on the camera back. Thicker silicone gives extra protection, while molded-in ridges provide a better gripping surface. Initially, versions will be offered for the Canon EOS Digital Rebel XTi and EOS 40D and the Nikon D40.
Giottos Coco ball (from HP Marketing) is a squeeze ball with a long nozzle that's used to dust equipment. It has a suction cup on the base that keeps it securely in place.
Hughes Soft Light Reflector

FEATURED VIDEO