PMA 08; Camera Bags: Hard & Soft Cases For Shoulder & Backpacking
While camera bags often aim for functionality over style, there were several shoulder bags shown this year that had fashion chic paramount in their design, and a number of them aimed at the female photo enthusiast. Still, the photo backpack seemed to dominate when it came to functionality and innovative design, including two combo packs targeting the hard-core backpacker or serious traveler and a hard-shell backpack for those truly tough treks. There were also the more traditional hard-shell cases, although one stood out with a combination case that even comes with an electronic dehumidifier. Several companies rolled out their latest wheeled camera luggage, one being especially noteworthy for its theft-prevention measures.
Boda's philosophy is this: you don't always need a camera bag, but you do always need a lens bag, which brings us to the Boda Dry bag. This weatherproof bag is made of ballistic nylon and can be shoulder carried (with a waist-strap option) and holds as many as five compact lenses (or fewer longer lenses) within its customizable compartments. It also features a memory card wallet. The bag measures 9.5x7.5x11.5" and sells for $195. A smaller size Boda Dry Jr. is also available.
CameraStorage.com ABS plastic case
CameraStorage.com offers two bags in one. There is the hard-shell, ABS plastic case with padded, customizable interior, but that fits inside a soft canvas bag that is shoulder carried. And if that's not enough, it all comes with an electronic dehumidifier. So if you're planning a trek into the Amazon with your camera, this could be a good starting point.
Case Logic features dedicated storage compartments and soft interior linings to protect cameras from scratches that come in a variety of styles, colors, and designs. The small, lightweight, nylon rucksack is the PSL66 ($79). The camera remains suspended in the upper section, and the interior is fully configurable to hold a variety of lenses and accessories. Provision is made for a tripod and water bottle. The shoulder bag model PSL56 ($49) holds an SLR with lens attached, an extra lens, and a flash.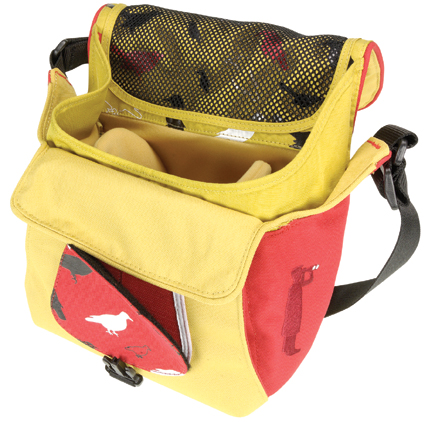 Crumpler came out with two products that caught my eye. In fact, one charmed me into adding it to my "Best of Show" line-up, namely The Period Charmer and The Cork & Fork combo: a wheeled case and backpack that can be used in tandem or separately. For now, let's focus on The Rufous Whistler ($90). The bright color scheme and decorative bird array scream good taste, but not camera gear. Still, it might attract more than a birder's eye in some places, such as the Charles Bridge in Prague, so a little prudence is always called for. The Rufous Whistler is a limited edition featuring a water-resistant 1000d nylon shell and 420d ripstop nylon lining, unique touch-fastener silencing device, a padded and brushed nylon-lined main compartment, configurable dividers, plastic stiffening layer in base, carry handle, and an adjustable and removable shoulder strap, plus various pockets.
Delsey (Minox) showed sleek photo packs, plus they've now extended the line-up to include bags aimed at female photographers shooting in urban environments. The two new collections encompass four sizes in each. These shoulder bags come in nylon and leather shells with subtle styling and fully padded, antistatic, microfiber, customizable interiors (prices range up to $400 for the handmade leather bags). The largest bag also holds a laptop.
Domke (Tiffen) reintroduced Chocolate Brown color shoulder bags as a Limited Edition Series. Always a class act, Domke bags boast a rugged, water-resistant cotton canvas exterior with fully padded interiors and metal hardware. The Domke F-2 will hold two D-SLRs of any size and 6-10 lenses up to 300mm, plus a flash unit and pockets for accessories. The shoulder strap is of a nonskid design, while a removable hand strap is also provided. There are two small bags in this series as well. Other new Domke bags follow the same general styling, but in traditional colors.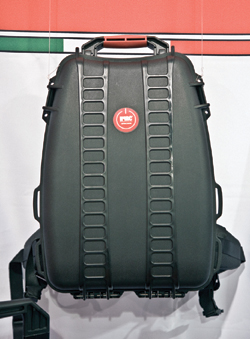 HPRC displayed some very interesting hard-shell cases, notable among them the HPRC 3500 backpack. This injection-molded, virtually crushproof backpack uses a neoprene O-ring to keep it water and airtight. The padded ergonomic back pad is thicker in critical areas to provide added comfort to shoulders and lumbar region. Straps feature breathable mesh for quick moisture evaporation. Accessories are attached to four heavy-duty side loops. It's available in a choice of two interiors: user-customizable perforated foam ($349) or with laptop sleeve and dividers ($399). The exterior measures 13x161/4x 61/4".
Camera bags from Jill-e Designs target female photo enthusiasts with products that are protective of photo gear yet fashion forward and colorful. In addition, the manufacturer points out that they incorporate features that women may especially appreciate, such as additional pockets and a detachable personal pouch. The line includes shoulder bags and soft-sided roller cases.
Kata DR-465 Digital Rucksack

FEATURED VIDEO