PMA 08; Camera Bags: Hard & Soft Cases For Shoulder & Backpacking Page 2
Kata (Bogen Imaging) introduced the new Digital Photo Series (DPS). With these bags, Kata has finally refocused its efforts, moving more toward a functional bag without giving up much in the way of fashion chic. I happened to bring the new DR-465 Digital Rucksack ($69) with me to PMA and I found it ideal for my Canon EOS 5D with a 24-105mm IS lens attached (after reconfiguring the interior), plus a 430EX flash, in the lower padded compartment, along with a scarf and other personal items in the upper tier. The DR-467 ($84) adds a laptop compartment (to 17"). Ergonomically designed for a comfortable fit (with both waist and chest straps), these bags benefit from a combination of lightweight and dense foam padding, with the addition of a highly visible interior. A rain cover is provided. Additional zippered exterior pockets on the front lie flush and minimally impact the bag's profile, while a water bottle pocket remains hidden when not needed.
At Lowepro the bag that impressed me most was the Fastpack, a split-level backpack design. Not only will the two largest sizes hold a laptop in a sleeve that lies against your back (for better balance), but each bag in this series is made to provide fast access to camera gear in the lower level via a 180° access panel, hence the name, with personal items occupying the upper compartment. As expected, adjustable dividers let you customize the camera section, which is further protected by a security flap that snaps shut. Lowepro bags are typically made to withstand the demands of travel and the outdoors.
Mountainsmith introduced the Tour FX ($85) and the larger Day FX ($95). These rugged bags feature a removable shoulder strap with sliding pad, air mesh foam back panel, back panel airline ticket pocket, tuck-away waist belt, and a Delta Compression System for load adjustment. The interior camera compartment has customizable dividers, while the clamshell-opening top compartment holds various accessories. The bags will hold optional accessory pouches.
Naneu Pro has joined BKA's marketing network and this move was reflected in a volume of new products for shoulder and backpacking. Among the products that drew my attention were the Adventure K5 (more about this in my "Best of Show" report) and the K4L. Naneu Pro's twin-tiered K-series backpacks have stood out by virtue of their practical design, and the K4L goes one better, giving us a bag roomy and protective enough to hold a considerable amount of camera gear, plus a laptop, tripod, and water bottle. Measuring 20.5x14x13", this 5 lb bag might be a tight squeeze when it comes to the overhead bin on a small commercial jet. It features an advanced harness system designed for maximum comfort, ergonomic back support system, adjustable waist belt, and height adjustable chest straps.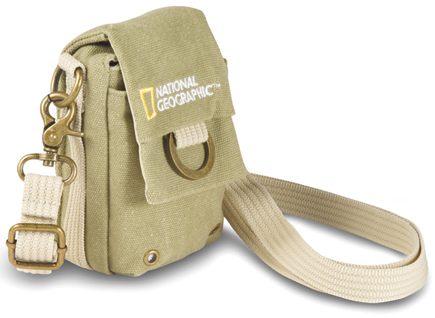 National Geographic Earth Explorer
National Geographic (Bogen Imaging) has added to the Earth Explorer camera bag series of environmentally-friendly products, notably with the Large Shoulder Bag (NG 2477, $125 street price). This bag will carry photo gear and a notebook computer up to 17". Each bag in the Earth Explorer collection is manufactured from natural-sourced material, such as hemp and cotton. All-metal, antique brass hardware gives the bag a distinctive look, while doing away with the need for oil-based plastic fasteners.
Seahorse HURRICANE SE-920
The nice thing about hard-shell cases is that, when open, they let you see the entire contents. And they're great for storage, as well as travel, provided you're traveling in some vehicle. Seahorse unveiled the HURRICANE Series Model SE-920, a large-capacity, wheeled hard case suitable for airline carryon, with an inside dimension of 22x13.7x8.5". Made of rugged polypropylene copolymer, the SE-920 glides easily on its sealed ball-bearing wide-track wheels and is designed to take abuse and withstand adverse climatic conditions. The SE-920 comes with an automatic purge system and new safety latches. Hinge and latch pins are made of unbreakable plastic. Available with customizable dividers ($269 MSRP) or diced foam ($199), in various colors. Other options include chrome or plastic locks built into the latches.
Tamrac launched a number of new products and enhanced an existing product line. The Adventure 10 (model 5550) is a twin-tier backpack with added length, so if you couldn't find an Adventure bag to hold that long lens, this one could do the trick. There's also room for a 17" laptop. The Expedition Series backpacks are the more typical photo pack, with one main customizable, padded compartment and outer pockets, but the large outer sleeve is now padded for a laptop in this redesigned series. There's also a new hinge divider system that allows a second SLR with lens attached to be carried. The new models are designated with an "x" in the name, such as Expedition 6x. One shoulder bag is worth mentioning for its classy look: the Express 7, highlighted with ultra-suede accents in black on black or desert gold on khaki. It sports a slim profile. All Tamrac bags are made to withstand the rigors of the outdoors.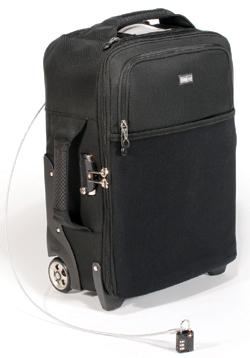 Think Tank Airport International 2.0
When it comes to flying, I take my camera bag seriously, but have avoided roller luggage as too bulky to fit comfortably in overhead bins (and the last thing you want is to be told to stow the case in baggage). Think Tank Photo has a new solution with the Airport International 2.0 ($329). Measuring 14x8x21", this soft-sided luggage features TSA-compliant combination locks, a security cable (perhaps a more prudent measure for hotel rooms than airports), and the new Security Tag system for easy identification. The Security Tag (which will also be available separately) provides you with a unique serial number that is registered and which can be used to later retrieve lost luggage. The bag was designed to hold multiple D-SLR bodies and lenses, including a long lens with lens hood attached, and related accessories. An optional kit makes room for a laptop.

FEATURED VIDEO