Pixel Soldier Wireless Flash and Trigger
Argraph Corporation, the exclusive distributor of Pixel Professional Photo Accessories in the U.S., is pleased to announce the Pixel "Soldier" - a wireless flash and camera trigger that can fire flashes or DSLR cameras up to 1000 feet (300m) away!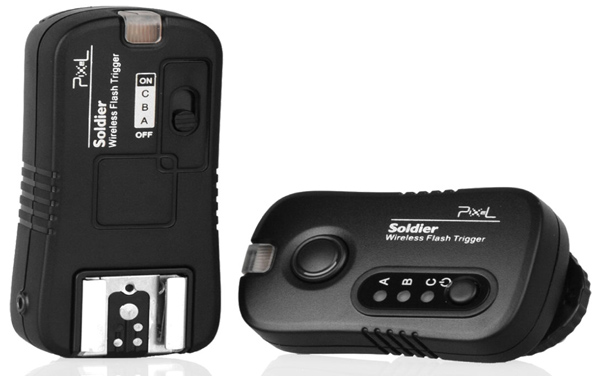 This compact Soldier system, measuring only 3.2 x 1.5 x 1.1 inches, is the perfect addition to any camera system. To assure consistent, repeatable results, they use the 2.4GHz frequency and, for maximum flexibility, there are 16 different channels and 3 groups for the photographer to choose from. This allows the photographer to prepare different lighting setups and switch them on and off – in any combination – without having to physically touch the strobes.
Pixel's auto wake-up system re-activates the flash or camera, so they are ready to fire when you are! An important, convenient feature that saves battery power (no need to keep your flash and camera constantly on).
The Pixel Soldier can be used with both on-board flash units and studio strobes, for maximum versatility. The Soldier is available for Canon, Nikon, Sony, Olympus and Panasonic. The kit includes the Soldier transmitter, one receiver, a flash cable and adapter, plus you can order additional cables for specific camera models. The transmitter uses a CR2032 Lithium battery and the receiver uses 2 AAA batteries.
Expected street prices: $79.95 for full kit and $49.95 for additional receivers.

LATEST VIDEO

SPONSORED VIDEO
Testing Tamron's SP 150-60mm G2 lens while capturing birds and alligators in Apalachicola, Florida.