photokina 2010 Show Report; Mirrorless Interchangeable Lens Cameras, Still & Video Conjoined, 3D Follies & The Analog Hype: All In All, Just Another photokina
Our show report this year is an amalgam of product news and trend spotting, which pretty much reflects what photokina has stood for in our minds. The sense of a United Nations of photography still prevails at this increasingly European-directed show, but the image and its uses is still the universal tie that binds.

Now that the US Photo Marketing Association trade show has decamped from the winter calendars, we look to shows like photokina and the professional trade shows in the US as our main source of information for what's happening in photography, at least from the tools of the trade perspective. We attend them to see what the photo industry is up to and how the products they present, and how they present them, will affect how we make, share, and process images. You never know what creative work the latest software or cameras or lenses might engender, and you increasingly have to look out for distractions and false starts.

With that in mind the following are observations, opinions, product reveals, and some info we thought would be of interest to you. We'll start with what might be a major shift in camera and, subsequently, lens design, the "mirrorless" interchangeable lens camera systems.
The Nikon D7000 is part of the new breed of D-SLR with amped up sensors (in this case Nikon's EXPEED 2) with intense processing power that will certainly change how we work with our images, here with 16.2 megapixels, 6 fps, and 1080p HD video capability..
"Mirrorless"
While there were camera announcements from Canon and Nikon prior to the show, mainly updates on previous models with more video features and improved processors, all of which we will cover in coming test reports, many of the newest cameras, aside from the usual raft of point-and-shoots, were less than traditionally designed APS-C or Micro Four Thirds models. An exception was the Olympus E-5, an E-3 inspired 12-megapixel brick house of a camerawith HD video, a faster image processor,and 10 "art filters" available. I characterizeit as such because an Olympus booth staffer insisted on demonstrating its toughness by repeatedly standing on it, and he was no lightweight himself. Also in this classic mold is the prototype Sigma SD1, with a Foveon sensor that they say will deliver their equivalent of 48 megapixels and much enhanced monochrome performance. Prototype means it was shown under glass and that we may see it in more operational status later this year.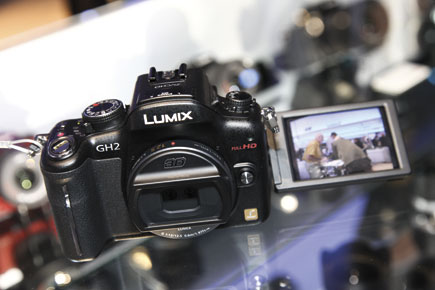 The "mirrorless" Panasonic GH2 offers HD movies, touchscreen shooting, and a very fast AF system in a 16-megapixel Micro Four Thirds chip. The Live View finder is one of the most viewable, being composed of 1.53 million "dots." Shown here, the camera with a Panasonic 3D lens, which when mounted sets the camera to produce an MPO (3D viewable) file and a JPEG.
Courtesy of Koelnmesse
A number of the new cameras, however, were in the somewhat new class of "mirrorless" camera systems, many with APS-C sensors. The appellation makes them sound like they are missing something, and it defines what they are not, which is a D-SLR. The "R" in D-SLR of course stands for "reflex," or the way light is reflected from the lens up to the prism finder. In "R" cameras when a picture is made the mirror is jerked up and out of the way so the light can travel straight back from lens to sensor or film. The newest interchangeable lens cameras from the likes of Sony, Samsung, and Panasonic (note the common consumer electronics community) all dispense with this way of directing light and use a variety of methods to get the light where it needs to go, all with enhanced AF speed and accuracy vs. former Live View-type systems. They use less moving parts so cameras like the modestly priced Sony Alpha 55 can give you 10 frames per second (fps) shooting with an AF setup that follows the action in as impressive fashion as a quite high-priced, high-speed D-SLR of recent years past.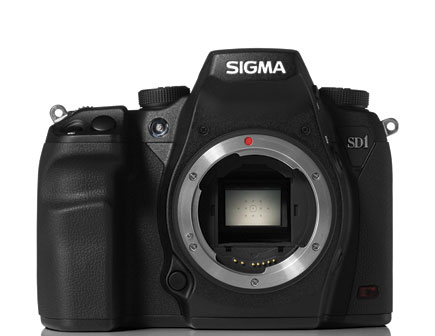 Photokina is known for previews of cameras not ready for sale but anticipated, as Joe Farace says, "real soon now." The Sigma SD1 is a culmination of coordinated efforts by Sigma and Foveon, which they acquired, and will have an (in their math) equivalent of 48-megapixel output. It was shown "under glass" only.
Hold on—the Sony Alpha 55 and Panasonic GH2 are still in the classic 35mm form factor, so do they count as "mirrorless"? Yes, because in the Sony, for example, the mirror system is what they call "translucent," which in the end means the mirror does not move during capture but in somewhat quantum fashion both reflects the image up to the finder (an EVF or electronic viewfinder), the monitor back if you choose, and through to the sensor for exposure, all without lifting a finger, if you will. The light, in essence, is both transmitted and reflected with no mirror motion during capture.

Yet, more cameras are eschewing the classic 35mm form factor for the "microprocessor with lens" design, typified by the Sony NEX-3 and 5 (see our review earlier this year in the October, 2010, issue) and the new Samsung NX100. Samsung has been making stabs at the D-SLR market in fits and starts, and there were even rumors about their assuming the Pentax brand years back, but now they have, I think wisely, taken another course. Their first in this class was the NX10 and now they have introduced the NX100, albeit with a fairly radical design that has you making common settings with a button on the lens that evokes menus for white balance, ISO, Exposure modes, etc. that you change by turning the focusing ring on the lens, which reverts to its normal function once you switch to Manual Focusing mode. The benefit, once you get the hang of it? You don't have to make settings using buttons and the camera back menu display so you can stay plugged into the image as you work. Note that these cameras are in the 14+ megapixel range and offer every function of a full-featured D-SLR, and then some, plus of course video.
Samsung's NX100 is part of the design change found in the latest "mirrorless" cameras with a slim body, a 14.6-megapixel APS-C sensor, and a coming line of lenses. The twist here? You touch the i-Function button on the lens and make changes to settings by turning the focusing collar on the lens! Note top hot shoe—you can add an optional EVF finder when the better "organic" LED monitor doesn't do the job.
The question is—will this new approach sound the death knell of the "classic" D-SLR design? There are certain benefits, such as enhanced Live View options, with much faster AF than previously available, the use of APS-C-sized sensors in much smaller main bodies, and, thankfully, enhanced viewing thanks to much higher resolution screens. On the other hand, these cameras by force of their design offer EVF viewing, as plug-in viewfinder options (hot shoe and slot) or in a sort of non-penta-prism, penta-prism style finder.

FEATURED VIDEO