The Photography Of Vivian Maier: From The Shadows Into The Limelight
Vincent van Gogh once said, "Stars are the souls of dead poets, but to become a star you have to die." Vivian Maier (1926 - 2009) was an amateur photographer who had no desire to share her work with anyone during her life, and kept a treasure trove of over 100,000 prints, negatives, and films in five storage lockers in Chicago. By several twists of fate, they ended up in the hands of a few collectors who recognized their unique quality, and are now shown in books, documentaries, museums, and galleries throughout the world.
The Collection
Jeffrey Goldstein has always been interested in making and collecting art, and is a fourth-generation carpenter producing custom cabinetry and sculptures. Every weekend for over 30 years he frequented a flea market on Chicago's West Side. In the spring of 2010, stories were circulating about the discovery of a unique photography collection by Vivian Maier. At auction, three bidders had purchased the divided lots, sight unseen: John Maloof, Ron Slattery, and Randy Prow. Slattery started featuring them on his website and Maloof sold about 200 negatives on eBay, until photo critic Allan Sekula told him the work was too valuable to sell piecemeal. From there her popularity went viral with comments such as "the junk box find of the century." Goldstein was able to convince Prow to sell him 18,000 prints and negatives, which by now of course were at a much higher price.
"Maier has been called the 'people's photographer' and strikes a chord in the commonalty of what she shoots," Goldstein believes. "Her compositions set them up to a different level. She makes the most ordinary things look beautiful, almost like architecture—they are just so rock solid."
The Artist & Her Work
After growing up in New York City and France, Maier worked for many years as a nanny in the Chicago area. This met her basic needs of food, clothing, shelter, and, most of all, time; while the kids were in school she wandered the streets of all the downtown and lakefront areas. Even in the days of 35mm cameras she used a Rolleiflex twin-lens reflex that required manually rotating the focusing knob, setting the lens speed and the aperture, and winding the film with a silver crank. She almost always shot in black and white.
Maier's photos portray everyday life, whether it is at the beach, France, or on the streets of New York City and Chicago. "Public radio host Ira Glass once commented that growing up in the 1960s, the photos he saw were from a Selma, Alabama march or Vietnam, and those were not his '60s," says Richard Cahan, co-author with Michael Williams of Vivian Maier: Out of the Shadows. "In many ways Maier's photos show ordinary life, but they are anything but ordinary. Filled with heart, direct and beautifully composed, they took no editing. So many photographers take us on a trip we normally can't go on, whether it's to the moon, backstage at a Rolling Stones concert, or in front row seats at a baseball game. Maier takes us just down the street. She was really the original Instagrammer, but didn't blast them out to anyone."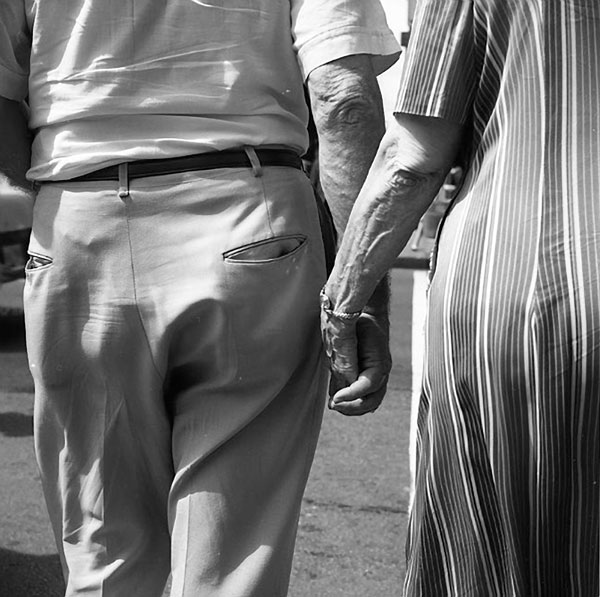 Many photographers take days to figure out lighting beforehand, while it appears Maier had the ability to size up an opportunity in an instant. No person was too insignificant. "She captured flashes of life the rest of us are too busy to notice, and had a savant-like ability to perfectly compose her frame," Cahan believes. Her contact sheets show she usually took only one picture of her subject and moved on. Although she was a very shy person, extremely protective of her privacy, she left behind hundreds of images of herself, and must have had to ask others to take the shot.
On Sundays she often went to an open-air market on Maxwell Street, where vendors sold just about everything to those who could not afford to shop in regular stores. Here she found numerous subjects of those down on their luck or singing the blues in vacant lots. "Maier's photos are artistic and accessible; easy to understand but not simplistic in any way. Many of her subjects appear deep in thought and perhaps isolated and lonely," Cahan says. The word Goldstein hears most often about the collection is "inspirational." He says, "It's one thing to have a visual experience by someone's artwork, and it's another thing that the experience is so great it motivates you to want to go out and do something."
Cahan believes her pictures go well beyond the street, both physically and intellectually. Curator Anne Zakaras told him the story about a sandwich maker in Montparnasse who was asked for directions while she was doing research for the book. In the course of the conversation the Parisian said he loved photography. "Have you heard of Vivian Maier?" he was asked. He paused and said, "She makes me cry."
A Photo Diary
Why would a photographer with this amount of talent and limited financial means keep her work so private? Cahan believes the collection was her diary, and just as Emily Dickinson never published her poetry, a diary is something you don't share. She was also free to take any type of photo she wanted without having to comply with the wishes of a publisher or curator.
Many wonder if Maier ever had any formal or informal training, and Cahan believes she must have, possibly in New York City in the late 1940s and early '50s. "These are not anyone's first pictures. They are bold, thoughtful, and certainly universal."
If this were just a curious story of how Maier's photos were discovered, it would be quickly over and forgotten, if not for the quality of her work, Cahan and Goldstein believe. Others say anyone who takes 100,000 photos is bound to have some good ones, but they have found that nearly all her rolls have something to offer.
Vivian Maier became poor at the end of her life, and three of the children she had helped raise pooled their money to pay for an apartment. They were unaware that, due to delinquent payments, five of her storage lockers that contained all the negatives and photos she had kept during her lifetime were purchased by an auctioneer for $250.
Sharing The Work
Goldstein wanted to share his collection with the world, as he believes, "Art is a shared experience and some people say it doesn't exist unless you have a viewer. There's almost an electrical transfer that takes place between the artist and the work and back to the viewer. In order to complete that equation you have to have others look at it. And with any type of art, you don't really own it; you're just a caretaker." Today Goldstein's woodshop and painting studio stand idle, since "Vivian has taken over my life." He and Zakaras spend their time showcasing various parts of his collection in museums and galleries everywhere. The BBC recently completed a documentary about her life, and there is also talk of a play or movie.
One of the kids Maier cared for told Cahan about the time she was organizing a neighborhood play. After asking the children whom they wanted to portray, one of the children asked her the same question. "Oh, I'm the mystery woman," she responded.
To view additional images, see Vivian Maier: Out of the Shadows by Richard Cahan and Michael Williams, www.cityfilespress.com, or visit www.vivianmaierphotography.com.

LATEST VIDEO