Photography In Bhutan; A Workshop Leader's Love Of Place
"For uncounted centuries the highest mountains in the world have hidden a tiny jewel, the Buddhist kingdom of Bhutan."
For uncounted centuries the highest mountains in the world have hidden a tiny jewel, the Buddhist kingdom of Bhutan. In 1999 my wife and I were watching a 60 Minutes episode when Morley Safer came on and said, "While most governments are concerned with gross national product, we found a place, perhaps the only place on earth, where the government's first priority is something it calls 'gross national happiness.'" Safer went on to explain that Bhutan had just then begun to allow cable television broadcasts throughout the country.
Smaller festivals allow for close-up capture.
All Photos © 2009, Robin Smillie, All Rights Reserved
My wife shouted, "I want to go there!" And so we did, in the spring of 2000. I have since returned 13 times, leading like-minded photographers on cultural and festival tours to what many people say is the planet's last Shangri-la.
Ringside seats at a smaller festival are better than 10th row seats at a larger festival.
Bhutan is precariously perched, politically speaking, between the world's two most populated countries, China to the north and India to the south. Because its king has resisted change and westernization, Bhutan offers globe-trotting photographers scenes right out of the 16th century.
A masked dancer exits the temple at Ugen Choling.
There are Swiss-like villages that have no electricity or roads, with farmers eager to invite the traveler in for butter tea. There are 700-year-old Buddhist temples and monasteries, resplendent with frescos of Buddhist saints and evil demons.

Red-robed monks walk about, happy to have their picture taken and engage in cultural exchanges. And there are what National Geographic's John Claude White, the first foreigner to bring back photos of Bhutan in 1911, called "castles in the air"—massive dzongs that were built in the 16th century to repel Tibetan invaders.
Trongsa Dzong as seen from a room at Yangkil Hotel.
Himalayan Mardi Gras
For me, the best photo ops are at the Buddhist-masked dance festivals held every year in most villages to honor heroes and vilify demons. These week-long Mardi Gras of the Himalayas feature sacred Buddhist dances and lyrics to teach moral messages and promote understanding by reenacting Vajrayana Buddhist history. They have a deep spiritual impact on those believers who witness them. Using precise and complicated choreography passed down through the centuries by Buddhist masters, dancers perform the iconic Black Hat Dance, the Dance of the Heroes, the Dance of the Lord of Death, and many others. Each village also performs their own dance to honor local deities and scare away anything evil.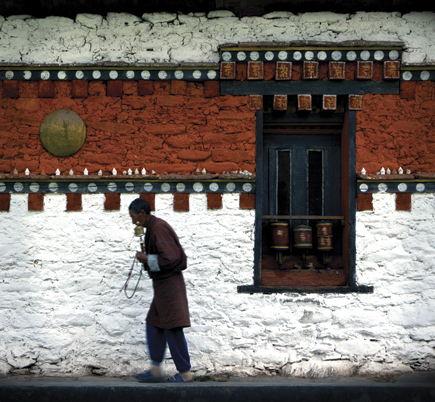 A pilgrim circumambulates the exterior of a temple 108 times to gain merit.
I always try to visit the small village festivals instead of the huge ones in the capital of Thimphu and airport city of Paro, where thousands of urbanites and tourists crowd temple courtyards, straining to get a glimpse of the dancers. The more intimate village festivals like those in Domkhar and Ura host perhaps 300 villagers and 30 tourists, a number that allows closer ringside seating to get tight headshots and motion in the elaborate brocade costumes. Too, over the years I have made friends with village elders and the village lama and they allow me and my fellow photographers special photographic access to dressing rooms and ceremonies inside the temples. The most important element in developing these friendships has been to show great respect for religion and customs. (And, oh yes, a gift of a multi-tool or reading glasses doesn't hurt either.)