Photography Around The Net; Building Websites And Creating Images
"That the automobile has practically reached the limit of its development is suggested by the fact that during the past year no improvements of a radical nature have been introduced."--Scientific American, June 2, 1909
A few months ago I mentioned the creation of a new automobile photographic website to replace the aging www.joefaraceshootscars.com. Shortly thereafter I discovered that designing websites was a lot less fun than making images or riding in cars such as the Maserati MC12. I'm going to try again with Apple's iWeb (www.apple.com) software that was used to create www.joefaraceblogs.com. In the meantime, if you want to learn some of my automobile photographic tricks, tools, and techniques go to www.blurb.com and search the Bookstore using "Farace" to order How I Photograph Cars, an 80-page book containing more than 100 images and featuring tips on photographing automobiles at shows and motorsports events. There's even a little digital darkroom magic. The soft-cover version costs less than $20 (plus shipping).
http://web.mac.com/carart
This automobile photographic website was created using iWeb and features remarkable photographs of incredible automobiles. Carl Edwards--not the NASCAR driver--was an experienced pro shooting fashion and commercial images before switching to cars in 1999. "The Garage" leads you to several collections as well as the inevitable Contact and Clients. Fans of the unusual are urged to click on "The 2007 Alpine RLS." If you're not up on your Benzes, this show car is based on the homely, mostly unloved Mercedes R-Class minivan and Edwards' outstanding studio photography takes you in, out, and around one of the most unusual cars you're likely to see.
© 2008 CarArt, Carl Edwards, All Rights Reserved
Especially noteworthy are the marvelous interior shots, which are notoriously difficult to make. Notoriously difficult to drive--or even get into--Edwards' dramatic photographs of the Saleen S7 successfully demonstrate that the best cars are indeed sculpture and the lighting, composition, and just plain artfulness of these images are hard to deny. His fashion background shows in portraits of Courtney Hansen, demonstrating that she's even more beautiful than she appears on Spike TV's PowerBlock. Other exotic cars that Edwards captures include a black Porsche Carrera GT and a red and white Cobra that showcases his location photography with dramatic angles and an unerring sense of color. Sprinkled throughout the site are a few slide shows, including one on a Jay Leno/Chip Foose Chevy Nomad project that's not to be missed.

www.paulpapanek.com
Paul Papanek knows the ingredients required for the perfect website: Start by adding several heaping teaspoons of photographic talent, season with an attractive, easy-to-navigate design, and mix well with clever features that make the site unique--but never lose focus on the images. Yeah, Papanek photographs food, among other subjects. And his culinary images range from those showing basic ingredients to mouth-watering--my favorite--desserts. All of his portfolio photographs may be viewed individually, serially (via a pop-up thumbnail window), or as a slide show.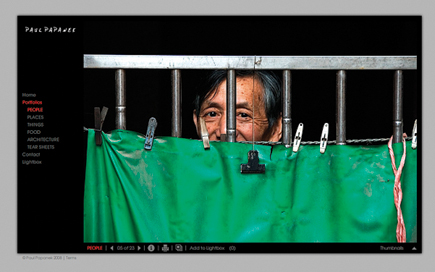 © 2008, Paul Papanek, All Rights Reserved
His "People" images show an obvious emotional connection with his subjects even though they may be photographed in diverse parts of the world. Sometimes their locations are obvious from their environments, but clicking on the "i" button at the bottom of the viewing frame provides (skimpy) caption information that sometimes shows the location where the image was captured. Papanek's photographic style as exhibited in "Places" is one of well crafted composition combined with an unerring sense of color and whether it's eye-popping, bright, or subtle, his use of color enhances the images to produce more than a few "gee-whiz" moments. The "Things" photographs combine a wry sense of humor (don't miss the "donkey shot") with delicateness (sandals) and his sensitive application of color is used to heighten the experience of these travel-based images. There are only a few images to be found in "Architecture" but what's there shows how much Papanek understands composition and color and how his skills immerse a viewer in the worlds he's guiding them through. Don't miss the trip.


LATEST VIDEO

SPONSORED VIDEO
Testing Tamron's SP 150-60mm G2 lens while capturing birds and alligators in Apalachicola, Florida.