Photography Around The Net; Building Websites And Creating Images Page 2
www.richardgreenphoto.com
Monochrome imagery, even monochrome travel photography, is alive and well on Richard Green's website, although I think the term compassionate photojournalism may be more appropriate when describing his work. Green's photographs exhibit an interesting synthesis of old school W. Eugene Smith photojournalism wrapped around a chic, 21st century mentality. They combine traditional style within a pop culture subtext. The site's diptych design is simple and elegant and places the emphasis on his images of the everyman and sometimes, as you will discover, the everywoman.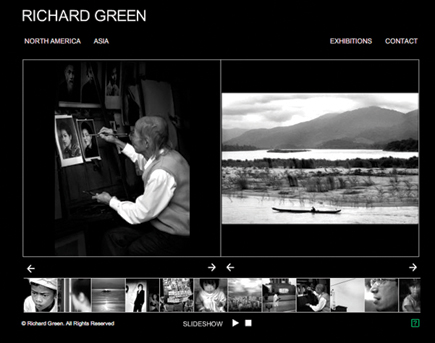 © 2008, Richard Green, All Rights Reserved
Captured in North America and Asia, Green's sometimes intense, often hip, and always engaging street photography seems like Kurt Vonnegut's Billy Pilgrim and "come unstuck in time" with side trips into the '50s juxtaposed with a flash forward in time to a very Blade Runner close-up of an Asian woman's face. Whether these specific facial images--sans zeppelin--that appear in various guises throughout the site on everything from billboards to a large projection screen are part of Green's conscious or unconscious mind when he's making them is something I don't care to ponder, but clearly there is more here than meets the initial glance. I enjoyed looking at his photographs, especially in slide show mode where left- and right-hand diptych images sometimes contextually collide, producing Louis Buñuel-esque combinations and permutations. Overriding it all is Green's impeccable photographic talents of making the commonplace most uncommon.

www.adamsviews.net
Bookending this month's column is a site that, along with awe-inspiring landscape images, also features automotive photography. John Adams' site is hosted, including software and e-commerce services, for $3 per month. He does all the work using open source software and free programs such as Joomla! (http://demo.joomla.org). What's even more impressive is the quality of these high dynamic range images that live in a dreamy twilight zone somewhere between photography and a David Hockney photo-realistic painting. Equipment freaks out there should be sure to read the linked interview in the About Us section and learn about the simple gear Adams uses to create these spectacular images. (Here's a hint: "a broken $18 tripod.")
© 2008, John E. Adams, All Rights Reserved
But it's the photographs that star in Adams' galaxy. You'll never look at a sunrise or sunset in the same way after you see the images in his "Sun, Sky and Water" gallery. The intense colors showcased in stylish compositions take you to a world not all that different than what J.M.W. Turner painted. "The Boats" collection includes photographs that might have started out as traditional compositions but then take on kaleidoscopic color. The "Natures Glory" gallery contains a grid of quiet yet striking landscape images that are available from imagekind (www.imagekind.com) at most affordable prices. The "Choppers and Bikes" along with "Cars, Rods and Automobiles!" galleries feature multiple collections containing more photographs using his trademark intense style. While all these collections showcase amazing images, the "Car Art" collection includes what Zaphod Beeblebrox would have called "amazingly amazing" photographs of cars, such as a '40s taxi parked in front of an historic Macy's building. These images, like many of the classic cars they depict, are Happy Days on acid and exist in an alternate universe where art and machine collide.

LATEST VIDEO

SPONSORED VIDEO