A Photographers Dream
Mono Lake And The Eastern Sierra Nevada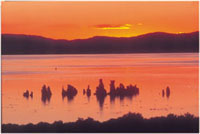 Sunrise on Mono Lake with tufa and California gulls. California gulls nest on Negit Island but a land bridge was formed when the lake level dropped. This allowed coyotes and other predators access to the nesting sites, endangering the new generation. The rising lake has once more isolated the island.
Photos © 2002, Joseph A. Dickerson, All Rights Reserved
Riddle: what do Ansel Adams, the Lone Ranger, Hopalong Cassidy, William Mulholland, and Gunga Din all have in common? Answer: a geographical area of California that is as rich in human history, geological wonder, and photographic beauty as any place you could imagine. This area is easily traversed by car in a few short hours, but requires a lifetime to get to know intimately. Thousands pass through it following US 395 to the casinos of Tahoe and Reno or the ski slopes of Mammoth Mountain, but seldom stop to take the opportunity to really explore this remarkable place.

This is the eastern side, located directly below the eastern escarpment of the Sierra Nevada. It includes Owens Valley, the Mono Basin, and part of the Mojave Desert. Any photographer with an open mind, a poetic soul, and an artist's eye receptive to what is before him/her will find magic there.

We'll work our way from south to north in our quest for local history and photographic possibilities, both of which abound. Actually, coming from the south can be the best approach, since many of the passes over the Sierra will close in winter. Some close for the season, others only temporarily after a storm, so check with the Auto Club or Cal Trans for current road conditions.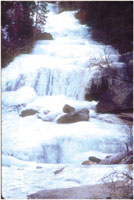 A frozen mountain waterfall at Whitney Portal. This fairyland image is probably a
ho-hummer for readers in Maine but for this California native it was magical. I spent a couple of hours shooting the creek and its frozen cascades.
Let me stress that this country is predominately desert, and as such, in the summer it's hot, very hot. Probably the best times to visit are spring and fall, although I was at Mono Lake last winter and it was wonderful. Cold, but wonderful. Anything we didn't want to freeze we had to put in the refrigerator, but we got some great photographs.

Sights And Route
If you travel north on Highway 14 from the town of Mojave you will pass through Red Rock Canyon State Park on the flanks of the El Paso Mountains. This area has fanciful wind and water carved features and, especially early and late in the day, colors you won't believe are real. You won't be needing any of those warming filters here.

As you proceed north, you will enter an area rich in mining history. Gold, silver, borax, and other minerals were taken in greater or lesser quantities, and some mining is still taking place. If you dig old mining towns (pun intended) this part of the valley is worth a prolonged visit. There are a number of guidebooks that will help you find deserted ghost towns and even some not-quite-deserted ones like Randsburg. Another town that barely resists extinction is Keeler. Once a terminus for the silver coming out of the Cerro Gordo Mines above Owens Lake, it now has a few ramshackle homes and a million dollar view of the Sierra Nevada. The steam ship Bessie Brady would pick up the ore at Keeler and deliver it to Olancha across the lake. From there it would be shipped to Los Angeles.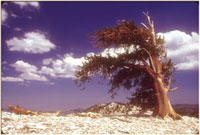 The Bristlecone Pines are thought by many scientists to be the oldest living things on earth. This fact is made even more incredible when you see the formidable environment they call home. Take Route 168 east from Big Pine over the Westgard Pass to see these ancient survivors.

Today, Owens Lake is a much different lake. In 1913 the L.A. Aqueduct began diverting water from Sierra streams to the City of Angels, causing Owens Lake, followed rapidly by the verdant Owens Valley, to dry up. Plenty has been written about this chapter in California's history. If you'd like to read more I suggest Cadillac Desert by Marc Reisner. I'll leave it to the pundits such as Reisner to draw conclusions about Mr. Mulholland's aqueduct, but it sure didn't do much for the Owens Valley. Or, as we'll see, Mono Lake for that matter.

Back on the highway you'll soon reach Lone Pine. Be sure and stop at the Eastern Sierra Interpretive Association's Interagency Visitor's Center just south of town. It has tons of information about Death Valley, Mount Whitney, and the rest of the Eastern Sierra. It's a good place to pick up any guidebooks you'll be needing.
Movie Sets
To the west you'll notice a range of low hills between you and the Sierra. These are the Alabama Hills and part of the answer to the opening conundrum. The classic 1930's movie Gunga Din, plus dozens of westerns for both the large and small screen, were shot here. The Alabama Hills and the rugged desert with majestic Mount Whitney overlooking it all is absolutely fantastic. Be sure to be here for at least one sunrise. Oh, and keep your eyes peeled for silver bullets. If the road is open, head up to Whitney Portal. You'll find some great vistas on the way up.
I'd suggest a stop at the Eastern California Museum in Independence. It's a great natural history museum with a wonderful Native American collection and a poignant display depicting life at Manzanar. This World War II Japanese-American relocation camp was documented by Ansel Adams in Born Free and Equal: The Story of Loyal Japanese-Americans.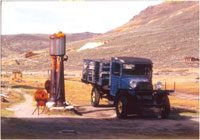 The town of Bodie once had 10,000 souls, many of them lost, as it boasted 65 saloons and only two churches. Boot hill has many interesting grave stones and the cemetery is segregated into "respectable" folks and others.
Base Camp
When you reach the town of Big Pine you'll have a choice to make. If time is limited, continue north toward Bishop. If you can, take Route 168 eastward into the White Mountains to visit the Bristlecone Pines. Some of these hardy trees are over 4000 years old. On the way up there are some great vistas of the Sierras across the Owens Valley. The Owens Valley's northern anchor is the town of Bishop and there's is plenty to do and see here. With museums, great fall color in season, and hiking trails, Bishop offers the lot. In fact, many photographers use it as a base camp and range outward from there. I'm always in a hurry to get to Mono Lake so I scoot on through, but I never fail to stop at Erick Schats Bakery for a cinnamon roll and some sheepherder's bread.

Traveling north from Bishop the vistas get better and better. Winding little roads lead to places with names that echo the past: Rock Creek, McGee Creek, and Convict Lake. You'll also pass the road to Mammoth Lakes and the Devil's Post Pile. Mammoth is a year-round resort but Devil's Post Pile is closed in the winter.

Another half hour or so you'll see the turnoff for the June Lake Loop, Highway 158. If you opt for this route you'll pass four small lakes, June, Gull, Silver, and Grant. There are some spectacular views of the Sierra reflected in these alpine jewels and some spectacular fall colors in season. The loop will bring you back to US 395, just a few miles south of Lee Vining.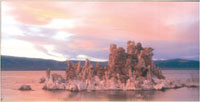 This sunset began as nothing spectacular and finished up as the only 360Þ sunset I can remember. Someone once said, "Luck is when preparation meets opportunity." They must have had the Eastern Sierra in mind.
Fabulous Mono Lake
As you come into Lee Vining you'll be astonished to see a sizeable lake surrounded by high desert. This is the famous, and controversial, Mono Lake. The lake itself is gradually refilling after the Los Angeles Department of Water and Power was forced, at least temporarily, to quit diverting water from the feeder streams to fill Southern California's swimming pools. The lake is still considerably smaller than it was prior to the opening of Mr. Mulholland's aqueduct, but it's making a comeback. The Mono Lake Committee headquarters in Lee Vining has many books and videos that explain the history, geology, and ecology of the region as well as the struggle to save Mono Lake.

Just north of town there is a visitor's center that will tell you even more about the area and some of the history of its earliest inhabitants. Both the Mono Lake Committee headquarters and the visitor's center have photography exhibits. You can even see a show of George Lepp's photos at the Tioga Gas Mart Mobil Station. Yeah, the Mobil Station. It's also one of the best places in town to eat.

The South Tufa area is one of the best areas to photograph tufa towers and the lake itself. I experienced the only 360Þ sunset of my life while on my holiday. We could literally shoot in any cardinal direction, and the sky was ablaze with dramatic color. If you canoe or kayak you can launch from nearby Navy Beach. Paddling among the tufa towers is truly a fantasy voyage. In season you'll paddle with eared grebes, California gulls, Wilson's phalaropes, osprey, and in the clear waters of the lake you'll see billions of brine shrimp. The lake is much more saline than the ocean so it won't support a fish population, but it is a major stopover on the Pacific flyway, which makes it a birder's paradise.

There is much to explore around the lake, Panum Crater, Lundy Lake, Horse Meadows, and a bit to the north, Bodie. It is said that a young girl upon being told her family was moving to Bodie exclaimed, "Good-bye God, I'm moving to Bodie." If you like your old mining towns rough and ready and real grit in your grits, you're gonna love Bodie. It's a state historical park and is being held in a state of arrested decay so you see it exactly as the last of the Bodie locals saw it as they left for good. No Golden Arches, no Genuine Indian Curios, no Whiz-bang Video Arcade, just a worn-out, wrung-out, and played-out mining town gone bust. Cool.

You are free to explore the town but they shut the place down well before sunset so the best light of the day is wasted. From May through October, however, the third Saturday of the month is a photographer's day. For an additional fee, $30 as of this writing, you can enter 1/2 hour before sunrise and stay until 1/2 hour after sunset. This is by reservation and is limited to 50 participants. However, one ranger told me that they often have only a handful taking advantage of this special access. One group that offers photo workshops around Bodie and Mono Lake is the Global Preservation Project. Several others are listed in the Bodie State Historical Park web site (see the sidebar below).

The Eastern Sierra is a unique place filled with incredible possibilities for the serious photographer. If you visit here once it will likely gain a hold on your soul and pull you back year after year. It has me; I'll see you there.

Interesting And Useful Web Sites
Bodie State Historical Park
http://ceres.ca.gov/sierradsp/bodie.html
Global Preservation Project
www.globalpreservationprojects.com
Mono Lake Committee
www.monolake.org
Hiking and Trail Guidebooks: Spotted Dog Press, Bishop, California
www.spotteddogpress.com
Photo Traveler's Guide
http://phototravel.com
Bishop, California, Traveler's Information
www.395.com/bishop
www.visitbishop.com
Lone Pine Traveler's Information
www.lonepine.org
California Fall Color Reports
http://calphoto.com/fall.htm
Interagency Visitor Center, Lone Pine, California
www.r5.fs.fed.us/inyo/vvc/mtwhtny
Manzanar National Historic Site
www.nps.gov/manz/Expanded.htm