Photographers' Sites With A Point Of View; And A Web Tool That Protects Your Copyright
"They have been at a great feast of languages, and stolen the scraps."
—William Shakespeare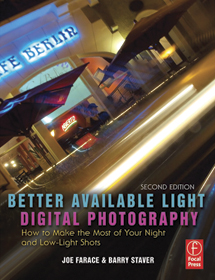 Although I like their search engine, I'm not a huge fan of Google as a company, but every now and then something happens that makes me appreciate some things they do. Take Google Alerts. These are e-mail updates of relevant Google results (web, news, etc.) based on your choice of query or topic. You can use Google Alerts to monitor news stories, keep up-to-date on industry developments, or just check on your favorite sports teams. Google recently sent an alert to Barry Staver, coauthor of Better Available Light Digital Photography, indicating that his book was available as a free download and the deal wasn't being made by the publisher. It seems that some people are scanning books and making PDF files so others can read and print them, even though it probably costs more for ink to print that book than the $17.43 it sells for on Amazon.com. The moral of this story: it isn't just music and movies that are being hijacked, it could be your books or photos and Google has provided a useful tool to help you keep an eye on them.
www.footloosefoto.com
Richard L. Rieckenberg is a generalist whose site reflects his many photographic pursuits. The "Portraits" collection contains images of kids in formal settings as well as those that could only be called photojournalistic, yet there are family photos here and even a picture of a bride and groom. What these monochrome and color photographs share is Rieckenberg's naturalness and humanity. "Professional Portfolios" reflects the professionalism of the actors, models, and artists he captures like the consummate pro he is. The "Location and Assignment" collection contains mostly reportage images but also includes a quiet landscape of the Oregon Coast. What do these images have in common? Nothing beyond Rieckenberg's skill and vision in making them.

His "Fine Art" collection contains stunning scenic images (especially "Solitude") and one obviously commercial image that could all be covered by the umbrella of really great stock photography; all are captured with an eye for color and design that makes each one unique to its genre. Then there's the sensitive images of Tanzania found in his "TEATUM Initiative" collection. TEATUM is a movement to improve life in Tanzania and among its many charitable works pays for education for children who can't afford it. And if you take the time to read his biography you'll find that Rieckenberg is not just another photographer, he's a humanitarian who works one-on-one with people to help them improve their lives. Rieckenberg should be a role model for all of us to do more than just click the shutter.
© 2010, Richard L. Rieckenberg, All Rights Reserved
www.lostmonkey.dk
Mikkel Houmøller is a Danish photographer whose attractively designed site showcases nature and landscape images. His photographs are found in six main galleries plus collections entitled the "Latest" and "All Images" (click on the monkey), which gives you an overview of his entire oeuvre. Houmøller has formatted several of his images into wallpaper that you can download and use for free on your computer. As a monochrome fan, I clicked on the "Monochrome" gallery first and wasn't surprised to find a photo of a monkey or maybe it's a small ape but clicking on it opens additional subgalleries filled with images of primates and South Africa. Houmøller's use of this "Easter egg" method of navigation makes exploring his galleries more fun than the clicking and dragging used on many sites.

Along the way you'll be treated to images that—especially in the "Landscape" gallery—are filled with a stark beauty that whether they be color, monochrome, or a mixture of the two, as in "Night Sailing," have a clean, crisp beauty in which manmade elements are grace notes to the power of nature. The "Fauna" gallery contains images of birds and bugs (you know how I feel about the latter), but his butterfly photographs, occasionally in monochrome, are stunning and are often the gateway to other subgalleries such as "Butterflies" and "Insects." In "Outsiders" (I think he means humans) the photographs are full of manmade objects, including one of a vintage birdcage that's tellingly entitled "Escape." Somehow a photograph of a basketball game escaped from elsewhere and landed here. Why? I don't know. It's part of the surprise design of Lost Monkey Photography and one of the many reasons you need to visit the site.
© 2010, Mikkel Houmøller, All Rights Reserved

LATEST VIDEO