Photogenic PowerLight
Photogenic Professional Lighting announces the launch of the company's new PL625DR/PL625DRC Powerlight monolights.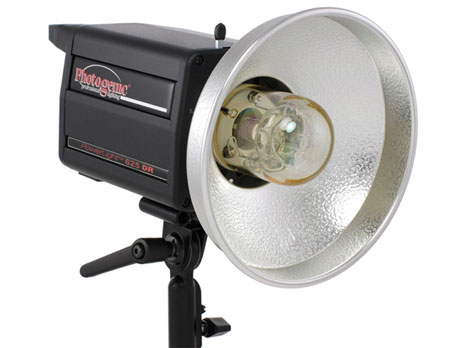 The PL625DR has a 6 f-stop flash output range from 7.8 to 250Ws. The unit, which was designed for demanding lighting situations, delivers accurate and repeatable power every flash, for consistent exposures. The 250 watt-seconds strobe light works to capture movement and serves as a superior product to incandescent light in this respect. The PL625DRC has all of the same features of the PL625DR and also includes a UV Coated Flash Tube.

At full power it has a short 1/2000 second flash duration. Tight control of the flash output is accomplished through Photogenic's digital circuitry which allows for precise adjustments in 1/10 or 1/2 f-stop increments. The 250 watt modeling lamp can be controlled to any output level necessary—full, proportional, manual or off. The flash tube is protected by Pyrex glass and is user replaceable.

"The PL625DR and PL625DRC Powerlight monolights were specifically designed for today's demanding lighting situations and created with reliability, precision and ease-of-use in mind," said Bob Higgins, sales and marketing manager of Promark International. "The monolights are compatible with dozens of light modifiers such as soft boxes, umbrellas and the entire Quick-Change line of light shaping accessories, which make these lights ideal for photographers of all ability levels."
Also available with a built-in PocketWizard™ receiver, the PLR625DR will work with any PocketWizard transmitter and can trigger the light from a distance of up to 1,600 feet. With the unique built-in receiver design, there's no need to worry about batteries or losing an additional radio receiver.

Additional features include:
· Quick 1.25 second recycle time at full power for virtually continuous flashing
· Visual flash indication (modeling lamp dims and then returns to set intensity)
· Digital display of flash and modeling power settings & ready indication light
· Auto power discharge (flash dump)
· Built-In optical photo slave cell with IR triggering capability
· Fan-cooled for increased operating efficiency and maximum performance
· Built-In Surge protection & easy-press test-fire button
· Internal thermal protection & rugged extruded aluminum housing
· Compatible with the Photogenic PLIRC-2 Infrared Remote Control & PLICB-1 multi unit Control Center.


FEATURED VIDEO