Photoflex's LiteDome Kits; Versatile Softbox & Strobe Combos Page 2
When shooting, the strobe only fires when it's fully charged to the set proportional power level, but recycling is very quick. At full power, it only takes 3 or 4 seconds for the StarFlash to be ready to fire again. There are two indicator lights on the back of the unit. There's a red light that indicates the unit is charging, and a green light that signals when the unit is ready to fire. It's also possible to set an audio tone that beeps every time the unit is charged. The modeling light can be set to either full brightness or linked to the proportional output of the flash. A bidirectional toggle switch sets how the modeling light is used.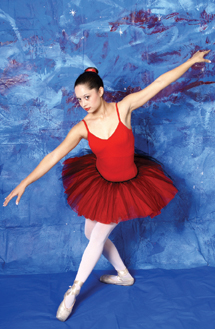 The Photoflex LiteDome produces a very even light with pleasing shadows. (Model: Teresa Danielle Giltner, In Motion Dance Center.)
The StarFlash 1000 has more than enough power for just about any shooting situation. At full power, without a diffuser attached, it generates enough light for an exposure of f/16 at 8 ft. Adding the baffle reduces light by one stop to f/11. Adding the diffuser only drops the exposure down by another half a stop or so. I tried it at full power, half power, and quarter power. Exposures were predictably consistent at each power level. With just the baffle, the color temperature stays within a 100K range of 5720-5820K. Adding the front diffuser drops the color temperature down 50K to 100K.

The kit ships with both a power cable and a sync cord, but the sync cord is one of those heavy, stiff ones. When shooting with it, it constantly disconnected from the camera, even when trying different techniques to keep it in place. I liked shooting with the setup a lot better when I switched to one of my thinner sync cords that stays in place when shooting. I also tested the StarFlash with the slave function. Using the on-camera flash to trigger the unit, I was able to come up with evenly lit, relatively natural-looking compositions.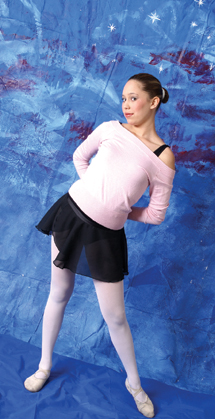 A single LiteDome with both diffusers in place generates light that comes close to a natural-light look. (Model: Jessica Lee Giltner, In Motion Dance Center.)
Once I finished shooting, breaking the kit down is as easy as the set up. Like most of the Photoflex kits, the LiteDome Kit comes in a nice canvas carrying case. The entire package has a list price of $2129.95.

For more information, contact Photoflex Products Inc., 97 Hangar Way, Watsonville, CA 95076; (800) 486-2674, (831) 786-1370; www.photoflex.com.

LATEST VIDEO

SPONSORED VIDEO
Testing Tamron's SP 150-60mm G2 lens while capturing birds and alligators in Apalachicola, Florida.