Photo Trekking In Nepal
APS + Picture CD = Travel Fun Photos
Most people know us as professional travel photographers--lugging around "tons" of 35mm cameras and accessories. We use this gear to document different cultures and customs around the world for our books and magazine articles, as well as for Rick's photo series on the Do-It-Yourself Network.
Well, we'll let you in a little secret: we also travel with APS cameras (point-and-shoot and SLRs) for fun and behind-the-scenes shots. And here's another secret: we sometimes use our APS pictures in our books...the pictures are that good.
"Shutterbug's" intrepid contributor Rick Sammon checks in with our office from remote Chitwan National Park via his satellite phone. This is one of the "fun" shots the Sammons talk about. (Canon EOS IX, Canon 17-35mm zoom at 20mm, C format, Kodak Advantix 100.)
© Susan Sammon, 2000
This past November, we traveled to Nepal, which turned out to be perhaps the best trip of our lives. We took all our 35mm gear--three backpacks and two hard cases. In addition to our pro gear, we packed a batch of Kodak's ISO 100 and new 400 Advantix film and a Canon EOS IX (which accepts all our Canon 35mm SLR lenses). Basically, we used the EOS IX as our point-and-shoot camera.
Sure, we were very pleased with our 35mm shots, but more on that in a future issue of Shutterbug. For now, we'll talk about the fun we had with the APS system.
On site, the EOS IX was fun to use, which is why we used it as our "fun" camera. Some of the fun was provided by the choice of three formats: C (Conventional), H (High Definition), and P (Panorama). This simple feature, even for seasoned pros, makes one see the world differently through the viewfinder, that is, helping to crop out unwanted areas of a scene to draw interest to the subject. Having the choice of wide angle zooms and telephoto zooms for the EOS IX was cool; they gave us the creative control we needed.
A cool feature of the Kodak Picture CD is that you can easily turn a color photograph into a black and white image. As we look at these two pictures of a little girl we photographed in a small village, we prefer the black and white image. (Canon EOS IX, Canon 70-200mm zoom at 100mm, H format, Kodak Advantix 400.)

Photos © Rick Sammon, 2000
Perhaps best of all, because we were shooting print film, which has a wide exposure latitude, we simply set the EOS IX on Program and shot away. That's because we did not have to "bracket" our exposures over and under the recommended in-camera meter setting, as is the case when we shoot slide film.
What's more, because we planned to put all our APS cassettes on Kodak Picture CDs, we knew that, due to the CD's easy to use image enhancing and correcting software, we could lighten or darken our high-res scanned pictures, as well as increase or decrease contrast. We also found ourselves envisioning pictures in black and white, because with the click of a mouse, a color picture can be transformed into a black and white picture through the Picture CD's software. Therefore, knowing what we were going to do back home changed the way we shot in the field. Cool.
During our 10-day photo trek, we photographed people, temples, wildlife, and beautiful landscapes (including Mt. Everest) with all our cameras. When we were shooting APS, we used the ISO 100 film in bright light and the 400 speed APS film in low-light situations--indoors at temples and in the early morning and late afternoon.
Now, if you know your ISOs, you are probably wondering about the ISO 400 film's grain. Well, the film does have slightly more grain than ISO 200 Advantix film, but it didn't bother us one bit. In fact, in some situations, like for our photographs of people in remote villages, the grain actually enhanced the scene--taking away some of the reality of the setting. That said, in small prints (4x5s and 5x7s) the grain was hardly noticeable.
As with everything in life, all good things must come to an end. So, after an action-packed photo trek, we had to pack up all our gear and get ready for the long ride home: 30 hours door to door.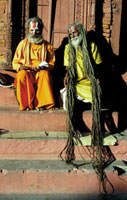 Photographing the holy men of Katmandu was one of the reasons we traveled to Nepal. (Canon EOS IX, Canon 70-200mm zoom at 100mm, H format, Kodak Advantix 100.)
A few days after we returned home, still jet lagged out, we picked up our pictures and Picture CDs. First, we looked through our 35mm work. Cool stuff. Then it was on to our APS pictures. More cool images. Finally, we popped the Picture CDs into our computers to see what magic we could create in the digital darkroom. (Susan has a HP Pavilion and I have a Mac G4 with Adobe Photoshop 5.5.) Susan did some basic exposure adjustments using the Picture CD's software, and I had even more fun in Photoshop.
On these pages we share a few of our favorite APS images.
Looking at our pictures brings back great memories of a great trip--memories that can be relived again and again through the magic of photography.
Okay...Susan told me to mention this: sure we had fun shooting with our point-and-shoot APS camera. But we also worked our buns off shooting with our 35mm cameras to get pictures that told the whole story of our Nepal adventure--taking little time out for naps and relaxing. Oh yeah, we also traveled with our digital cameras. We are photo toy nuts!

FEATURED VIDEO