Photo Gear
Covering The Photo Beat; Chemicals And More
Chemistry--especially black and white chemistry--remains defiantly buoyant. Although chemicals for color printing are unmistakably in decline, and although domestic processing kits for slide film (Kodak E-6 compatible) and negative film (Kodak C-41 compatible) are harder and harder to find in large packages (5 liters and above), monochrome chemicals continue to flourish.


Paterson may have dropped their film line--which is a pity, because Acupan 200 was a superb film--but their chemicals continue to sell like hot cakes. Likewise, after a brief hiatus, Ilford has restored easy availability not only of liquid chemicals, with such highly-regarded products as DD-X, but also several powders, including Perceptol and Microphen.

Fewer and fewer manufacturers still offer powder chemicals today, because so many people prefer the convenience of liquid concentrates, so Ilford's re-introduction shows clearly that the market is both larger and healthier than many would have you believe. After all, it is one thing for a tiny backstreet manufacturer to offer specialist powder chemicals; it is quite another for the biggest manufacturer of black and white film in the world to believe that this is an essential part of their line-up.

Better still, there is a wider choice of specialist chemicals than there has been in decades. As well as ultra-specialist (but still very substantial) companies such as Bostick and Sullivan, mainstream mass-market distributors such as Freestyle have thought it worthwhile not only to bring in those Fotospeed chemicals that were previously imported by Luminos, but even to expand the choice with such options as Fotospeed Grade Select developers: one high contrast, one low contrast, allowing, in effect, multiple contrasts from a single paper grade.

There has even been a new name in photographic chemistry since last year, Rollei R3 (R-cube). Although Rollei--Francke and Heidecke of blessed memory--do not, as far as I know, actually manufacture either the films or the chemicals that bear their name, they were happy enough to lend that name, subject to their own quality control.

There's no question that the market for chemistry is changing. The only Big Name that is likely to introduce any real novelties is Ilford: I would not be surprised if Kodak, Fuji, or Agfa never made any more major introductions in black and white chemistry, and made only detail changes to E-6 compatible and C-41 compatible chemistry. At the next level down, there are several companies who don't necessarily manufacture their own film but are significant players in processing chemistry: in alphabetical order, Champion, Clayton, CPAC, Edwal, Fotospeed, Maco, Moersch, Nacco, Paterson, and Tetenal. You may not always see these names on the bottles you find at the store, but this doesn't always mean much: here as in other areas of photography, there is a fair amount of contract and subcontract manufacturing.

There are also several manufacturers who are relatively tiny but still offer interesting choices, sometimes with only a single product, often with a handful. Obviously it is hard to draw a line between these and the previous category but a leading light would be Rockland Colloid (best known for their liquid emulsion, Liquid Light).

One of the best ways to find out about these is via the Photographers' Formulary, but others advertise in their own right (usually in very small advertisements) or can be tracked down through Internet forums and user groups. Or just look at the product list of major retailers like Adorama, B&H, or Freestyle. You will probably be amazed at the number of different manufacturers who make chemicals. Well respected names like Acufine, Clayton, Edwal, Ethol, and Nacco don't go along to the major shows and introduce lots of new products every year, but they are still there making and selling the old standards along with the occasional new introduction.

I suspect that in the future we may well go back to the 19th and early 20th century model, where a small manufacturer with a good idea can break into the market comparatively easily: in economic jargon, the barriers to entry are set fairly low. As long as governments can restrain themselves from imposing totally silly regulations on the manufacture and disposal of photographic chemicals, this is an exciting and encouraging model.
Choosing And Using Chemicals
While short stops and fixers are pretty much generic, the biggest variations are in developers. Most of them do what it says on the box or bottle: higher film speed (albeit with coarser grain), finer grain (albeit with reduced speed), warmer paper tones... But this is only a starting point. There are often dozens or even hundreds of developers, all claiming to do much the same thing, but to do it better than their rivals. Which is best? No one can tell you. Ask yourself a simple question--or rather two questions--when anyone tells you that their preferred developer is all you need. First, if they are right, why are there so many other developers on the market? Second, are there other good photographers who use different developers?

Liquid concentrates are by far the quickest and easiest chemicals to use. With those chemicals which are prone to oxidation--mainly developers--it is a good idea to decant them into smaller containers after opening. The brown glass bottles such as pharmacists use are ideal. Be wary of "concertina" bottles: some work very well but some are permeable to oxygen and may oxidize chemicals faster than half-full bottles.

Powders are often cheaper and have an extraordinarily long shelf life in their powder form: not forever, but certainly many years and often several decades. Mix powder chemistry in a well ventilated place, but not in the darkroom, because of the risk of airborne powder ending up on sensitive materials. A special stirring rod can make it much easier to dissolve powders rapidly and fully: Paterson's mixing rod is especially useful.
New Introductions
Ilford has come back very strongly. First they brought back the old standard powder developers, Perceptol and Microphen (liquid concentrates such as DD-X were always available). Then they announced a new warm tone developer, followed by a new line of toners. There was not much information at the time of this writing, but the new products should be ready soon.

Rollei introduced a new high-speed developer and a wetting agent in conjunction with their R3 films. The developer gives instructions for pushing and pulling the film, across a wide range of "ISO" speeds. As the film is actually rated at a fixed true ISO speed in any one developer (a nominal ISO 400) many of these figures are really Exposure Indices (EIs) not true ISO speeds.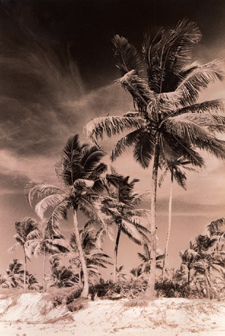 Palm trees, Goa. Sepia, selenium, and gold toners all extend the archival life of a print. This was toned in Paterson odorless (thiourea) sepia then gold. Gold toner on its own, or a very dilute selenium toner, can be used for archival keeping without substantially altering image tone. (Nikkormat, 35mm f/2.8 Nikkor PC lens, Ilford XP2.)
© 2005, Frances E. Schultz, All Rights Reserved.
Fotospeed's new distributor Freestyle is bringing in their whole line of chemicals, and it is very extensive indeed. The newest paper developer is Grade Select, a two-bath developer. One developer is soft working (giving low contrast) and the other hard working (giving maximum contrast). This allows you an immense amount of control when using graded papers. Fotospeed's Warm Tone developer is also now available in the US. It is one of my favorite developers for Ilford Multigrade Warmtone paper. Like all warm tone developers the warmth can be increased with greater dilution, though longer development is usually essential to obtain a reasonable maximum black.
--Frances E. Schultz
Manufacturers/Distributors
Adorama Camera, Inc.
42 W 18th St.
New York, NY 10011
(800) 223-2500
(212) 741-0052
www.adorama.com
AgfaPhoto USA Corp.
100 Challenger Rd.
Ridgefield Park, NJ 07660
(800) 243-2652
(201) 373-4290
www.agfaphoto.com
Argraph/ADI
111 Asia Pl.
Carlstadt, NJ 07072
(201) 939-7722
www.argraph.com
ArtCraft Chemicals, Inc.
PO Box 382
Altamont, NY 12009
(800) 682-1730
(518) 355-8700
www.artcraftchemicals.com
B&H Photo
420 9th Ave.
New York, NY 10001
(800) 972-5999
(212) 502-6200
www.bhphotovideo.com
Bostick & Sullivan
PO Box 16639
Santa Fe, NM 87592
(505) 474-0890
www.bostick-sullivan.com
Brandess-Kalt-Aetna Group, Inc. (Edwal, Ethol, Heico)
701 Corporate Woods Pkwy
Vernon Hills, IL 60061
(847) 821-0450
www.bkaphoto.com
Champion Photochemistry Ltd.
1760 Meyerside Dr.
Mississauga, Ontario
L5T 1A3 Canada
(905) 670-7900
www.championphotochemistry.com
Clayton Chemical Company
13310 S. Figueroa St.
Los Angeles, CA 90061
(310) 538-9530
www.claytonchem.com
CPAC Imaging
6455 E Johns Crossing
Duluth, GA 30097
(800) 262-9333
www.cpacimaging.com
Dot Line Corp. (Nacco)
9420 Eton Ave.
Chatsworth, CA 91311
(818) 700-9997
www.dotlinecorp.com
Eastman Kodak Company
343 State St.
Rochester, NY 14650
(800) 242-2424
www.kodak.com
Falcon Safety Products, Inc.
25 Imclone Dr.
Branchburg, NJ 08876
(908) 707-4900
www.falconsafety.com
Freestyle Photographic Supplies (Fotospeed, Maco, Rollei films and chemistry)
5124 Sunset Blvd.
Hollywood, CA 90027
(800) 292-6137 (North America)
(323) 660-3460 (International)
www.freestylephoto.biz

Ilford Imaging USA Inc.
W 115 Century Rd.
Paramus, NJ 07652
(800) 631-2522
(201) 265-6000
www.ilford.com
Lacquer-Mat
6816 Ellicott Dr.
East Syracuse, NY 13057
(800) 942-2223
(315) 431-1023
www.lacquer-mat.com
Moersch (Photo Chemicals)
Am Heideberg 48
50354 Hürth
Germany
+49 (0)2233 943 137
www.moersch-photochemie.de
OmegaSatter (Berg Color Tone, Retouch Methods, Tetenal, Zonal Pro)
1041 S Carroll St.
Hampstead, MD 21074
(410) 374-3250
www.omegasatter.com
Paterson Photographic Inc. (USA)
4680-A Industrial Access Rd.
Douglasville GA 30134
(770) 947-9796
www.patersonphotographic.com
Photographers' Formulary, Inc.
PO Box 950
Condon, MT 59826
(800) 922-5255
(406) 754-2891
www.photoformulary.com
Rockland Colloid Corp.
PO Box 376
Piermont, NY 10968
(845) 359-5559
www.rockaloid.com



LATEST VIDEO

SPONSORED VIDEO
Testing Tamron's SP 150-60mm G2 lens while capturing birds and alligators in Apalachicola, Florida.