Photo Gear
Covering The Photo Beat; Chemicals And More Page 2
More New Products
Elegant Digital Image Albums
Allure is the coy name of a new, elegant presentation box that holds a handcrafted leather-covered album for showcasing digital images, including 10x10 composites. It features bound construction and a leather cover in either black or pearl with an optional window. Each album fits into a coordinating hard-shell presentation box having a magnetic closure. The Allure album pages feature slip-in loading so there is no need to fuss with mattes. Pages match the album cover and are free of metal corners that could distract the viewer, so each photo has heightened impact. Albums accommodate 12, 15, or 18 pages in 8x10 or 10x10 sizes. Contact: Flora Professional Albums, 2160 Superior Ave., Cleveland, OH 44114; (800) 827-5679; www.floraalbums.com.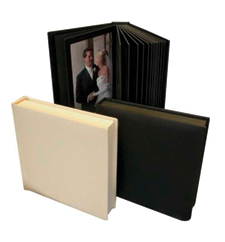 RoadWired "Skooba" Series Adds Pink-Trimmed Laptop Bags
To accommodate the growing demand for stylish business cases suitable for women, the "Skooba" collection from RoadWired now includes a series of pink-trimmed laptop bags. These bags combine a professional black exterior with soft pink trim, details, and lining. This distinctive new color combination is now available on the full-featured Skooba Satchel. The Satchel is a full-featured laptop bag having more than a dozen compartments and pockets. The prime interior compartment is a dedicated computer section lined with hundreds of individually sealed air cushions that serve as shock absorbers both around and below the laptop. The front is a separate organizer section having storage for media, phone, pens, keys, cords, and related small items. Attachment points for securing optional "Rivet" accessory clip system items permit attaching add-on storage. A divided section for files and papers, zippered magazine pocket, hideaway water bottle holder, and a rear "trolley strap" slides over a rolling suitcase handle for secure transporting. An oversized shoulder pad has extra cushioning plus an ID transit pass pocket. Made of tough ballistic nylon it weighs just 44 oz and has an MSRP of $100. Four other color combinations of Skooba collection bags are available. Contact: RoadWired, Division of Three Point Ventures, LLC, 2180 Brighton-Henrietta Townline Rd., Rochester, NY 14623; (877) 435-5679, (585) 697-3444; www.roadwired.com.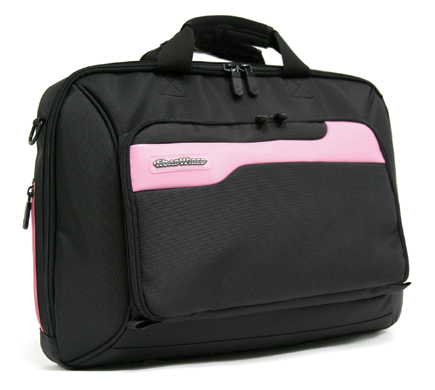 CHIMERA's OctaPlus Lightbank
CHIMERA's new OctaPlus family of Lightbanks produces light quality some imagemakers have called "very soft and beautiful." The OctaPlus family features 3-foot and 5-foot models as well as the OctaPlus 57, a 5- to 7-foot conversion kit. Contact: CHIMERA, 1812 Valtec Ln., Boulder, CO 80301; (888) 444-1812, (303) 444-8000; fax: (303) 444-8303; www.chimeralighting.com.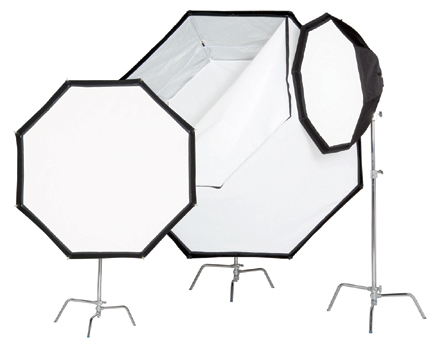 Photogenic's StudioMax III
Photogenic has introduced new StudioMax III Lights. These budget-friendly lights are designed specifically for digital photographers and feature the latest Constant Color Temperature Technology; 100w modeling lamp; UV corrected flash tube; a choice of 320 ws or 160 ws; and continuously variable power levels over a six f/stop range. There are two AC-only models, and two AC/battery models. In addition, new low cost softboxes, barn doors, diffusers, and filter holders are available as well as studio and travel kits. Note these new lights accept the all-new StudioMax III accessories and softboxes as well as the complete line of Photogenic PowerLight accessories. Full product names and prices are as follows: the AKC160 StudioMax III 160 ws AC ($239); AKC320 StudioMax III 320 ws AC ($289); AKC160B StudioMax III 160 ws AC/DC ($319); AKC320B StudioMax III 320 ws AC/DC ($369). Contact: Photogenic Professional Lighting, 1268 Humbracht Cir., Bartlett, IL 60103; (630) 830-2500; fax: (630) 830-2525; www.photogenicpro.com.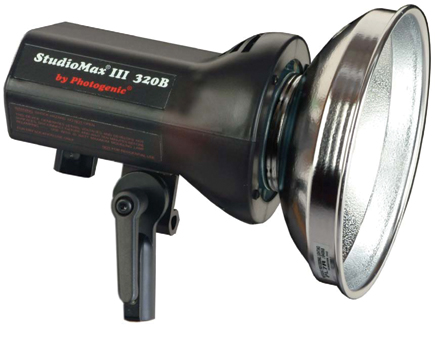 New Chimney Prop
PhotographyProps.com has introduced a new double-sided Chimney Prop to their Signature Series Line. Photographers have the choice of using the brick side or the natural rock side to make that special portrait their customers are seeking. The Chimney is available separately or with their "Santa in Moonlight" backdrop and fluffy "snow." The Chimney is very lightweight and durable (only 8 lbs), sized for a single baby/child or a family/group setting. The Chimney includes three various-sized blocks for the interior use to raise or lower the height of the child. Contact: PhotographyProps.com, 20364 210th St., Hutchinson, MN 55350; (866) 776-7748, (320) 234-6200; fax: (320) 234-6200; www.photographyprops.com.
--Robert E. Mayer

LATEST VIDEO

SPONSORED VIDEO
Testing Tamron's SP 150-60mm G2 lens while capturing birds and alligators in Apalachicola, Florida.