Fujichrome Velvia 50…It's Back! Fujifilm Keeps Its Promise (And Delivers A Great ISO 400 Slide Film To Boot)
Last year we reported that Fujifilm had promised to be the "last man standing" when it came to maintaining and introducing new films, and we are happy to report that their promise has been kept. With a recently introduced Fujichrome Provia 400 and a return of Fujichrome Velvia 50, the company continues to upgrade its chrome film line with new emulsions that improve upon products of the past. While the demand for films of any type have certainly declined, it might be deemed ironic that these new films are the best manifestations of these speeds ever, with enhanced delivery of fine grain, improved sharpness, and characteristically vivid color response.
Fujifilm changed the face of slide films forever with their initial introduction of Fujichrome Velvia 50. Manufacturing and materiel difficulties eliminated this film about a year and a half ago, with reports coming in that photographers were buying vast quantities and freezing them to keep the Velvia look available in their creative kit. Velvia 100 was supposed to replace the venerable 50, and while it certainly has some of the kick of 50, it never garnered the rabid fan base of the slower emulsion. Landscape, stock, and editorial photographers relied on the 50 for its unique, expressive take on color, something digital photographers added using software like Alien Skin's Exposure or by sliding the Saturation control to the right in post-processing. There was a warmth and rounded tonality to 50, somewhat akin to the sound tube amps and LPs brought to stereophiles, that digital photographers might try to emulate, but could never quite match.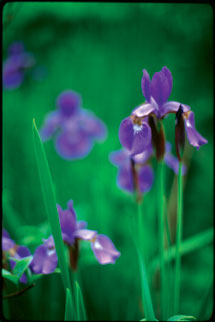 The deep, rich colors of Velvia 50 are back with the new emulsion, something that will bring a smile to those nostalgic for the "old" film. And images shot in overcast light no longer have any magenta cast in the shadows. Exposure was f/2 at 1/60 sec with a Canon EOS-1N and a 50mm f/1.4 EF lens.
All Photos © 2007, George Schaub, All Rights Reserved
Velvia 50 And 100
While we had no remaining older 50 speed Velvia for comparison, we relied on our reminiscences of the old 50 to judge how the new 50 performs. We also shot it against the present Velvia 100 to see the differences, if any. While the comparative results would be too subtle to be revealed in magazine reproduction (thus we provide no side-by-side shots), the new 50 seems to emanate light from within each subject, an almost transcendent glow that yields clean, true greens (as opposed to a slight bluish cast in the 100) and is particularly striking in the reds, magentas, and yellows, always the hallmark of this emulsion. And while the reds are rich they do not overwhelm the detail or create those red "overmasks" that sometimes seemed to run into one another to obscure detail in favor of color saturation.

Both films are exceedingly sharp and grain free, with none of the slight magenta cast that in the past might have crept into some images made in low light or under shady conditions. And the ISO settings on the 50 seem right on, at least when shot with a Canon EOS-1N using evaluative metering. True, a slight 1/3 stop underexposure (EI 64) enriches color even more, but there's no hint that shooting this new film at EI 40, a sweet spot for many Velvia 50 shooter in the past, makes any sense. Going beyond +2/3 stop yields less than sterling results, so if you bracket start at +1/3 and go down to -2/3 in the sequence.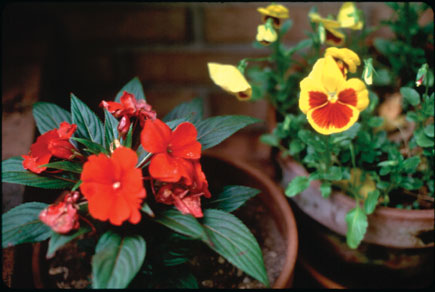 The hallmark of Velvia 50 was always high saturation in colors such as red, yellow, and magenta, something the new manifestation delivers without any bluish cast in greens. Exposure was f/2.8 at 1/30 sec with a Canon EOS-1N and a 50mm f/1.4 EF lens.
In short, fans of the old Velvia 50 will once again be able to revel in its color-rich rendition, with expected super-fine grain and no magenta "curse" in shady light. Does it make sense to drop a stop and favor the 50 over the 100? In fact, Velvia 100 is rated by Fujifilm as having finer grain than the new 50, but fans of the Velvia 50 look probably won't notice, or care. As to which one is best for your work, that's for you to judge. To us, the new 50 has all the qualities of the old 50 with a look and tonal feel that only slide film shooters can truly enjoy.