Photo Books: 2009; Great Images & Layouts Make For Great Gifts, Too
Giving and receiving photography books can yield benefits all around. They can serve as inspiration for you and other photographers in your family and circle of friends, plus they help support photographers who have put their life's blood into their work. As the year comes to a close, here are some of the photography books that are currently on sale and that have caught our eye during the year. All of these books are available online or at your favorite bookstore. We have included the ISBN number along with the mention so that you can easily find it online.
Animals Up Close: Zoom In on the World's Most Incredible Creatures; by Igor Siwanowicz; DK Publishing, Inc.; $16.99; (ISBN: 978-0-7566-4513-7)
For this educational guide, noted nature photographer Igor Siwanowicz used cutting-edge technology to create stunningly detailed images of various species of small animals and insects. Each image is paired with the latest scientific information that includes data on the creature's life cycle, physical adaptations, and habitat. The glossary of terms provides added information that non-naturalists will find interesting as well.
Elephant Reflections; photography by Karl Ammann, text by Dale Peterson; University of California Press; $39.95; (ISBN: 978-0-520-25377-3)
Elephant Reflections features award-winning wildlife photographer Karl Ammann's beautiful images and educational text by noted author Dale Peterson. Together, they paint a vivid portrait of elephants in the wild and offer the reader a glimpse at these powerful yet fragile animals.
Fritz Henle: In Search of Beauty; by Roy Flukinger; University of Texas Press; $55; (ISBN: 978-0-292-71972-9)
Fritz Henle was considered to be one of the greatest artists of the mid-20th century. Beloved by critics and historians, Henle's work ranged from documentary photography to travel, portrait, fashion, landscape, and beyond. This book contains a wonderful collection of 127 images that expertly document the talent and high degree of skill that earned him his fame.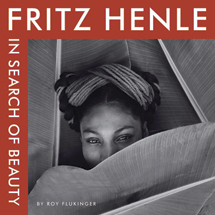 In the Footsteps of Paul; by Ken Duncan, introduction by Dr. John MacArthur; Thomas Nelson Publishing; $24.99; (ISBN-10: 1-4041-0482-8)
Acclaimed author and photographer Ken Duncan's book provides the reader with a unique and exciting experience. It is a virtual tour that retraces the Apostle Paul's historic journey. The foreword was provided by noted Biblical teacher and author John MacArthur and his words set the stage for this lovely collection of images that expertly capture the beauty of the lands that Paul once explored.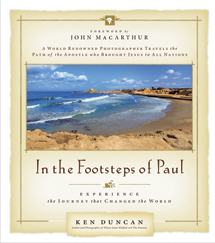 New York Skyscrapers; by Dirk Stichweh, photographs by Jörg Machirus and Scott Murphy; Prestel; $39.95; (ISBN: 978-3-7913-4054-8)
New York City is famous for its many attractions but its skyscrapers are among the most memorable. The Empire State Building, Flatiron, Chrysler, and Woolworth buildings are just a few beautiful examples of architecture on an enormous scale. This book offers an interesting collection of images that are expertly paired with informative text that serves as a grand tour of the city's landmarks.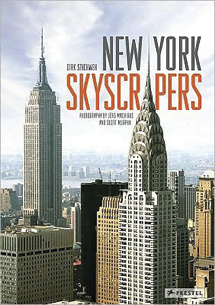 The Cat's Pajamas: 101 of the World's Cutest Cats; by Rachael Hale; Andrews McMeel Publishing, LLC; $24.99; (ISBN: 978-0-7407-7964-0)
Rachael Hale earned her fame as one of the world's top animal portrait photographers. Here, she creates heartwarming photos of kittens captured against soothing pastel-colored backgrounds. This book offers a lovely collection of images of adorable felines from the stately Russian Blue to the exotic-looking Abyssinian and even the popular tabby. The Cat's Pajamas will be a wonderful addition to your personal library or make a great gift for the cat lover in your life.
Mug Shots: An Archive of the Famous, Infamous, and Most Wanted; by Raynal Pellicer; Abrams; $35; (ISBN: 978-0-8109-2109-2)
Raynal Pellicer is noted for having produced and directed many documentaries, films, and television shows. Pellicer uses his journalistic talents to offer the reader an interesting and revealing collection of over 250 black-and-white mug shots of the rich, famous, and infamous. The subjects range from mobster Al Capone to singers Janis Joplin and Elvis, and even the unfortunate Elizabeth Short whom history calls the Black Dahlia. These haunting images are expertly paired with informative text that brings the book vividly to life.
The Humours of Folly; photographs by Frank Melvin Braden, words by Ellie Maas Davis, foreword by Marjory Wentworth; Joggling Board Press; $50; (ISBN: 978-0-9818735-7-2)
Noted photographer Frank Melvin Braden and writer Ellie Maas Davis combined their talents to tell an entertaining tale about a beautiful yet quirky place, Folly Beach, South Carolina. Their words and images vividly paint a joyous picture of a carefree summer spent on this beloved stretch of warm sand. The Humours of Folly is certain to bring a smile to your face and fill your heart with the desire to visit the place to create your own vacation memories.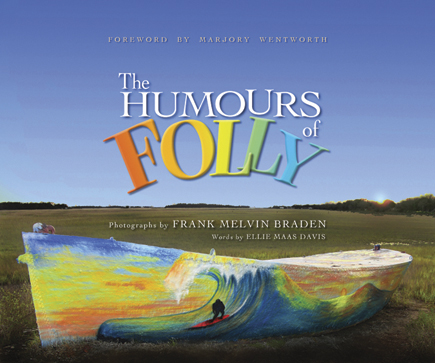 Why Dogs Are Better Than Cats; by Bradley Trevor Greive with photographs by Rachael Hale; Andrews McMeel Publishing, LLC; $19.99; (ISBN: 978-0-7407-8513-9)
This hilarious and heartwarming book explains why dogs are simply superior to cats. Author Bradley Trevor Greive offers a number of humorous reasons to support his theory while photographer Rachael Hale provides plenty of wonderful images of happy canines and aloof felines captured in the middle of various capers. Why Dogs Are Better Than Cats will certainly bring a smile to your face and it might even inspire you to capture your pet's adventures.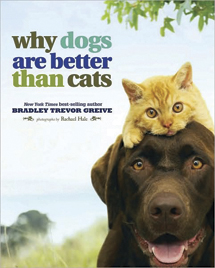 Reflections at Sandhill Creek: Meditations on the Wild West Coast; by Adrian Dorst; Harbour Publishing; $28.95; (ISBN-13: 978-1-55017-474-8)
Noted nature photographer Adrian Dorst uses this breathtaking collection of images to expertly document the time he spent at Sandhill Creek. The tranquil and unspoiled beauty of the area is expertly preserved in each lovingly-crafted shot. Dorst even adds quotes from the likes of Marie Curie, Ralph Waldo Emerson, Lao-Tzu, and Albert Einstein to provide a rich voice to his work that draws you into each page and makes you long to see Sandhill Creek with your own eyes.
Chicago Folk: Images of the Sixties Music Scene—The Photographs of Raeburn Flerlage; by Ronald D. Cohen and Bob Riesman; ECW Press; $22.95; (ISBN-13: 978-1-55022-873-1)
This book features a beautiful collection of 150 black-and-white images created by acclaimed photographer Raeburn Flerlage. These intimate shots taken at the Chicago Folk Festivals and the Old Town School of Folk Music were captured from 1959-'70 and document performances by legends Woody Guthrie, Leadbelly, Bob Dylan, and Doc Reese.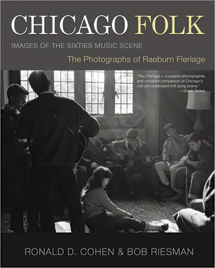 LIFE with Father; by the Editors of LIFE Books; Time Inc. Home Entertainment; $17.95; (ISBN-13:
978-1-60320-058-5)
This tiny treasure features a beautiful collection of heartwarming portraits compiled by the editors of LIFE Books. Candid black-and-white shots of famous Hollywood idols like Charlton Heston and his son Fraser reside next to more modern and vivid images of fathers and children captured around the world. These delightful images are a visual celebration of the joys of fatherhood, which makes LIFE with Father a perfect gift or addition to your personal library.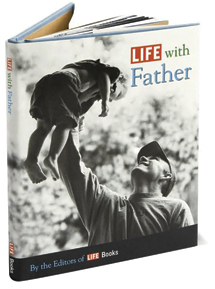 Over the Coasts: An Aerial View of Geology; by Michael Collier; Mikaya Press; $34.95; (ISBN: 978-193141-442-5)
Award-winning photographer Michael Collier provides an educational glimpse at how the forces of nature sculpt the landscape. The only way to fully appreciate these dramatically beautiful sights is with a bird's eye view and Collier was simply born to fly. His expertly crafted aerial images are paired with highly informative text which makes this book an amazing treat for both the eyes and mind.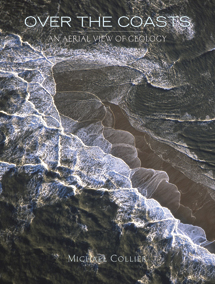 Travels to the Edge: A Photo Odyssey; by Art Wolfe; Mountaineers Books; $24.95; (ISBN: 978-1-59485-277-0)
Acclaimed nature photographer Art Wolfe can be described as an experienced world traveler and talented artist. Travels to the Edge documents his epic journey across the globe from Madagascar to Japan, Africa, Peru, Alaska, and beyond. The pages are graced with a fine collection of his favorite images paired with short essays and captions that recount his exciting adventures in pursuit of the perfect shot.
First Light: Five Photographers Explore Yosemite's Wilderness; by Charles Cramer, Karl Kroeber, Scot Miller, Mike Osborne, and Keith S. Walklet, introduction by Bob Hansen; Heyday Books; $27.95; (ISBN: 978-1-59714-102-4)
The noted photographers who contributed to this book are no strangers to Yosemite. Their experience and skill prompted The Yosemite Fund to approach them with this project, designed to introduce the natural wonders of the park to everyone. They were asked to spend part of the summer over a five-year period exploring the over 1000-square-mile area known as the wilderness region. The fruits of their labor have taken the form of a collection of 90 full-color images that expertly document the breathtaking beauty of Yosemite.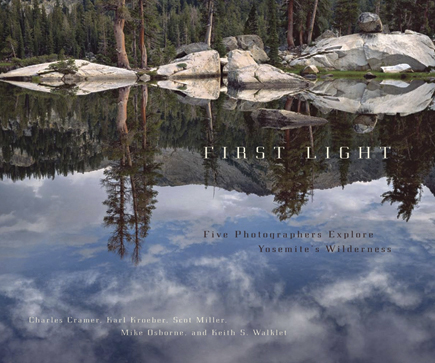 Connections: A Visual Journal; by Ford Robbins; Red Mountain Press; $44.95; (ISBN: 978-0-9799865-3-6)
Photographer Ford Robbins offers a collection of 45 beautifully-crafted black-and-white images that range from lush landscapes to architectural studies of light and shadow. Robbins believes that images carry great meaning as they mark a certain moment in time and another step taken along the path of his life. His keen artist's eye seeks out the hidden patterns in the world around us and brings them to our attention as never before. His talent is getting the reader to view the world in detail, just as he does.
It's a Snap! George Eastman's First Photograph; by Monica Kulling, illustrated by Bill Slavin; Tundra Books; $17.95; (ISBN: 978-0-88776-881-1)
Monica Kulling and Bill Slavin offer a unique look at the interesting life and many accomplishments of George Eastman. He left school at 14 to help support his family and became a banker, but he felt unfulfilled so took up photography as a hobby. It soon became his life's true passion and he found ways to improve the technology of the day. This book is a great way to introduce your children to the wonders of photography.

FEATURED VIDEO