Phase One Launches P 40+ with Sensor+
Phase One announced immediate availability of the Phase One P 40+ -- the company's second Sensor+ enabled digital camera back/camera system. Like the P 65+ introduced last year, this new system offers two separate image-capture modes. In normal mode, the P 40+ delivers full 40 megapixel captures for high-quality image details. And when shooting conditions demand, a photographer can push a button and instantly switch from 40 megapixels to 10 megapixels, gaining a four-fold increase in light sensitivity (ISO to 3200), and a capture rate of up to 1.8 frames per second --an ideal performance for hand-held and/or low-light conditions.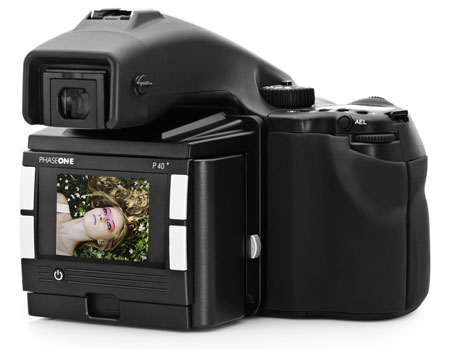 The versatility of the P 40+ system is important for those who seek quality medium-format 16-bit capture under a variety of working conditions. Both modes feature a 12.5 f-stop dynamic range. From high-end wedding, fashion and fine-art photographers to photojournalists, the choice of capture modes in a single camera system frees photographers to focus on the job at hand rather than worry over equipment.
Best results of Sensor+ technology are available by processing images using Phase One Capture One software version 4.8 or higher.
Technical specifications:
P 40+ full resolution capture mode:
Resolution: 40 megapixels
Pixel size: 6 x 6 micron
RAW file compression: (IIQ large: 40 MB) (IIQ small: 26 MB)
ISO: 50, 100, 200, 400, 800
Capture rate: Up to 1.2 frames per second
P 40+ Sensor+ capture mode:
Resolution: 10 megapixels
Pixel size: 12 x 12 micron
RAW file compression: (IIQ large: 10 MB) (IIQ small: 7 MB)
ISO: 200, 400, 800, 1600, 3200
Capture rate: up to 1.8 frames per second
Phase One P+ camera back mounts:
Phase One 645 AF, Mamiya 645AFDII/ AFDIII, Mamiya RZ67 PRO IID via adaptor, Hasselblad H1 and H2, Hasselblad 555ELD, 553ELX, 503CW and 501CM, Contax 645.
Wide angle & technical cameras: 4 x 5" via FlexAdaptor: Arca Swiss, Cambo, Linhof, Toyo, Sinar, Plaubel, Horseman.
Pricing & Availability
The P 40+ digital back starts at €14,990; the P 40+ camera system starts at €16,990. All products are available now. Euro to dollar approximately 1.5X.)
More information
For full technical specs, please read more here: www.phaseone.com/p40.

For pricing and more information please contact a local Phase One dealer: http://www.phaseone.com/Content/ContactUs/LocateDealer.aspx

FEATURED VIDEO