Pentax Optio 550
5 Megapixels In A Compact Digicam
The Pentax delivered rich color right out of the camera. This scene was made right after a desert rain and the red rock really jumped with color, something the camera caught without having to resort to increased color saturation in the camera settings or post exposure in the computer.
Photos © 2003, George Schaub, All Rights Reserved
It was once thought that the big megapixel counts would be limited to digital SLRs, the thinking being that anyone who might want a near 15MB image file at largest resolution would want SLR features as well. That's changed with a new breed of digicams (non-SLR digital cameras) from a number of manufacturers. Recently we got our hands on the Pentax Optio 550, a 5-megapixel camera that delivers lots of functionality and features in a camera the size of a compact 35mm.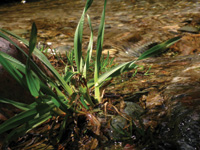 Color fidelity and highlight control is excellent on the 550. In this close-up of grass blades by a stream a --1 EV exposure compensation was set to get every nuance of color and tone, and the highlights stayed well under control.
We won't go too deeply into the specs in the text, as you can scan them on the accompanying sidebar, but to give you an idea of what the Pentax packs we'll highlight some of those that showcase what the 550 offers. First off, as behooves a 5-megapixel camera, you can shoot in JPEG or TIFF, the latter being the non-compression mode that delivers those big file sizes. You can work with multi-segment, center-weighted, or spot metering. You can choose among an ISO range of 64-400 and work with exposure compensation when desired. Shutter speeds range from 4 seconds to 1/4000 sec, with that being crimped a bit when you work in Manual or Shutter-Priority exposure mode. There's a 5x optical zoom from moderately wide to a healthy telephoto, plus all sorts of white balance, flash, and image adjustment modes, including soft focus and various color enhancing effects. You also get a movie mode with sound and panorama assist, among other shooting functions. The camera records on SD or MMC cards.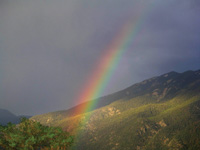 We bracketed exposures on this rainbow to ensure that we'd get it right and a --1 EV setting nailed it. The exposure controls on the Pentax 550 make getting good exposures easy, not something that can be said for all digicams.
That said, the main task of any camera is providing field functionality and a way of working that does not hinder your capturing the type of images you want in the field. In that sense the Pentax delivers all the ease of use and fun a digicam should. We made images under dim and high-contrast lighting conditions, at Macro settings (in Super Macro you can get as close as 0.79"!), and using the built-in flash. Images delivered required little adjustment afterward, and a built-in histogram display allowed us to make any exposure changes we required right in the field.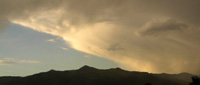 White balance controls offer many options for color rendition, and here we used white balance bracketing to get different color renditions of the sky of this clearing storm. We cropped these images from full frame to panorama format. When making pictures like this be sure to lock exposure on the infinity settings or use the Landscape mode. Also, be sure to confirm focus with the focus indicator right next to the viewfinder. Failure to do this might result in unsharp images, as the camera, like with many such AF systems, might have trouble finding focus.
In terms of handling, portability, and responsiveness, the Optio 550 makes for a very good traveling companion. We'll let the pictures tell the rest of the story. At around $600 it's coming in at about the high-end average for this class, but for that price you get a great little digital camera that will surprise you in terms
of quality, responsiveness, and great images.
Technical Specifications
CCD: 5 million effective pixels
Capture Modes: Single shot and continuous framing at up to 1.5 fps and intervalometer
Capture Formats: TIFF and JPEG options; MOV movie mode with sound
Storage: SD and MMC
Lens: 7.8-39mm (equivalent to 37.5-187.5mm) f/2.8-4.6; up to 4x digital zoom
Focusing: Five-point and spot AF; minimum focusing distance 1.97 ft; 5.9" in Macro and 1" in Super Macro
ISO: Auto, and 64, 100, 200, and 400 equivalent
Exposure: Multi-segment, center-weighted, and spot metering; exposure compensation and bracketing; AE Lock
Shutter Speeds: 1/4000 to 4 sec
Battery: D-LI7 lithium ion rechargeable battery
Size: 3.9x2.3x1.6"
Weight: 7.2 oz
Price: $599
Contact: www.pentax.com

LATEST VIDEO

SPONSORED VIDEO
Testing Tamron's SP 150-60mm G2 lens while capturing birds and alligators in Apalachicola, Florida.