The Pentax K-01: It's A Hybrid But Not A Prius
"Halfway through any work, one is often tempted to go off on a tangent... Finally, you would only produce something hybrid."—Barbara Hepworth
The Pentax K-01 belongs to a class of cameras generally known as "mirrorless"—Pentax calls it a hybrid—that combine large LCD screens with interchangeable lenses and more often than not a retro look. Marc Newson, the Australian industrial designer who crafted the Pentax K-01, works in a style called biomorphism that uses smooth flowing lines, translucency, and an absence of sharp edges. The camera is available in black, white, or Newson's signature yellow with the designer's logo on the bottom.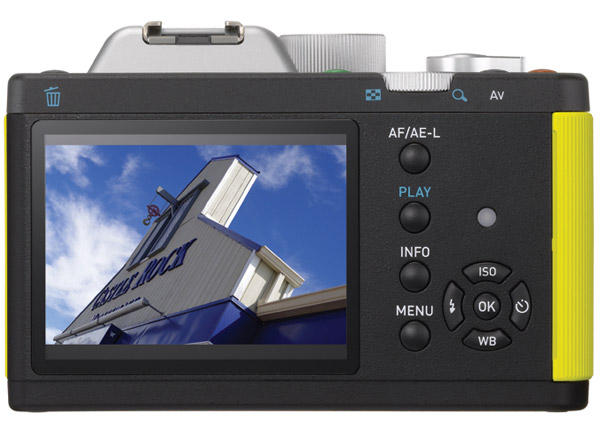 Newson's touch is also evident in the new smc Pentax-DA 40mm f/2.8 XS lens that was bundled with the black camera I received for testing. It focuses as close as 16", making it useful, if not for real macro, then certainly for effective close-up photography. Pentax claims it's "the world's thinnest interchangeable lens," which is good because the K-01's body is 2.32" deep. By contrast, the mirrorless Olympus E-P3 measures 1.35" and the Nikon 1 J1 is 1.2" thick.
What's New?
The K-01's chassis is constructed from machined aluminum and inside you'll find a 16-megapixel APS-C-sized CMOS image sensor that's capable of capturing multiple aspect ratios that are viewable on its 3" LCD screen. The camera is also capable of 1080p HD video capture at 30 frames per second (fps) with H.264 compression (60 fps at 720p). There's even a jack for an external microphone because you know you really need that and behind a rubber flap on the camera's edge there's an HDMI connection. That's where you'll also find a slot to insert an SD card, although it's hidden behind yet another door. I'm sure this setup is intended to keep the memory card dry in inclement weather, something skiers will appreciate, but it does add an extra step when inserting or removing the card.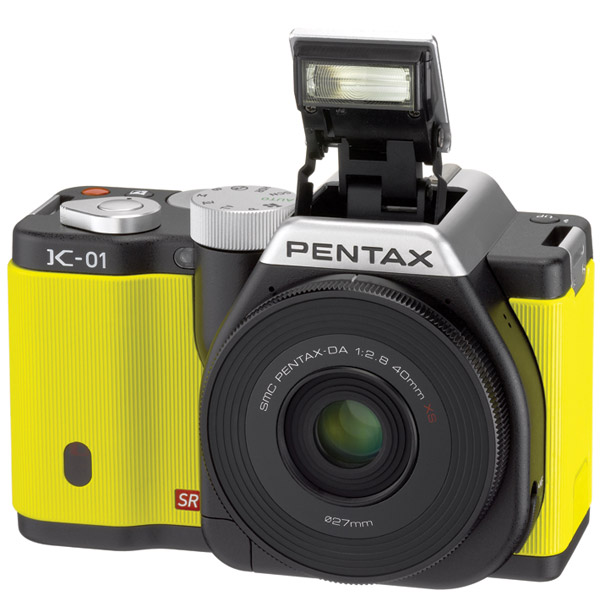 Recent Pentax SLRs have in-body image stabilization and the K-01 uses a sensor-shift shake reduction system that's compatible with every Pentax lens. For shooting action the camera has a 6 fps burst mode and, as with most mirrorless cameras, focusing and capture is lightning quick. How quick? Pentax's policy is not to discuss shutter lag time but empirically, I can tell you it's fast.
The camera's minimum ISO setting is 100 with a maximum ISO setting of 12,800 that's expandable to 25,600 using Custom Function 3 (Expanded Sensitivity) of the 16 that are available to let you customize the camera to match your shooting style. The K-01 has a hot shoe with P-TTL flash control along with a relatively high-speed sync speed (1/180 sec) when used with a dedicated flash such as the optional ($149.95) AF200FG, whose compact size seems well suited to the K-01. There's also a built-in pop-up flash with a Guide Number of 39 at ISO 100. You can tweak its output from -2 to +1 stops using the K-01's built-in flash exposure compensation that comes in handy especially when making outdoor portraits. Indoors the flash did surprisingly well despite its small size, especially at higher (400 or more) ISO settings.
Unlike other mirrorless cameras that use a different lens mount than their familial SLRs, the K-01 uses the standard K-mount that's compatible with more than 25 million Pentax lenses that have been introduced over many decades. This enables Pentaxians to add the camera to their system without having to purchase new lenses or adapters. As I write this, the K-01 is available for $749.95 (body) and $899.95 with the DA 40mm XS lens.
In The Field
My first day of shooting with the Pentax K-01 was in the historic town of Castle Rock, Colorado, something I tweeted about while shooting and within minutes got a question from a reader about the camera's ergonomics. (This real-time feedback was so useful that I plan to try it with future reviews.) On this sunny Saturday I borrowed an 18-55mm f/3.5-5.6 lens from a friendly neighborhood Pentax shooter and after mounting his lens the K-01 felt much like any other small SLR. There was none of the pocket camera feel that you get with some mirrorless cameras and perhaps that's why Pentax calls it a "hybrid."
The camera has a clunky shape but for me the ergonomics are helped by its large, easy-to-use controls and relatively light weight of 16.09 oz. By comparison, the E-P3 body weighs in at 10.44 oz, while the 1 J1 is 8.3 oz. On the other paw, the K-01 is lots of fun to shoot and I enjoyed making snapshots while strolling Wilcox Street and basking in Castle Rock's 1874 charm.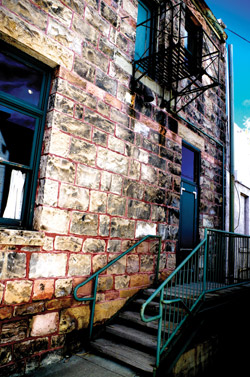 One of the things that I liked most about the Pentax K-01 was the different shooting modes. There are seven digital filters available for direct capture, including Extract Color, Toy Camera, Retro, High Contrast, Shading, Invert Color, and Color. There are also Custom Image modes, many with fine adjustments, such as Bright, Natural, Portrait, Landscape, Vibrant, Radiant, Muted, Bleach Bypass, Reversal Film, Cross Processing, and Monochrome, including film filters, infrared, and sepia toning.
I really enjoyed playing—it's really that kind of camera—with the K-01 during my stroll. And while Castle Rock's citizens are extremely friendly, even for a single guy walking around taking pictures, that is not always the case these days in larger cities, so if you enjoy street photography get the yellow version because its funky, toy-like appearance is mondo non-threatening.
As is trendy these days, the K-01 offers several built-in HDR capture modes (Auto, HDR1, HDR2, HDR3, HDR blended images saved as JPEG only) but as you can see from the comparison shots shown here, if you're serious about HDR you may prefer to shoot several Raw shots and blend them together using your favorite postproduction software. For those times and places where you can't set up a tripod to shoot HDR, I would recommend doing a series of tests to determine which of the built-in alternatives you prefer.
Speaking of Raw files, the K-01 uses the DNG format that's compatible with Raw processing software such as Adobe Camera Raw. You can also shoot images in Raw+format, which also produces a JPEG file, so you can capture a "straight" color Raw file and a Custom Image effect, allowing you to simultaneously, for example, shoot color (Raw) and monochrome (JPEG) files.
Although the K-01 lets you capture images in different aspect ratios—3:2, 4:3, 1:1, and 16:9—I shot all the examples shown at 3:2 because it delivers the maximum 16.28 effective megapixels that the camera produces. You can always crop the capture image into any shape you want afterward, but if you want to make prints directly from the SD card, shooting in a specific ratio, such as 4:3 to make 8x10" prints, is not a bad idea.
Similarly, if you want to make black-and-white prints, shooting in the K-01's Monochrome mode does a good job, although I found that using the camera's Extract Color digital filter produced dramatic black-and-white images with some subjects. That's why when trying any of the K-01's color modes or digital filters, you should keep in mind one of the more important of Farace's Laws that states "all special effects are subject dependent."
The new smc Pentax-DA 40mm f/2.8 XS lens may be a marvel of design and engineering and does make the whole package easier to lug around, but seems a bit long in the focal length to me. Keywords: "to me." You may like working with the lens for some applications, especially street photography where the 1.5x multiplication factor produces the equivalent angle of view of a 60mm lens. The K-01 uses a rechargeable D-LI90 lithium-ion battery and while the specifications don't state a battery life, I've seen "500 shots" tossed around the web and my experience was that the battery never left me high and dry.
It was time to hit the road again: this time to Colorado Springs. I put the camera in tourist mode, a.k.a. "P," which some people think means "professional," and had a good time with the K-01 and 40mm f/2.8 XS lens. On a bright sunny day, glare on the 3" LCD screen makes viewing a bit tricky, especially later in the afternoon. One of my favorite tips is to look for a place to shoot where I'm in the shade (protecting the LCD from glare) and the subject isn't. It's not always possible to do this but it's always worth a look.
The combination performed well at the US Air Force Academy but the angle of view proved to be slightly claustrophobic when photographing the unique rock formations found in the Garden of the Gods. If you go there (and you should) you might prefer to bring a wider-angle lens than the 40mm to more fully capture the grandeur of the area. Nevertheless, the K-01 and 40mm lens proved to be a pleasant traveling companion.
Doing some shooting at dusk in the Parker area, I decided to check the K-01's maximum ISO setting of 12,800 and its expanded setting of 25,600 while photographing the town's new event center. Many of you already know my
take on "expanded" settings (they typically produce too much noise) so I prepared a blog post (http://bit.ly/fsTHbf) explaining my reasoning for those who haven't read my previous rants on this topic. At 12,800 the image was noisy, although not unpleasantly so, with tight multicolored noise.
At 25,600, it's noisier with some JPEG artifacts, although you can avoid that defect by shooting in Raw mode. I tried various noise reduction programs on the ISO 25,600 file and it mitigated the noise to some extent but not enough to make a major difference. The truth is that even at the expanded setting the noise was not that horrible and I would use it for emergency situations. One of the reasons for this performance, I think, is the K-01's new "Prime M" imaging engine and the larger size (23.7x15.7mm) of its chip compared to the smaller sensors used by its competitors in the mirrorless area.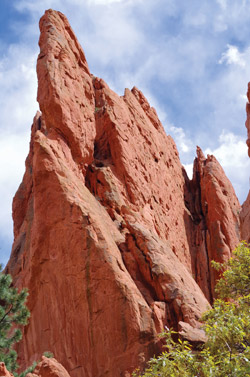 I'm certainly no fashion plate but it seems to me that there's a bit more Lego than high fashion in the design of the Pentax K-01, so it provides excellent camouflage for street shooters who want to be discreet. To the uninitiated, it's as threatening as a Holga. Yet the K-01 produces stunning image quality for its price point and offers a great way for owners of older Pentax film or digital SLRs to expand their system. It's also a heckuva lot of fun to use and I like to remind everyone to "have fun with your photography." The Pentax K-01 is a great way to do just that.
For more information on the Pentax K-01, contact the Pentax Ricoh Imaging Americas Corporation at: www.pentaximaging.com.

FEATURED VIDEO