Pentax's *ist DL; An Affordable Entry-Level 6-Megapixel Digital SLR Page 2
Image Quality Assessment
Like the other *ist D-series cameras, this one produces images with moderate contrast that usually hold detail in both highlight and shadow areas. Color saturation is slightly high, color fidelity is very good, and skin tones are attractive. Selecting the Bright Image Tone option produces brighter, sharper, more contrasty photos; separate in camera adjustments are also available for contrast and color saturation. White balance is often accurate with Auto white balance except under artificial lighting when flash is not used; it's worth selecting one of the other white balance options in such conditions.

The 16-zone evaluative metering system usually produces accurate exposures, but underexposes slightly with light-toned scenes or in high-contrast lighting. That's preferable to overexposure in digital photography, because it prevents loss of detail in bright subject areas and is easily corrected in image-editing software. When used with an accessory flash unit, the flash output is a bit high; for more subtle effects, set a minus flash exposure compensation factor.

The default level for in camera sharpening is moderately high so it does not emphasize any JPEG artifacts (in the lower quality settings) or the digital noise pattern. Some owners will want to set a slightly higher level in camera at least when shooting at ISO 200-400 using the Best JPEG quality option. Additional sharpening with Unsharp Mask may still be required but the images respond very well to this filter. (In Adobe programs, experiment with Unsharp Mask settings around 100/0.6/1 before making an 8.5x11" print.)
For an extremely bright, vibrant, and contrasty rendition of this scene, I used a polarizing filter and the following in camera settings: Bright Image Tone, High Saturation, and High Sharpness. While this combination is not ideal for every subject, it confirms the versatility of the *ist DL in terms of the many user-selectable options. (An 18-55mm AL zoom; ISO 200; f/16 at 1/40 sec; Hoya polarizer.)
Digital noise is very well controlled, making the *ist DL better than average in this respect. The colored specks are virtually invisible at ISO 200, barely noticeable at ISO 400, and visible at ISO 800. By ISO 1600, the pattern is prominent but quite acceptable unless large prints are required. ISO 3200 is available, too, but produces mottled color specks that obliterate fine detail; use this option only when there's no other way to get a sharp photo.

Under close examination, my best 8.5x11" inkjet prints are outstanding in all respects while 11x16.5" prints are also impressive when viewed from the typical 4-foot or 5-foot distance. Images made in raw capture are slightly better and the PEF format files can be extensively adjusted in the Pentax Photo Laboratory software before conversion to TIFF. The conversion process is slow however, at about 2 minutes; after-market programs are much faster in this respect.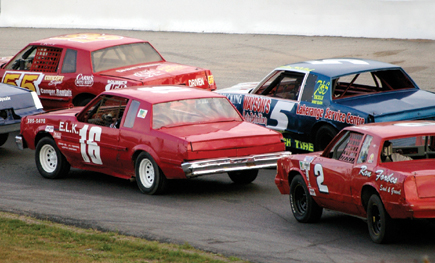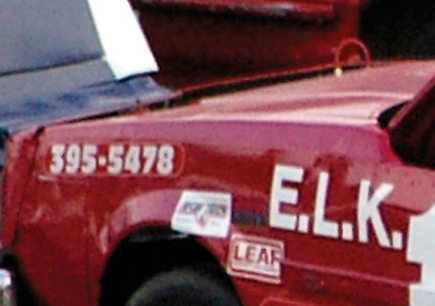 Digital noise is very well controlled at ISO 800, making this sensitivity level a fine choice whenever fast shutter speeds are necessary. As the small portion of the full image indicates, the noise pattern is not objectionable and does not obliterate fine detail. (Action Program; 55-200mm zoom.)
The Bottom Line
The Pentax *ist DL may not be perfect for sports photography enthusiasts, but it's a very desirable multipurpose camera. It would be a fine choice for families that include both novices and more experienced shooters. Faster than most of the digicams with built-in lenses, it's also capable of producing superior image quality--particularly at high ISOs--because of its larger sensor. It would also be a suitable choice for anyone who already owns some Pentax-mount lenses, whether autofocus or manual focus. At a street price of $749, including the 18-55mm f/3.5-5.6 AL zoom ($649 body only), the Pentax *ist DL is certainly a bargain for a versatile entry-level camera with an oversized LCD monitor.
The *ist DL provides high resolution and definition of intricate detail, but sharpening is only moderately high at default, as in Photo A. Most owners will want to set a slightly higher level in camera and then tweak sharpness in image-editing software as I did for Photo B. (ISO 200; 50-200mm zoom; Hoya polarizer.)
Pentax *ist DL Vs. The *ist Ds2
Pentax has also released an upgraded version of the *ist Ds, reviewed in the September 2005 issue. (That review is available at www.shutterbug.com.) This newer model targets the photo enthusiast instead of the entry-level buyer, the audience for the *ist DL. The *ist Ds2 is identical to the earlier *ist Ds except for a larger 2.5" (vs. 2") LCD monitor. That minor change did not warrant a test, but it's worth comparing the entry-level *ist DL to the mid-range *ist Ds2. What do you get for the additional $150, and is the difference worth the extra cost?

Frankly, there's little difference at first glance, because the *ist DL is nearly identical to the *ist Ds2 in its sensor, controls, and most technology. It's the same size, too, but weighs 35 grams (1.2 oz) more, although both employ a rigid metal sub-frame. After a lengthy process of comparing both sets of specifications, I compiled the following list of differences between the *ist Ds2 and the *ist DL.

The most significant difference is in autofocus. The *ist Ds2 features far more focus detection points, making it more suitable for situations where a small subject is far off-center. It's also more reliable in focus acquisition with difficult subject patterns, thanks to a full nine cross-hatched detection points. This camera also includes a few extras listed in our chart. Some advanced photographers might need those but most buyers will probably opt for the lighter--and nearly as versatile--model and save about $150.

Those who want the flagship of the Pentax line should check out the original *ist D, which was still available at our press time. (Street price: $1169.) Larger and heavier and more rugged, it boasts a few additional features. The most noteworthy include reflex mirror lockup to minimize vibrations in high-magnification photography, a PC cord socket for studio flash systems, a TIFF Capture mode plus Continuous autofocus that's selectable in any operating mode. But do note that the older *ist D employs a small 1.8" LCD monitor, does not include subject-specific Program modes, and can shoot only five JPEGs in a series, at 2.6 fps.
| | | |
| --- | --- | --- |
| Feature | Pentax *ist Ds2 | Pentax *ist DL |
| Autofocus | 11-point (wide area) sensor | Three-point sensor; slightly less low-light sensitivity |
| ISO Options | ISO 200-3200; can limit choice of ISO selected in Auto ISO mode | Same, but cannot limit choices in Auto ISO mode |
| Burst Depth | Up to eight Large/Best JPEGs in a series | Maximum of five frames in a series |
| Viewing System | True penta-prism with .95x magnification; Natural-Bright-Matte II screen | Lighter penta mirror with lower .85x magnification; Natural-Bright-Matte screen |
| Autoexposure Bracketing | Numerous options re: increments | Fewer (but adequate) options |
| Custom Functions | 19 | 18 |
| Flash Sync | To 1/180 sec plus High-Speed Sync with FGZ flash units | Omits High-Speed Sync option |
| Weight | 17.8 oz. | 16.6 oz. |
| Street Price | $649 | $799 |
For more information, contact Pentax Imaging Company, 600 12th St., Ste. 300, Golden, CO 80401; (800) 877-0155; www.pentaximaging.com.

A long-time "Shutterbug" contributor, freelance stock photographer Peter K. Burian is the author of "Mastering Digital Photography and Imaging" (Sybex) and a digital photo course instructor with www.betterphoto.com.

LATEST VIDEO

SPONSORED VIDEO