Paving Paradise?: Photographer Fights Highway Development in the Serengeti with His Images
Nature photographer Boyd Norton couldn't quite believe his ears. A commercial highway across the Serengeti?
In May, 2010, during one of his many trips to Tanzania, Norton was informed by local Maasai tribesmen of government plans to build a highway bisecting the northern part of the Serengeti, the storied 5700 square-mile national park listed among the 10 wonders of the world.
"It was very upsetting because, after nearly 30 years of photographing there, I could see that this one development alone could possibly unravel the whole Serengeti ecosystem," Norton said.
Upon returning home, Norton contacted a few friends and together they started the Facebook page "Stop the Serengeti Highway" that now has well over 60,000 followers worldwide. Later that year he and friend Dave Blanton started "Serengeti Watch," a 501(c)3 nonprofit to fund environmental education projects in areas adjacent to Serengeti (www.savetheserengeti.org). As of this writing, about 9000 members have signed up to subscribe.
According to Norton, the proposed highway would be placed directly in the path of the greatest animal migration on Earth. "We are talking about more than two million animals—wildebeest, zebras, and gazelles—that migrate in an enormous circle around the Serengeti each year to find water and fresh grass. Each fall the animals are in the far northern reaches of the park and cross for a time into Kenya's Maasai Mara National Preserve," Norton explained.
He said that Serengeti Watch conducted a survey of some 300 researchers and scientists. Nearly all agreed that the highway would not only have a devastating impact on the migration, but cause a ripple effect that would affect the whole ecosystem.
Why, Norton wondered, would the Tanzanian government put the area at risk? He noted that tourism is a huge income producer for the relatively impoverished country, bringing in about $2 billion annually and employing more than 600,000 people. "There are many national parks and game preserves in Tanzania, but which one does everyone know? Which one do most people—especially photographers—come to Tanzania to experience?"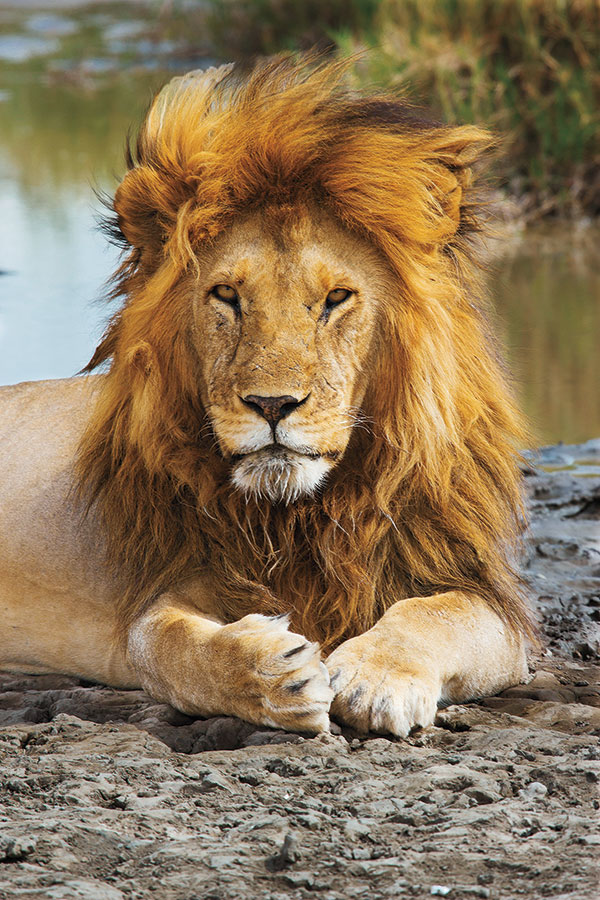 But he noted that powerful political and economic forces are afoot that reach beyond the country's borders. "The situation has gotten much more complicated than we thought at first. Now some in the government and foreign companies are talking about this being a 'transportation corridor,' including a railroad and, possibly, an oil pipeline. Neighboring Uganda has newly discovered oil deposits. South Sudan has huge oil deposits already developed and, being landlocked like Uganda, needs to get its oil to Tanzania's Indian Ocean coast to send to China."
Norton said Serengeti Watch was founded to build grass-roots support for protecting this and other areas in Tanzania. "So far we've funded two local projects involving students and teachers. More activities are planned and some involve Tanzanian photographers and writers, funding them to document and publicize the importance of Serengeti."
One of the primary tools Norton is employing is his recent book, Serengeti: The Eternal Beginning (2011). The book contains about 200 stunning images he's captured over his 30 years of photographing in the preserve and surrounding areas. In it he writes: "Visiting Serengeti is like stepping back in time and seeing the world when it was young… We came from here. Perhaps that is why so many of us feel a strong bond to this land called Serengeti; it is the land of our youth. It deserves our utmost care… It is vital that it remain the 'eternal beginning.'"
In calling the Serengeti the "land of our youth," Norton refers to the fact that archaeogeneticists, through genetic research, have identified the mother of the human race as a woman who lived in East Africa some 200,000 years ago.
The book celebrates not just the Serengeti, but the Ngorongoro Conservation Area with its legendary caldera, the various adjacent Tanzanian game reserves and game-controlled areas, Kenya's Maasai Mara Reserve, and beyond. Throughout the book Norton cautions about the threats confronting the ecosystem in addition to the proposed commercial corridor—trophy hunting, slaughter of rhinos and elephants for horns and tusks, use of the illegal insecticide carbofuran to kill predators, and the ever-encroaching human population on the boundaries of the preserves.
Of his Serengeti book, Jane Goodall, noted British primatologist, has written: "Boyd Norton has captured the magic of this ancient and majestic ecosystem. Through superb and deeply sensitive photographs and compelling accounts of his experiences there, he introduces its animals and people. (The book) is profoundly moving—you will understand why it is so important to preserve this place for generations to come."
In recognition of his dedication to protecting the Serengeti and its wildlife, Norton was invited to present a program discussing the proposed Serengeti highway at the 10th World Wilderness Congress (WILD10) in Salamanca, Spain, last October.
To date Norton has published 16 books. In addition to the Serengeti book and others is Boyd Norton's Outdoor Digital Photography Handbook: How to Shoot Like a Pro released in 2010.
He also maintains a busy schedule of wildlife photography tours, including the Galapagos last year. Early in 2015, Norton plans another of his many programs in Tanzania.
Recognition for his 50-year career melding photography and conservation has included an award from the Environmental Protection Agency (EPA) for his "important, exciting environmental photography and writing." He was also recognized in 2010 as "one of the 40 most influential nature photographers around the globe" by Outdoor Photography (UK). The magazine cited Norton as among those "who go the extra mile to use their images to help highlight (and even fix) some of the most pressing environmental and conservation issues."
Serengeti Update
In mid-July The New York Times reported that the East African Court of Justice, which settles regional disputes under a treaty binding Burundi, Kenya, Rwanda, Tanzania, and Uganda, ruled that the road is unlawful. The ruling was the result of a lawsuit filed by the African Network for Animal Welfare. Boyd Norton, a wilderness photographer, author, and co-founder of Serengeti Watch, a group that helped pay for the legal effort, said, "We've waited years for this." But, he warned: "While the court has barred Tanzania from building a paved road, the government still plans to upgrade the existing seasonal dirt track to gravel, even though it lies in a designated wilderness zone where public traffic is not allowed. There will be increased traffic and continued pressure to connect the paved roads with a commercial link through the park. We are still urging that no improvements be made to the dirt track."
For more information about Boyd Norton and his work, visit www.wildernessphotography.com and www.boydnorton.com.

FEATURED VIDEO