Panasonic Officially Launches Lumix S1R and S1 Full Frame Mirrorless Cameras and L-Mount Lenses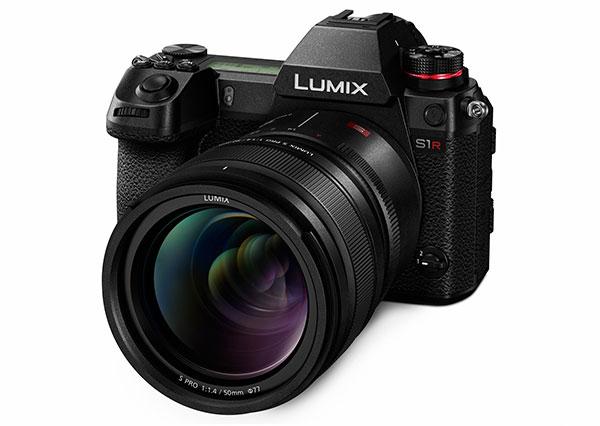 Panasonic revealed more details this morning of its already announced 47.3MP Lumix S1R and 24.2 MP Lumix S1 full frame mirrorless cameras. The company unveiled the two new flagship cameras at the photokina show in Germany last September and shared some basic info on the models, which will use the new L-Mount lens standard.
But this morning Panasonic shed more light on the S1R and S1, which will be the company's first using 35mm-sized, full frame CMOS sensors. Previously Panasonic used the smaller Micro Four Thirds sensor format for its mirrorless cameras.
Panasonic also launched three new L-mount lenses for these new Lumix S Series cameras this morning: the Lumix S Pro 50mm F1.4 (S-X50), Lumix S PRO 70-200mm F4 O.I.S. (S-R70200) and Lumix S 24-105mm F4 MACRO O.I.S. (S-R24105) lenses.
At photokina in September, Panasonic joined forces with Leica and Sigma to form the L-mount alliance, in an attempt to create a new standard for full frame mirrorless cameras. These three new Panasonic L-mount lenses appear to be the first fruits of those efforts.
Here's a rundown of the key specs and features of the new Panasonic Lumix S1R and S1 full frame mirrorless cameras:
• Lumix S1R camera uses a 47.3-megapixel full-frame (36mm x 24mm) CMOS sensor
• Lumix S1 camera uses a 24.2-megapixel full-frame (35.6mm x 23.8mm) CMOS sensor
• Lumix S1R features 187MP High Resolution mode
• Lumix S1 features 96MP High Resolution mode
• "High-speed, high-precision" autofocus (AF) system combining Contrast AF with DFD technology to achieve AF lock in approximately 0.08 seconds
• Lumix S1R offers 4K 60p/50p recording plus 6K Photo functions and HLG Photo.
• Lumix S1 offers 4K HDR Video - 4K 60p/50p, 4K 24/30P unlimited recording, 4K60P 29:59 min limited recording. HDR Mode and Hybrid Log Gamma (HLG). V-Log with Internal 4:2:2 10-bit 4k30/24p (4K60p output only) available via optional software upgrade key.
• Rugged camera design for "heavy field use, durability, and expandability" with 100% sealing
• Combines 5-axis Body I.S. (Image Stabilizer) with 2-axis O.I.S. (Optical Image Stabilizer) for Dual I.S. stabilizing system
• 3.2-inch, 3-axis tilting rear LCD screen
• Large high-resolution (5,760k-dot) resolution OLED electronic viewfinder (EVF)
• Resistance against low temperatures
• Dual card slots for XQD and SD cards
• High flash synchro speed
The Panasonic Lumix S1R will sell for $3,699, body only, and as a kit with the 24-105mm F4 L-mount lens for $4599. The Panasonic Lumix S1 will sell for $2499, body only, and as a kit with the 24-105mm F4 L-mount lens for $3,399. Availability for the new Panasonic cameras and lenses has not been annnounced yet but they are expected to ship in the spring.

FEATURED VIDEO