Leica, Panasonic & Sigma Launch L-Mount Alliance to Create Lens Standard for Full Frame Mirrorless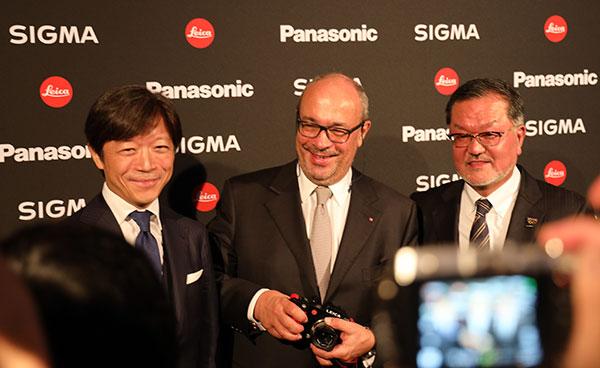 Leica, Panasonic and Sigma announced today at the photokina show in Germany that they are forming the "L-Mount Alliance" to try to create a new lens mount standard for full frame mirrorless cameras. The L-mount is based on Leica's mount lenses for its SL full frame mirrorless camera from 2015.
In the alliance between the three imaging companies, the "L" lens mount would be adopted by Panasonic for a forthcoming full frame mirrorless camera, and by Sigma to create its own lenses that could be used with either Leica's or Panasonic's full frame mirrorless models.
"This user-friendly solution pioneered by Leica in strategic collaboration with Panasonic and SIGMA, three key players in the camera space, will allow photographers to mix and match any of the three manufacturers' full-frame and APS-C cameras with any lens from each other's product portfolios, thereby opening an untold number of creative possibilities in any photographic situation," the three companies said in a joint press announcement.
The alliance is seen as a reaction to Nikon's and Canon's recent announcement of full frame mirrorless cameras, and the decreasing market share for the Micro Four Thirds format, which is a smaller sensor size used by Panasonic and Olympus. Leica and Panasonic are hoping their full frame mirrorless cameras will flourish with a larger array of lenses being made available because of the alliance.
On hand at photokina to discuss the idea behind the alliance and its potential future were Dr. Andreas Kaufmann, Leica's Chairman of the Supervisory Board, Tetsuro Homma, Senior Managing Executive Officer, Panasonic, and Kazuto Yamaki, Chief Executive Officer, SIGMA Corporation
"In the rapidly growing market for mirrorless system cameras, users seek increasingly greater product diversity to fulfill a wide range of different photographic needs," Kaufmann said. "To meet these needs, we have decided to work together with prominent partners in the photographic segment. Our long-established partnership with Panasonic is a collaboration based on mutual trust, and the company's expertise in the area of electronics is unquestioned. SIGMA is also a highly respected company that has become firmly established, especially in the areas of optical design and lens manufacturing and is able to perfectly complement our existing portfolio of L-Mount products."
The L-mount features a large diameter, which is designed to help create product diversity, as well as multiple electrical contact points, allowing for better communication between the lens and the camera. It features four prong segments, wear-resistant stainless steel manufacturing and protection from spray water.
"Panasonic has always focused on revolutionizing the camera sector to make the lives of photo enthusiasts easier, more sophisticated and more enjoyable," Homma said. "Our longstanding partnership with Leica has brought many high-performance and high-quality digital cameras to the market; fusing Leica's superior optical technology with Panasonic's digital technologies. Our partnership has enabled us to accelerate the development of excellent digital camera products, and the L-Mount alliance with Leica and SIGMA is a great example of such acceleration. This is an alliance of growing players, which will make a fundamental difference to the future of the imaging industry."
Yamaki added" "As SIGMA strives to develop high performance, high quality and innovative products, this alliance will strengthen the level of completion and the extensibility of our camera system and provide greater user benefits. Leica is a magnificent company that has been contributing to photographic cultures for more than 100 years, and Panasonic is leading the industry by developing reliable technologies across various fields. Together with SIGMA's unique, high performance and high quality products, the L-Mount will evolve as an extremely attractive system for users."
This strategic partnership is designed to allow customers to choose from a much wider selection of cameras and lenses without limiting themselves to one specific brand. Photographers should expect future product announcements from Leica Camera, Panasonic and SIGMA that will adhere to this new standard, the companies said.

FEATURED VIDEO