Panasonic LX7 Camera Review
The Panasonic LX7 is the top model of Panasonic's compact camera range. It uses a (large) 1/1.7" image sensor and has a moderate image resolution of 10MP, the same resolution as the forerunner LX5 but with a new lens system with outstanding speed capabilities. It offers a maximum aperture of f/1.4, with only f/2.3 when using the maximum focal length of 90mm (35mm film equivalent). This allows the user to shoot images with a shallow depth of field—something compact cameras have often failed to offer. To change the aperture setting the photographer uses a very handy lens ring on the front of the camera. When using M mode the shutter speed is changed with a comfortable setup dial on the back.
The LX7 offers three focus modes: a standard AF mode; a combination of AF and Macro mode; and a Manual Focus (MF) setting. When choosing MF mode the photographer can change focus by using a small joystick near the setup dial on the back, a fast and reliable method, although of course not as comfortable as a real focus ring on the lens.
The camera offers a built-in flash system and a hot shoe on its top side for auxiliary flash units. Directly below the hot shoe and on the back an additional interface allows for an optional electronic viewfinder (DMW-LVF2) with a resolution of 1.4 million RGB dots. The LX7 has a large LCD screen on the back with a resolution of 920,000 RGB dots.
The LX7 is able to record in Raw mode and to use a studio flash system. You can open and convert the Raw image with Panasonic's version of SilkyPix Developer Studio software. Adobe Photoshop CS6 (Camera Raw plug-in 7.2) and Adobe Lightroom 4.2 are also able to open and convert these images.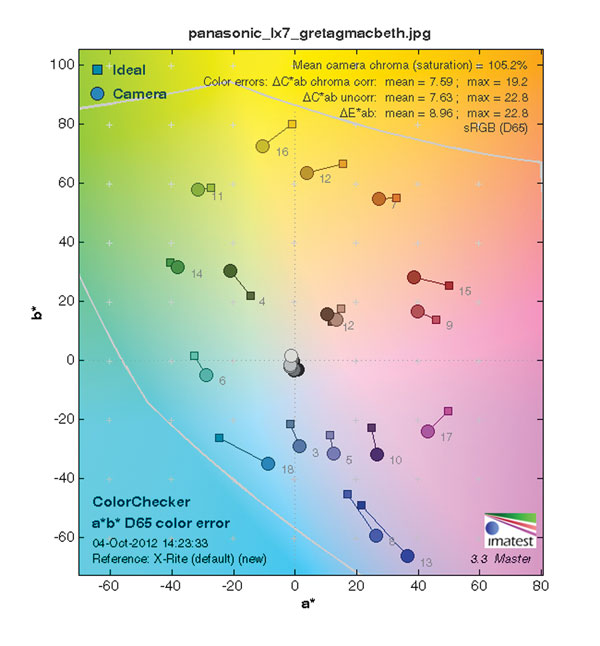 Image Quality
Color: Like nearly all Panasonic cameras on auto white balance, the LX7 shows a slight shift into cooler colors in darker color/gray areas and a slight yellow shift in brighter color areas. Note the bright background in the portrait shot versus the gray background in the standard test box shot. Skin tones are very good and color patterns in the test chart are reproduced with their given values. Generally there is only minor oversaturation, although red colors in the test have quite high saturation.
Sharpness: The resolution results of the LX7 are excellent. The camera showed a remarkable performance and reproduced the ISO test chart with 2731 lines of 2736 lines per picture height (sensor resolution). The large sensor and the brand-new lens system combine to do an excellent job. The sharp image reproduction is evident in the standard test box shot and the portrait shot.
Noise: The camera showed very good performance in our noise tests. Luminance noise stays under 1.0 percent up to ISO 1600. Color noise becomes noticeable in images taken with ISO 800 and higher, but is still on a very low level and even images taken with ISO 3200 are acceptable. Color noise and anti-noise filtering artifacts are clearly noticeable in images taken with ISO 6400.
The dynamic range results are on an average level: the camera gained a maximum of 9.98 f/stops at ISO 200.
Scorecard
Pro
+ Compact body, but high image quality due to large sensor
+ Very sharp images
+ High-speed lens system (f/1.4 to f/2.3)
+ Very handy features such as a lens ring for aperture setting and special sliding switch on the lens ring to change image aspect ratio
+ Full HD video in AVCHD mode and with 50 frames per second (progressive mode)
Con
- Missing optical viewfinder (available as an option)
- Non-swivel LCD monitor
Lab results and test images by BetterNet, our TIPA-affiliated testing lab. Edited by George Schaub.
The Panasonic LX7 has a list price of $449. For more information, visit www.panasonic.com.
Image Tech is where we publish web-exclusive lab reports on cameras. To read the reports please go to the Shutterbug homepage at www.shutterbug.com and click on the Image Tech tab on the top navigation bar. New reports are published frequently, so check Image Tech for updates.

LATEST VIDEO